Beetroot coconut ladoo recipe – How to make beetroot coconut laddu recipe – ladoo recipes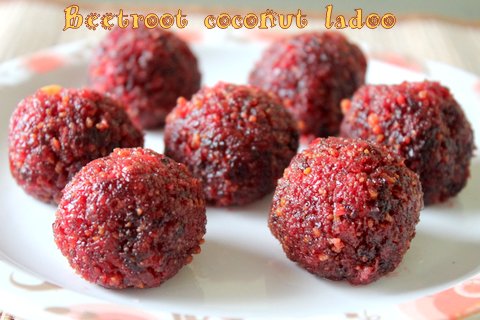 Beetroot coconut ladoo is a nutritious and delicious sweet made with beetroot, coconut, sugar, ghee and nuts.  It makes up for an ideal healthy dessert and a good way to include beet in your diet.  This recipe is not only quick,  but extremely simple to make too.  Beetroot is full of vitamins and minerals and low in fat.  It has a range of health benefits like lower the blood pressure, reduce the risk of obesity and because of its high fibre content helps in digestion.  This ladoo stays well for 4-5 days,  if refrigerated.
Other beetroot recipes from my blog: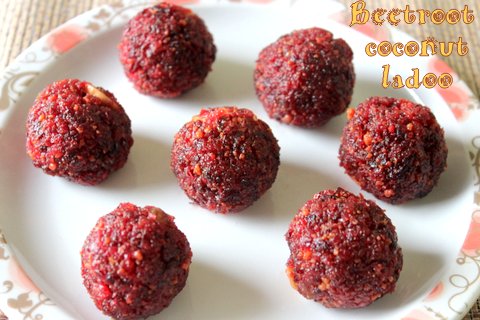 Prep Time :  15 mins
Cook Time : 30 mins
Servings :  4 persons
Indian cuisine
INGREDIENTS
Grated beetroot – 1 and 1/2 cups
Grated fresh coconut – 1 and 1/2 cups
Khoya or mawa – 1/2 cup
Sugar – 3/4 cup
Ghee – 4 tablespoons
Cardamom powder – 1/4 teaspoon
Cashew nuts – 10 -12 pieces
Raisins – 15 pieces
HOW TO MAKE OR PREPARE BEETROOT COCONUT LADOO RECIPE
Heat 1 tablespoon of ghee in a pan on medium flame.  Add cashewnuts and fry till golden brown in colour.  Add raisins and stir fry till they puff up.  Remove them in a separate plate.  Keep it aside.  To the same pan, add another 1 tablespoon of ghee.  Add the grated beetroot and stir-fry for about 5-6 minutes on a low to medium flame, till the raw smell of the beetroot goes away.
Now add the grated coconut and mix well.  Stir fry for 2-3 minutes on a low flame, till the moisture is fully absorbed by the mixture.  Take care not to brown the coconut.
Add the sugar and mix well again.  Keep stirring continuously.  The sugar will start melting and the mixture will become little watery.
Keep cooking on a low flame till the mixture comes to a thick consistency.  Add 2 tablespoons of ghee here and give a good mix.  Crumble the khoya by hand.  Then add the crumbled khoya and mix well.
Cook on a low flame for another 2 minutes.  Add cardamom powder and the fried nuts.  When the mixture starts becoming like a dough, switch off the flame.  Let the mixture cool down a bit.
When the mixture is still warm,  make ladoos of desired size. Garnish with chopped nuts and serve.
Delicious and healthy ladoos are ready.  Enjoy your homemade ladoos !!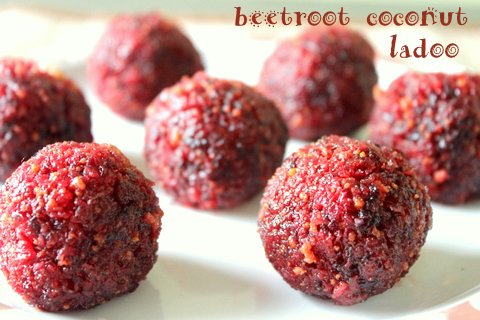 NOTES/TIPS
You can either grate the beetroot or make it fine by running in a blender.
You can also add milk powder instead of khoya, which will help in binding the ladoos.
Ensure to saute the beetroot well to remove the raw smell from the beet.
With the same recipe, you can make carrot coconut ladoo, by using grated carrot.
Do not add more cashewnuts as it will be difficult to make ladoos.  Break the cashewnuts into small pieces before roasting them.
Add more or less sugar as per your taste.