Tri colour sandwich recipe – How to make tri colour Indian sandwich recipe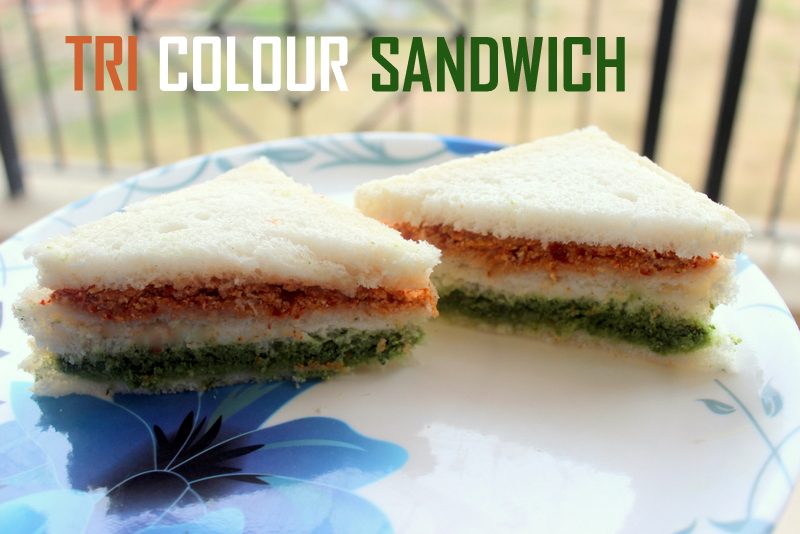 Tri colour sandwich is a very delicious and yummy sandwich and an ideal breakfast dish or snack on a Republic day or Independence day.  Kids love this colourful sandwich and butter and cheese added to it makes it all the more flavourful and tasty.  Orange and green chutney gives a good taste to the sandwich.  You can reduce  the spicyness by reducing the chillies, if making for kids.  Do try this simple and healthy tricolour sandwiches and get yourself in a patriotic mood..
Other tricolour recipes :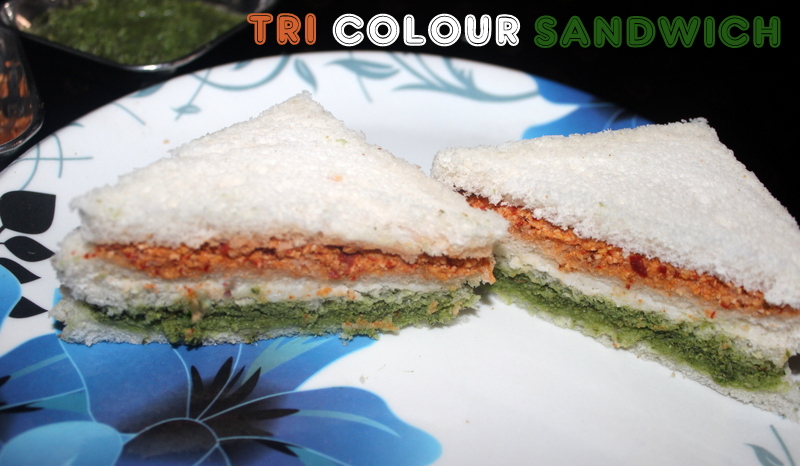 Prep Time :  25 mins
Servings :  2 to 3 persons
Indian cuisine
INGREDIENTS
Bread slices – 16 (brown or multigrain or white bread)
Butter
FOR THE GREEN CHUTNEY
Coriander leaves -1 cup
Mint (pudina) leaves – 1/2 cup
Grated coconut – 1/2 cup
Green chillies – 2
Lemon juice – 1 tablespoon
Salt to taste
FOR THE ORANGE CHUTNEY
Whole red chillies – 2
Grated coconut – 1/2 cup
Tomato sauce – 1 tablespoon
Tamarind – 1 inch sized small piece
Salt to taste
HOW TO MAKE OR PREPARE TRI COLOUR SANDWICH RECIPE
Take the bread slices and trim the edges.   Grind the red chillies, tamarind, grated coconut, tomato sauce and salt with little water to make a smooth paste.
Keep the orange chutney aside.  Then grind the coriander leaves, mint leaves, green chillies, grated coconut, lemon juice and salt.  Add very little water to make a smooth paste.
Keep the green chutney aside.  Take a bread slice. Spread the green chutney on top of the slice evenly.
Place another bread slice with the buttered side facing upwards.  Place another bread slice on the top of it. Spread the orange chutney over it and spread evenly.
Finally keep a plain slice on the top of the orange layered slice.  Cut each sandwich diagonally into 2 triangle slices or into 2 equal rectangle slices as desired by you.
Serve tri colour sandwich immediately as it is or with tomato ketchup.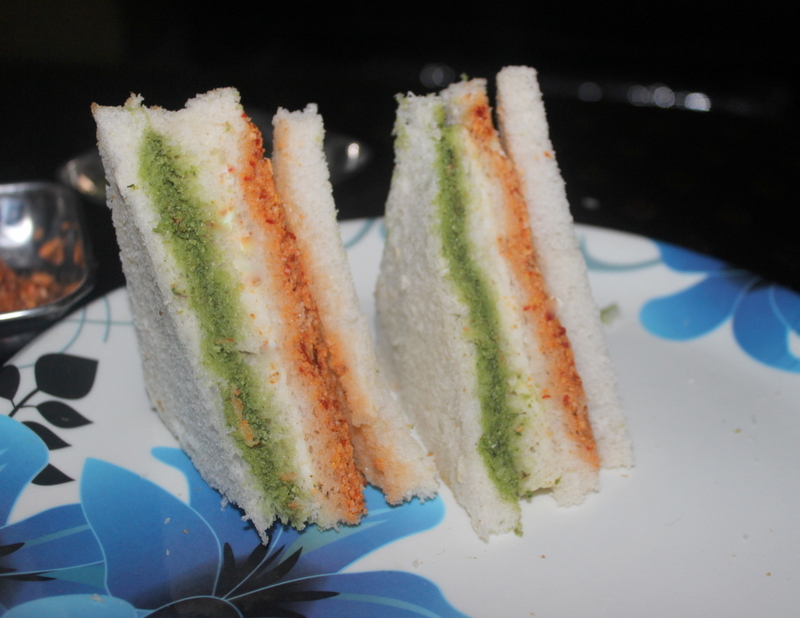 NOTES/TIPS
You can use brown bread or multigrain bread or atta bread for this recipe
You can keep a cheese slice on the buttered side of the bread.
Grill or toast the sandwich for an enhanced taste.