Lady's finger (okra) sabzi recipe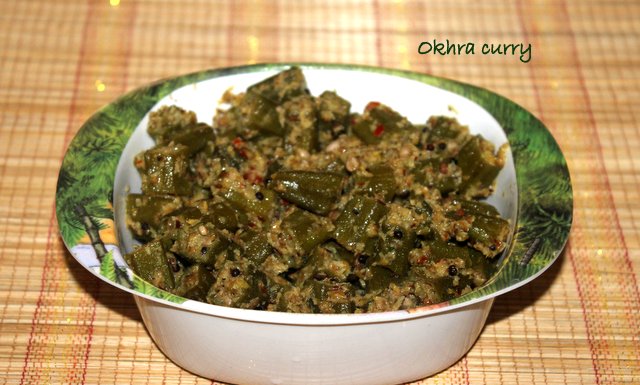 Lady's finger  or ladies finger (okra) curry is a flavourful curry prepared from tender lady's finger and mild spices.  Here I have  prepared this subzi in south indian style by using grated coconut and coconut oil.  It goes well with rice as well as rotis.  Onions can be added to this curry to intensify the flavour.  Ladies finger is high in fibre which helps to lower blood sugar levels.  This subzi  is very easy to prepare and very delicious too.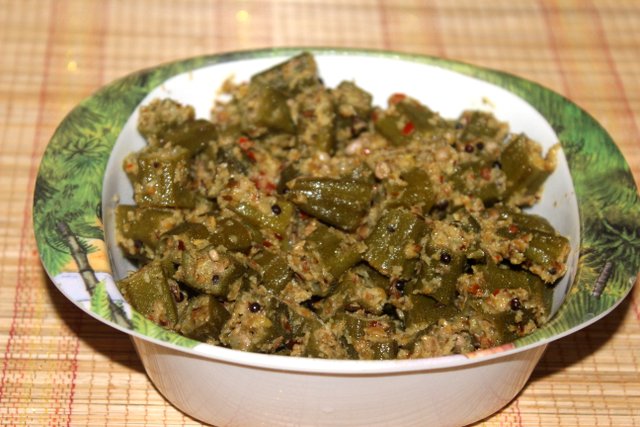 Prep Time :  15 mins
Cook Time : 20 mins
Servings : 4
Total time – 35 mins
South Indian cuisine
INGREDIENTS
Fresh tender lady's finger – 250 gms
Mustard seeds (rai) – 1/2 teaspoon
A pinch of asafoetida (hing)
Turmeric powder – 1/4 teaspoon
Fresh curry leaves – 10-15
Coconut or vegetable oil – 3 tablespoons
Salt to taste
TO BE GROUND TO FINE PASTE
Coconut or vegetable oil – 1 teaspoon
Tamarind chunk (deseeded) – 1/4 teaspoon
Coriander seeds – 2 tablespoons
Fenugreek (methi) seeds  – 1/4 teaspoon
Bengalgram (chana dal) – 2 teaspoons
Byadagi red chillies – 3-4
Grated fresh coconut – 1 cup
HOW TO MAKE OR PREPARE LADY'S FINGER (OKRA) SUBZI OR BENDE PALYA RECIPE
Rinse and pat the lady's fingers dry with a cloth.  Chop the top and bottom section of the lady's fingers and cut them into 1 inch equal lengths.
Heat one teaspoon of oil in a pan on low heat.  Add coriander seeds, chana dal, fenugreek seeds and red chillies and roast them till light brown in colour and till a nice aroma exudes.  Add grated coconut and mix well.  Roast for few seconds.  Switch off the flame.  Grind the roasted ingredients along with tamarind chunk to a smooth paste by adding very little water.  Keep them aside.
Heat 3 tablespoons of oil to the same kadai or pan over low heat.  When the oil is hot, add mustard seeds.  When the seeds begin to splutter, add the curry leaves, asafoetida and turmeric powder.
Add the coconut paste and 1/4 cup of water and mix well.  Add the chopped okra and mix lightly.  Cover and cook for about 15-20 minutes on low heat until the okra becomes tender and is well cooked.  Stir occasionally to prevent from sticking to the base of the pan.  When the okra is well coated with the mixture and becomes little thick consistency, switch off the flame.
Serve lady's finger subzi hot with rice or rotis.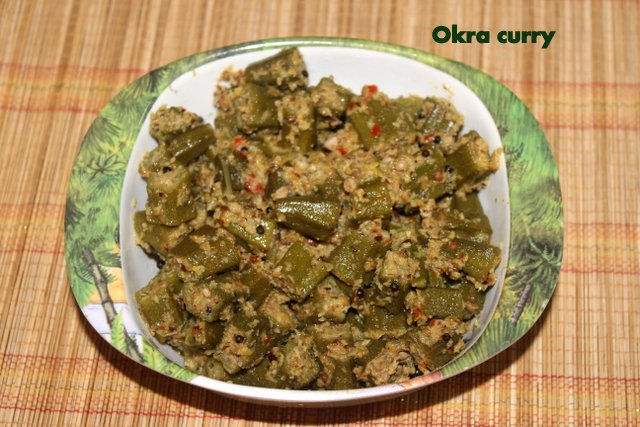 NOTES/TIPS
You can also add chopped onions to this dish.  Fry the onions till translucent before adding the coconut paste.