Instant mango pickle recipe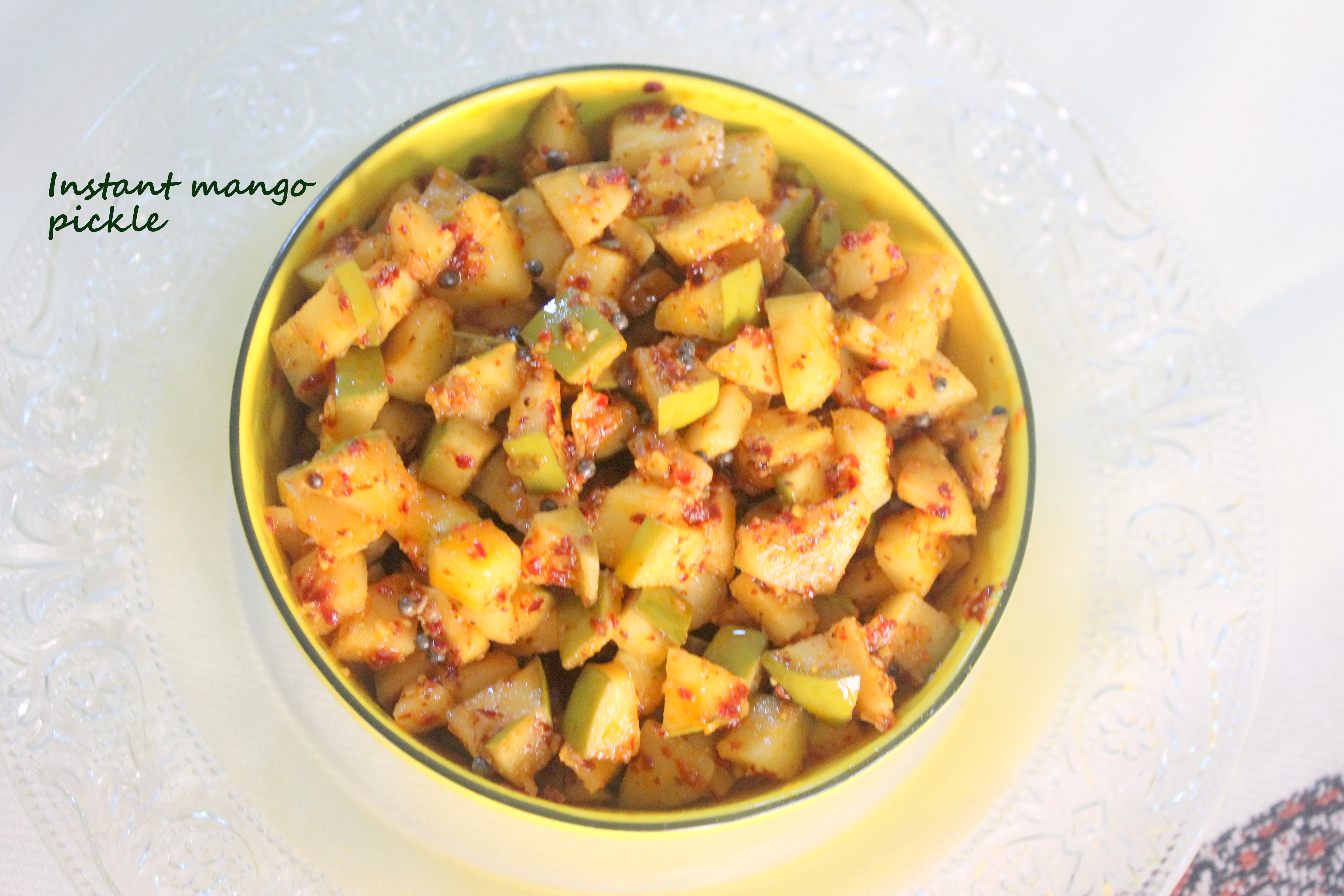 This pickle is the instant version of mango pickle. It is also called as manga oorugai in Tamil Nadu and is very common during raw mango season. Instant mango pickle is very popular during special occasions too as it is very easy to make and no soaking of mangoes is required. This pickle goes well with curd rice, lemon rice or sambar rice.
Ingredients
Raw mango - 1 (chopped into small pieces)
Salt to taste
TO GRIND
Fenugreek seeds - 1/4 teaspoon
Mustard seeds - 1/4 teaspoon
Whole red chillies - 2
FOR TEMPERING
Cooking oil - 2 tablespoons
A pinch of asafoetida
Mustard seeds - 1/2 teaspoon
Red chilli powder - 1/4 teaspoon
Turmeric powder - A small pinch
Method
Step 1
HOW TO MAKE INSTANT MANGO PICKLE Wash and chop the mango into equal small pieces and keep aside.
Step 2
Heat a pan on a low flame. Dry roast fenugreek seeds, mustard seeds and red chillies till golden brown. Once cooled down, grind them in a mixer to a coarse powder. Set aside.
Step 3
In the same pan heat oil. Add mustard seeds and once the seeds stops spluttering, add asafoetida, ground coarse powder, red chilli powder and turmeric powder.
Step 4
Immediately add chopped mango pieces and stir well for half a minute. Add salt and combine together. Switch off the flame.
Step 5
Instant mango pickle is now ready to be served. Store in a clean dry jar. If refrigerated, it stays well for 4-5 days.