Poha idli recipe – how to make soft poha idli recipe – healthy breakfast recipes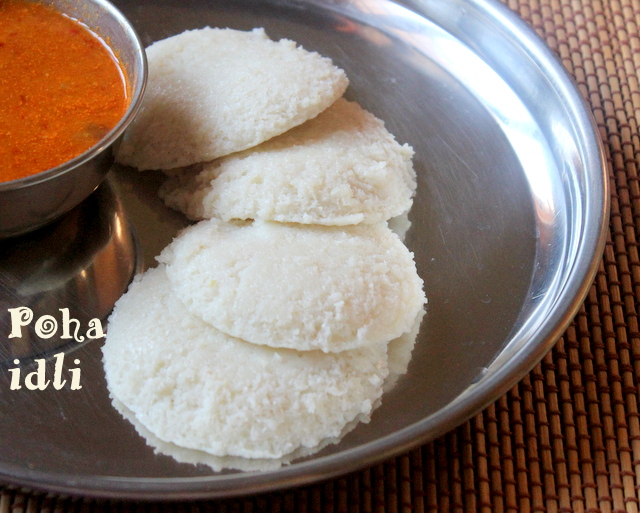 Idli is a traditional breakfast in south indian households. Since plain idlis are mild in taste, a side dish or accompaniment is considered essential. Idlis are often served with sambar but this varies greatly by region and personal taste. Idlis are also frequently served with coconut chutney, onion chutney or tomato chutney.  The dry spice mixture podi is convenient while traveling.
Poha idli is a different version of idli where poha and idli rice is used in equal proportion and urad dal is used in small proportion. This idli is not only light but also soft and fluffy.  A simple recipe of idli with handy ingredients easily available at home.
Other idli recipes which you can check in my blog..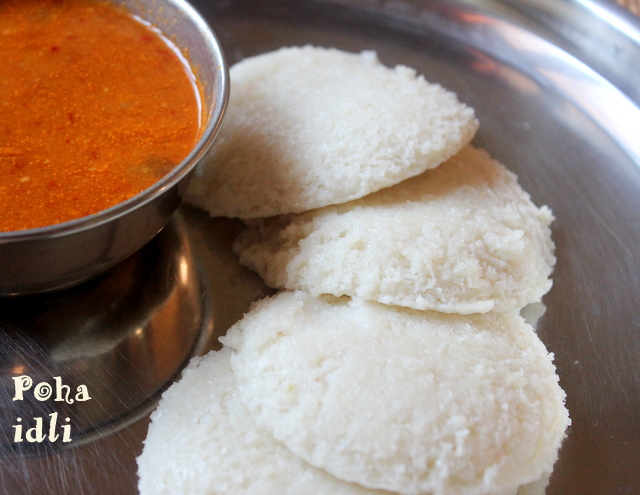 Prep Time :  10-12 hours (soaking and fermentation time)
Cook Time :  15 mins
Servings : 4  persons
South indian cuisine
INGREDIENTS
Idli rice or parboiled rice or raw rice – 1 cup
Methi or fenugreek seeds – 1/2 teaspoon
Urad or udid dal – 4 tablespoons
Poha or flattened rice – 1 cup
Salt to taste
Oil for greasing the idli moulds
HOW TO MAKE OR PREPARE SOFT POHA IDLI RECIPE
Wash the idli rice, urad dal,  and methi seeds thoroughly with water.  Soak them in water in a wide bowl.
In a separate bowl add the poha and wash them separately with water.  This ensures to remove any dirt or impurities in the poha.  Add this washed poha to the bowl containing idli rice, urad dal and methi seeds soaked in water.
Soak all the ingredients for 4-5 hours.  Strain the water and grind the soaked ingredients by adding little water,  in a mixer grinder, to a soft but coarse batter consistency. (I have used idli grinder for grinding)
Pour the batter to a large wide bowl. (the batter tends to rise after fermentation, hence it is better to use a wide bowl so that the batter has  enough space to rise)  Add salt and mix well.  Cover the batter with a lid.  Ferment the batter for 7 to 8 hours.  You can see the batter rise/swell after fermentation.  Mix it gently and set aside.
Grease the idli moulds with little oil.  Pour the batter to the moulds.  Steam the idlis in a steamer for 10 to 12 minutes.  If you are using a pressure cooker, keep the idli stand in the pressure cooker and cover the pressure cooker with its lid.  Remove the whistle and steam it for 10-12 minutes.
Once done, allow it to cool for 5-6 minutes.  Remove the idlis with a spoon or a butter knife to a serving plate or bowl.
Serve poha idlis hot or warm with sambar, coconut chutney or any other chutney of your choice.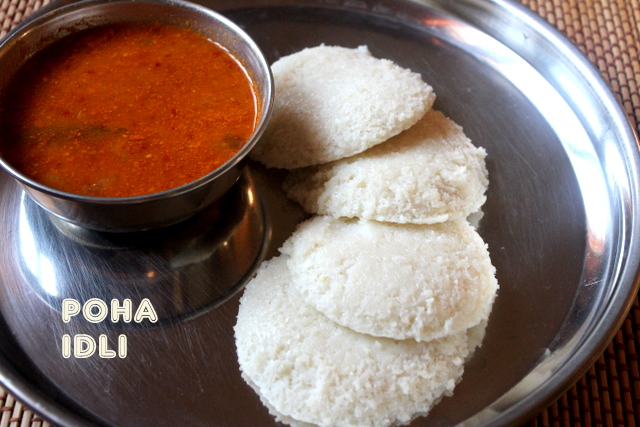 NOTES/TIPS
You can add baking soda to the batter for getting more soft idlis or if the batter has not fermented well.
Keep the batter for fermentation in a warm place in kitchen.
During cold weather, add little baking soda to the batter for better and quick fermentation.
You can use regular raw rice, if you do not have idli rice.
Ensure that urad dal is fresh or not too old.