Watermelon juice recipe – how to make watermelon juice recipe – summer recipes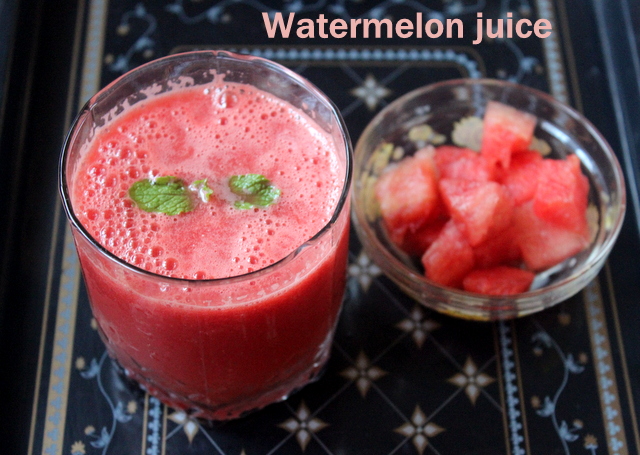 Watermelon juice is a very healthy and cooling summer drink, which can be had at any time during the day. It helps to beat the summer naturally and keeps us hydrated.  Watermelon is considered as a nutrient dense food, a food that provides a high amount of vitamins, minerals and antioxidants  for a low amount of calories.  Many studies have suggested that watermelon decreases the risk of obesity and overall mortality, diabetes, heart disease  and promotes a healthy complexion and hair, increased energy, overall lower weight.
Watermelon juice is best had without any additives, except for few spices or herbs like chaat masala, ginger, lemon juice or pepper powder.     It makes up for a wonderful summer beverage, which can be had at any time of the day during summer or serve as a welcome drink
If you are looking for summer cooling drinks, you can also check spiced buttermilk or chaas, mango lassi, mango milkshake, mango banana smoothie, banana milkshake or aam ka panna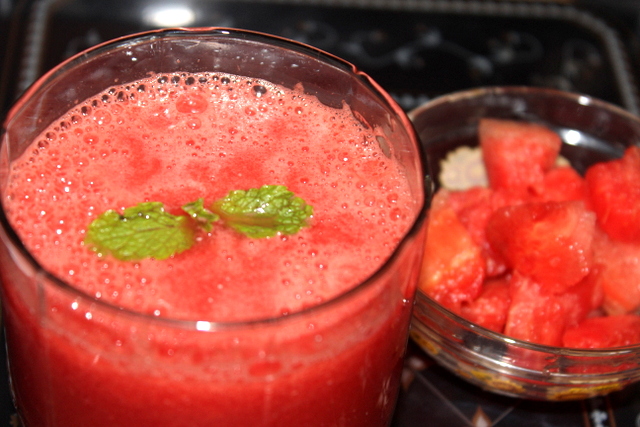 Prep Time :  15 mins
Servings :  4 persons
Indian cuisine
INGREDIENTS
Watermelon – 1
Chaat masala – 1/4 teaspoon (optional)
Sugar – 2 tablespoons (optional)
Lemon juice as required
Few mint leaves
Few ice-cubes
HOW TO MAKE OR PREPARE WATERMELON JUICE RECIPE
Chop the watermelon into medium or big pieces.  Remove the seeds.
Add the chopped pieces, lemon juice, chaat masala and sugar to a blender jar and blend till smooth.  Pour the juice to a serving glass.
Garnish with mint leaves and serve chilled.
NOTES/TIPS
Add sugar only if you prefer a sweet taste of the juice.  Otherwise you can skip sugar if the watermelon is already very sweet.
Add a small piece of ginger  for a more healthy twist.
Add ice-cubes at the time of serving and serve chilled.
It stays good for upto 2 days in the refrigerator.
Ensure to remove every seed before blending into the blender.
Add few ice-cubes at the time of blending itself, for a chilled watermelon juice.