Badam kheer or almond pudding recipe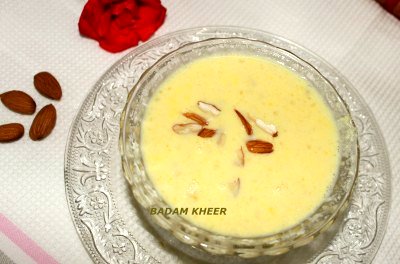 Badam kheer is an Indian dessert made with milk, sugar, saffron and almonds.  It is a very delicious and rich pudding which is made on special occasions.  Saffron gives a nice colour and taste to the kheer.  Badam kheer can be had either warm or chilled.  Either way it tastes divine.
Ingredients
Milk - 1 litre
Almonds(badam) - 30
Saffron strings - 10 to 15
Sugar - 1/2 cup
Cardamom powder - 1/4 teaspoon
Method
Step 1
Soak the almonds in warm water for half an hour. Peel the skin and grind the almonds to a smooth paste by adding little milk.
Step 2
Bring the milk to a boil in a heavy bottomed vessel. Then lower the flame and add almond paste and sugar and stir well.
Step 3
Boil the kheer on a low to medium flame by stirring in between, till it is reduced to 3/4th of its quantity.
Step 4
Soak saffron strings in 1/4 cup of warm milk for 10 to 15 minutes and add to the kheer.
Step 5
Add cardamom powder to kheer and mix well. Switch off the flame.
Step 6
Garnish with almonds and serve warm or chilled.
Step 7
Note : Adjust sugar according the sweet taste desired by you. If you soak almonds overnight, it becomes easy to peel off the skin and grind to a soft paste. To further enhance the taste, you can add 1/4 cup of condensed milk to the kheer and adjust the sugar content accordingly. Ensure that after adding the almond taste, you stir the milk so that it does not get burnt.
Step 8