Dry fruits modak recipe – How to make dry fruits modak recipe – Ganesh Chaturthi recipes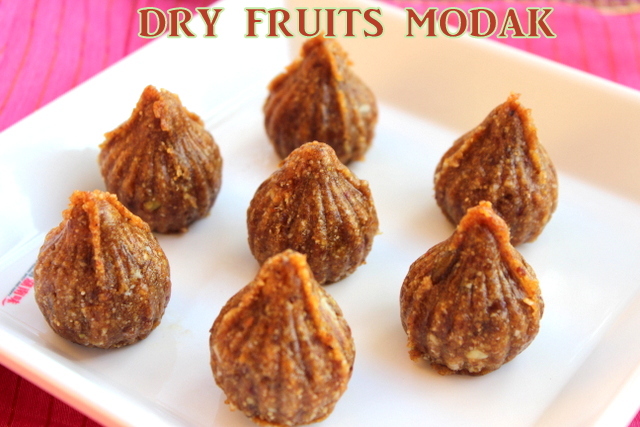 Dry fruits modak is a very tasty and nutritious modak made from dry fruits, dates, poppy seeds, dessicated coconut and ghee.  This modak recipe is very simple and quick to make too, as it can be prepared in less than half an hour.  Traditionally modaks called ukadiche or sweet modak are made with rice flour as outer covering and coconut-jaggery mixture as stuffing.  But nowadays, there are different types of modak available in the shops, during Ganesh Chaturthi festival like mango modak, chocolate modak, kesar modak, peda modak and other flavoured modaks and dry fruits modak is one of them. Dry fruits modak is also an ideal sweet  for those who are calorie conscious, as it is sugarless and very little ghee is used for making this modak.  The sweetness to this modak comes from dates.  Do try this dry fruits modak if you are looking for a quick modak recipe during this festival.
Pls click on this link  http://charuscuisine.com/ganesh-chaturthi-recipes-vinayak-chaturthi-recipes/   for more Ganesh Chaturthi recipes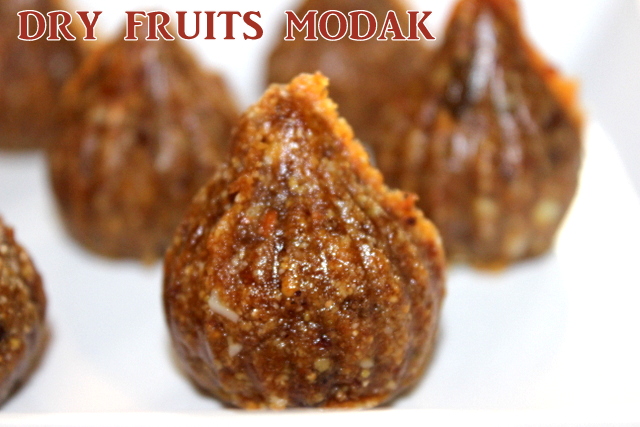 Prep Time :  15 mins
Cook Time : 10 mins
Servings :  10-12 modaks
INGREDIENTS
Seedless dates – 1 cup
Badam or almonds – 10-12 pieces
Cashewnuts – 10-12 pieces
Walnuts – 10-12 pieces
Pistachios – 10 pieces
Raisins – 20
Dessicated coconut – 2 tablespoons
Poppy seeds or khus khus – 1 tablespoon
Ghee – 2 teaspoons
HOW TO MAKE DRY FRUITS MODAK RECIPE
Keep all the ingredients ready for roasting.  Heat a non-stick pan on low flame.  First dry roast the cashewnuts, badam and pistachios, till they turn light golden brown in colour.  Keep the roasted nuts aside.
Then add dessicated coconut and poppy seeds on the same pan and roast on a low flame, for few seconds or half a minute, till the poppy seeds crackle and starts popping up.  Once cooled down, take all the roasted ingredients to a mixer grinder.
Grind them to a dry fine powder.  Keep the ground nuts powder in a mixing bowl.
To the same pan, add 1 teaspoon of ghee, raisins and seedless dates.  Cook them on low flame for about 2-3 minutes, till the mixture comes together.  Remove from the pan and allow it to cool down.  Take the dates and raisins mixture  to a mixer grinder.
Grind them to a fine paste.  Add this dates-raisins paste to the ground nuts powder.
Add 1 teaspoon of ghee to the mixture and make a dough out of it.  Grease the mould with little ghee.
Take a portion of the dough and stuff the mould with it.  Press on all the sides to give a good shape.  Close the mould gently and remove any excess mixture from outside the mould, if any,
Open the mould gently and remove the modak to a serving plate.  Repeat the process with the remaining dough.
Delicious dry fruits modak are now ready to be offered to Lord Ganesha as prasad or neivedyam.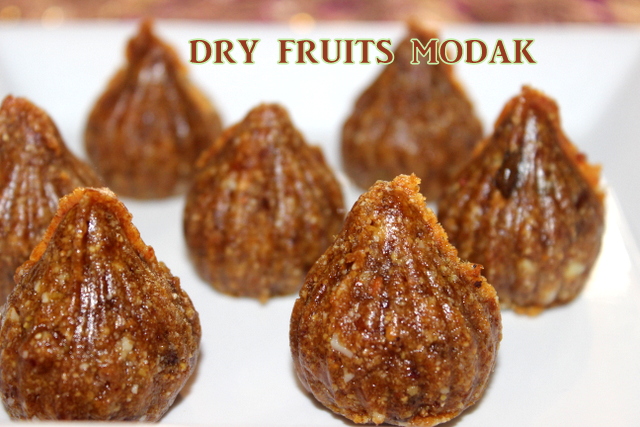 NOTES/TIPS
You can also add peanuts for a more crunchy and enhanced flavour.
Add more dry fruits of your choice like apricots or figs, for making this modak.
You can use freshly grated coconut if you do not have dessicated coconut.
Grease the mould everytime with little ghee, for making modaks.
You can shape into ladoos out of this mixture, on normal days.