Mixed vegetable curry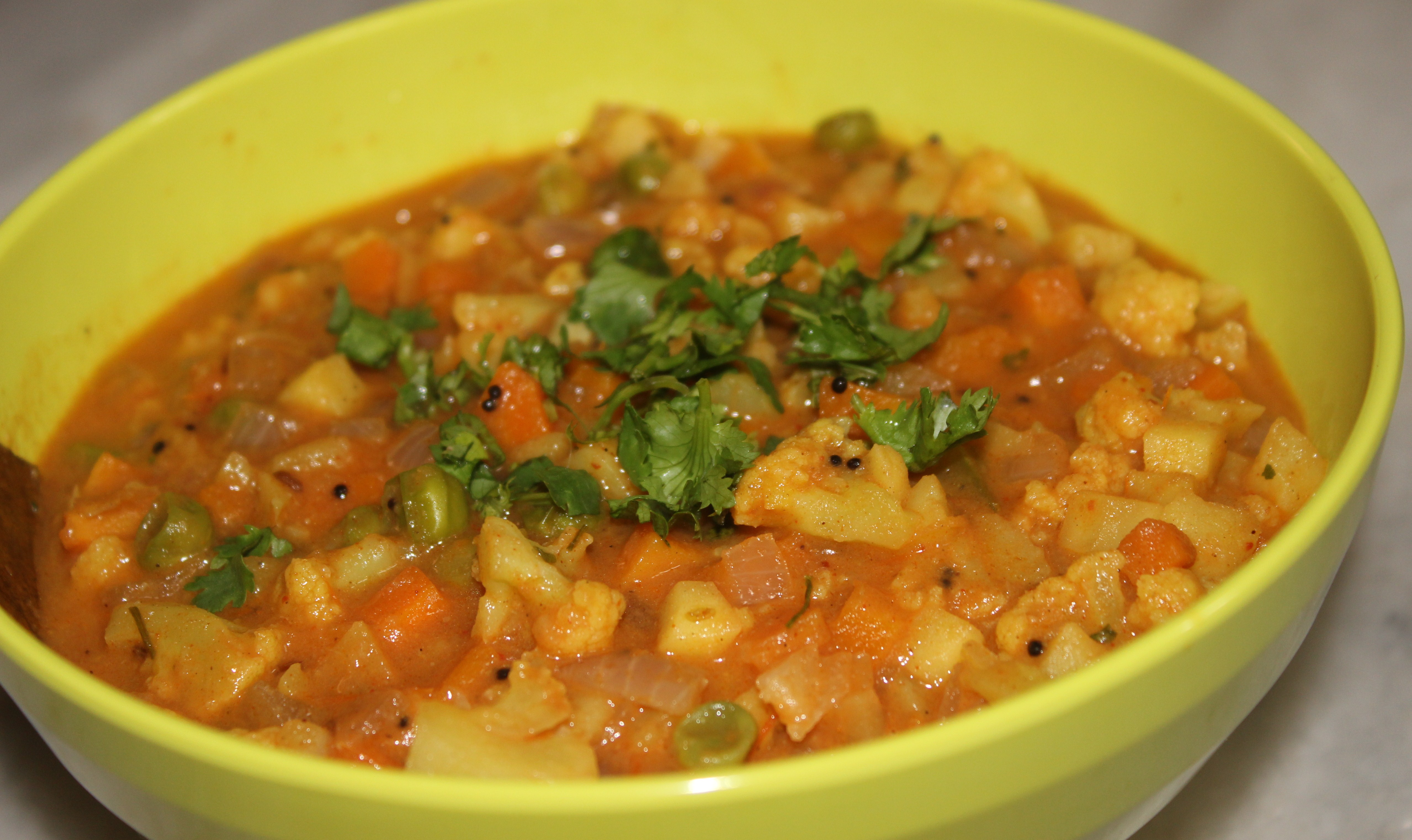 A rich and healthy curry made with  fresh vegetables and cooked in a spicy tomato gravy.  It goes well with rice as well as rotis.
Ingredients
Cauliflower - 2 cups (cut into small florets)
Green peas - 1/4 cup
Carrot - 1 cup (cut into small cubes)
Potatoes - 1 cup (cut into small cubes)
Onions - 2 (chopped finely)
Tomatoes - 5 (blanched and pureed)
Coriander powder - 1 teaspoon
Cumin powder - 1/2 teaspoon
Red chilli powder - 1 teaspoon
Turmeric powder - 1/4 teaspoon
Ginger-garlic paste -1 teaspoon
Garam masala powder - 1 teaspoon
Tomato sauce - 2 tablespoons
Fresh milk cream - 4 tablespoons
Oil - 2 tablespoons
Mustard seeds - 1/2 teaspoon
Bay leaves - 2
Cloves - 2
Peppercorns - 1/4 teaspoon
Salt to taste
Coriander leaves for garnishing
Kasoori methi - 1 teaspoon
Salt to taste
Method
Step 1
HOW TO MAKE MIXED VEGETABLE CURRY Boil cauliflower florets, peas, carrot and potatoes with sufficient water. Add salt and turmeric powder to the water. Boil for 10 minutes or till 3/4th cooked. Drain the water and set aside.
Step 2
Heat water in a pan on a high heat. Once the water reaches the boiling point, switch off the flame. Add the tomatoes to the water. Close the pan and set aside for 20 minutes. After 20 minutes, drain the water, remove the skin and puree the tomatoes by grinding in a mixer and keep aside.
Step 3
Heat oil in a kadai. Add mustard seeds. Once it stops spluttering, add bay leaves, cloves and peppercorns and stir fry for half a minute.
Step 4
Add chopped onions, ginger-garlic paste and cook till the onions become light brown. Add pureed tomatoes, coriander powder, cumin powder, red chilli powder, garam masala powder, and cook for few minutes.
Step 5
Add boiled vegetables, tomato sauce, milk cream and cook for another 2 minutes on a low flame. Check for salt and add accordingly.
Step 6
Crush kasoori methi by hand and add to the curry and mix well. Remove from heat.
Step 7
Garnish mixed vegetable curry with coriander leaves and serve hot with rotis or rice.