Vegetable fried rice recipe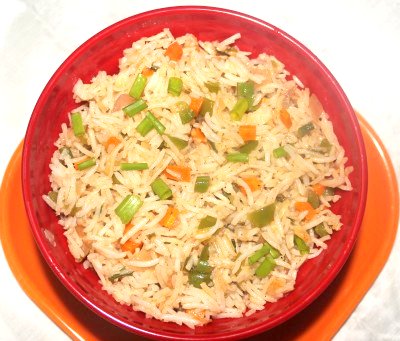 A very popular and delicious chinese rice dish recipe which is usually served with a gravy dish.  It is a combination of vegetables like french beans, spring onions, carrot, capsicum, cabbage and spices and can be cooked faster.  It is a lighter and healthy version of fried rice.  Spring onions are  important because it  gives flavour to the fried rice.
Ingredients
Basmati rice - 2 cups
Spring onions - 1/2 cup (chopped finely)
Carrot - 1/2 cup (chopped finely)
Cabbage - 1/2 cup (chopped finely)
Capsicum - 1/2 cup (chopped finely)
French beans - 1/2 cup (chopped finely)
Ginger-garlic paste - 1 teaspoon
Black pepper powder - 1/2 teaspoon or according to taste
Soya sauce - 1 teaspoon
Green chilli sauce - 1 tablespoon
Vinegar - 1 tablespoon
Tomato sauce or ketchup - 1 tablespoon
Salt to taste
Oil - 2 tablespoons
Method
Step 1
Wash and soak basmati rice with enough water for half an hour. Drain and keep the water aside. (you can use the soaked water for cooking too as it has got the flavour of basmati rice)
Step 2
Add 6 cups water and salt to the rice and cook the rice to a boil stirring occasionally. Once the water starts boiling, reduce the flame and cook on a low flame for 10 to 12 minutes.
Step 3
Once the rice is cooked, remove from heat. Drain the water immediately in a colander and keep aside for 15 to 20 minutes to cool down.
Step 4
Heat oil in a pan. Add spring onions and stir fry on a medium heat for a minute. Add ginger-garlic paste and saute for another 1 minute.
Step 5
Then add chopped beans, carrot, cabbage and capsicum and saute on high flame for 2 to 3 minutes or till the vegetables are cooked.. Ensure that the vegetables become crunchy and not soft.
Step 6
Add soya sauce, vinegar, green chilli sauce and tomato sauce and mix well. Cook for a minute.
Step 7
Add cooked basmati rice and combine together. Add salt and pepper as required. Switch off the flame.
Step 8
Garnish with chopped spring onion greens and serve hot.
Step 9
NOTE: Adding few drops of lemon juice to water before cooking basmati rice, gives a bright colour and whiteness to the rice. You can also add red bell pepper to give more colour to the rice. Chop the vegetables fine so that when stir frying them, they are cooked faster but still retain the crunchiness of the vegetables. Basmati rice enhances the taste of fried rice.