Oats and honey smoothie recipe – How to make oats honey smoothie recipe – Healthy breakfast recipes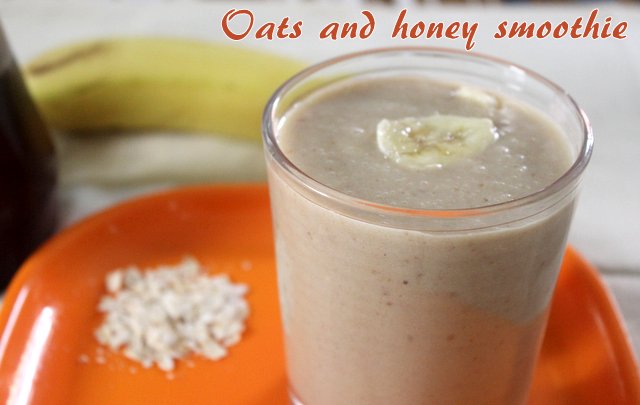 Smoothies make up for a perfect and filling breakfast or any time snack of the day.  Oats when added to a smoothie makes it all the more healthy and a wholesome beverage.  As oats is full of fibre and are digested slowly, it gives a feeling of fullness for quite some time.  Oats also helps to keep blood sugar under control.  Honey is rich in antioxidants and a good source of minerals and vitamins.  It also contains vitamin C, calcium and iron.  This smoothie recipe is not only easy to make but also can be prepared instantly with the minimum and  easily available ingredients at home.  Do try this delicious oats and honey smoothie  to kick start your day on a healthy note.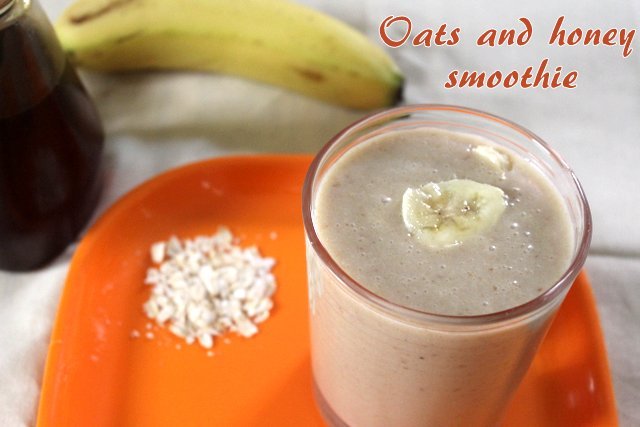 Prep Time : 10 mins
Cook Time : 5 mins
Servings : 2 persons
Indian cuisine
INGREDIENTS
Milk – 1.5 cups
Oats – 2 tablespoons
Honey – 2 tablespoons
Seedless dates – 4
Banana – 1
Water – 1/2 cup
HOW TO MAKE OR PREPARE OATS HONEY SMOOTHIE RECIPE
Boil  1/2 cup of water and add oats to it.  Cook till it becomes soft.  Once done switch off the flame.  Allow it to cool down.   Take a blender and add the banana, dates and honey.
Add 1/2 cup of milk and blend to a smooth paste.  Now add the cooked oats paste
Add little more milk and blend till the whole mixture has blended well.  Add rest of the milk and blend again for few seconds.
Pour the oats and honey smoothie into a serving glass and serve as an energy drink for breakfast.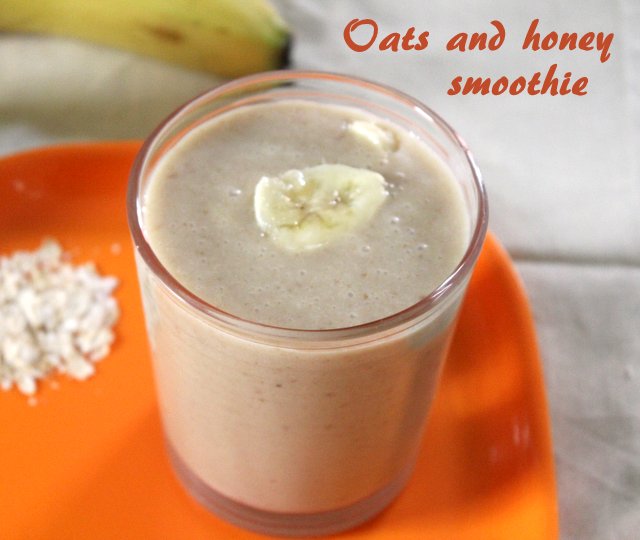 NOTES/TIPS
Add more dates if you prefer a little sweeter smoothie.  You can also add honey for the sweetness.  Dates and honey are natural sweeteners and helps to keep you healthy.
Adding banana is optional.  You can add seasonal fruits  like chickoo, mango or apple.  Fruits gives you a healthy start during the day.
Always consume smoothies immediately once prepared to get the full benefit.