Oma podi or carom seeds(ajwain) flavoured sev recipe – diwali snacks recipe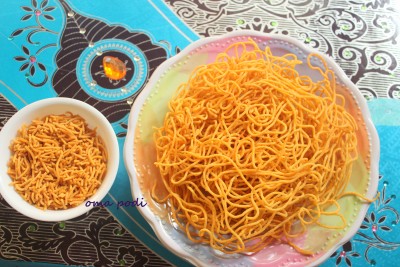 Oma podi or ompodi is a quick and easy savory recipe which is made with gramflour, rice flour and flavoured with carom seeds (ajwain), It is a popular snack in South India and it is made during diwali festival or also on special occasions. Oma podi can be had as a teatime snack and it is also used in chaats.
Ingredients
Gram flour/besan - 1 cup
Rice flour - 1/4 cup
Carom seeds/ajwain/omam -1 teaspoon
Red chilli powder -1/2 teaspoon
Melted butter or ghee - 2 tablespoons
Salt to taste
Method
Step 1
HOW TO MAKE OMA PODI RECIPE Soak carom or ajwain seeds in 1/4 cup of water for half an hour.
Step 2
Grind the soaked ajwain seeds to a coarse paste along with the same water. Once ground to coarse paste, filter the water using the tea filter. Keep this water aside.
Step 3
Take a mixing bowl. Add gram flour, rice flour, red chilli powder, salt, melted butter and mix well. Add omam water slowly and knead into a soft dough. Add more water if required to make the dough.
Step 4
Divide the dough into equal sized balls. Take the dough press and use the small dotted hole for making oma podi.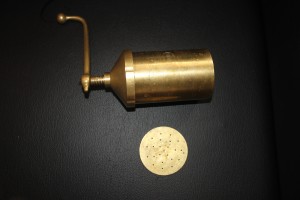 Step 5
Heat sufficient oil in a heavy bottomed pan on a medium flame. Keep a small portion of the dough into the press mould. Once the oil becomes little hot, press the dough into thin strands directly into the oil by making circles.
Step 6
Flip on the other side and deep fry until crisp. Remove them in an absorbent paper to remove excess oil. Repeat the process for rest of the dough. Once it is cooled down completely, store oma podi in an airtight container.
Step 7
NOTES : Do not add too much omam, since it brings bitter taste to oma podi. Ensure the oil is not too hot at the time of deep frying, else the oma podi will get burnt soon. Once the dough is ready, make the oma podi immediately otherwise the dough tends to become dry.
Step 8