Nippattu or Thattai recipe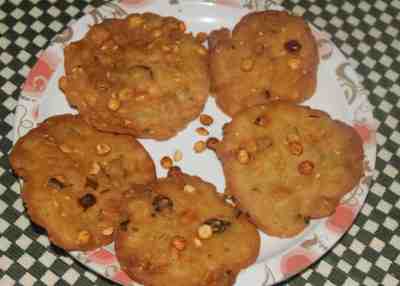 Nippattu or thattai is a very popular snack from Karnataka especially from Mysore and Bangalore.  Nippattu is usually deep fried but can also be baked.   It is a crispy and spicy snack  which is perfect for tea time munching.  This recipe is contributed by my close friend, Mrs. Usha Nayaka who also happens to be a Mysorean.
Ingredients
Rice flour - 2 cups
Maida flour - 1 cup
Peanuts - 3/4 cup
Roasted gram/chatni dal - 1/2 cup
Green chillies -4 (chopped finely)
Chopped coriander leaves - 1/2 cup
Butter - 100 gms
Cooking soda - a pinch
Salt to taste
Cooking oil for deep frying
Asafoetida/hing - a pinch
Method
Step 1
HOW TO MAKE NIPPATTU /THATTAI RECIPE KARNATAKA STYLE (1 CUP = approx 200 GMS) Dry roast the peanuts. Peel and crush the peanuts into 2 or 3 pieces and not to a fine powder. Keep aside.
Step 2
Take a bowl. Add rice flour, maida flour, crushed peanuts, chatni dal, green chillies, coriander leaves, cooking soda, asafoetida, salt and butter and mix well.
Step 3
Add little water and knead the mixture to a smooth dough like chapati dough. The dough should not be too soft or too hard. Set aside the dough for 10 minutes.
Step 4
Take a thick plastic sheet or butter paper. Smear and spread oil on the sheet. (This helps in removing nippattu from the sheet for deep frying).
Step 5
Take a small lemon sized ball from the dough and flatten it as thin as possible, on the sheet by hand to 3 inch size in diameter.
Step 6
Heat oil in deep bottomed pan. When the oil becomes hot, gently remove the flattened discs and drop them in the oil. Take care not to overcrowd the pan while deep frying the nippattus. Deep fry on both sides till golden brown.
Step 7
Remove the nippattus in an absorbent paper to remove the excess oil.
Step 8
Store nippattus in an airtight container. It can be preserved upto a month.