Moong dal laddu recipe – How to make moong dal ladoo (moong ke ladoo) recipe – Diwali sweet recipes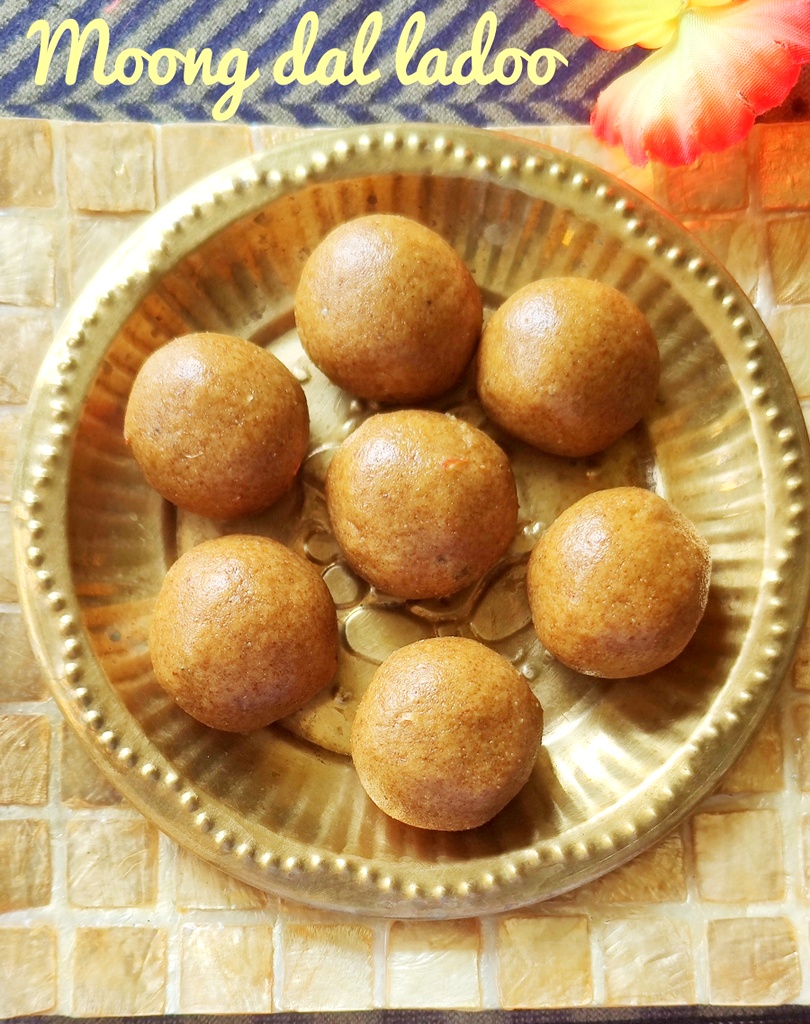 Moong dal ladoo is a very popular Indian sweet made with yellow moong dal, sugar, ghee and garnished with nuts. It is very popular in North India especially during winter season. Moong dal ladoo is also called as pasi paruppu ladoo in Tamil Nadu. It is done during Diwali festivals and other special occasions. Moong dal ladoo can be made with less effort and time and is very healthy too as moong dal has lot of protein content and dietary fibre, which keeps you full for a longer period of time.
In this recipe, I have replaced sugar with jaggery to make it more healthy and nutritious.  Jaggery not only enhances the taste but is full of iron content and a good source of antioxidants and minerals.  Moong dal ladoo looks very similar to besan ladoo in terms of taste and texture.   But moong dal is far more healthier than besan or gram flour.  So you can try moong dal ladoo instead of besan ladoo for a change, during festive occasions.  It is also a easy and quick ladoo recipe which can be prepared with easily available ingredients at home.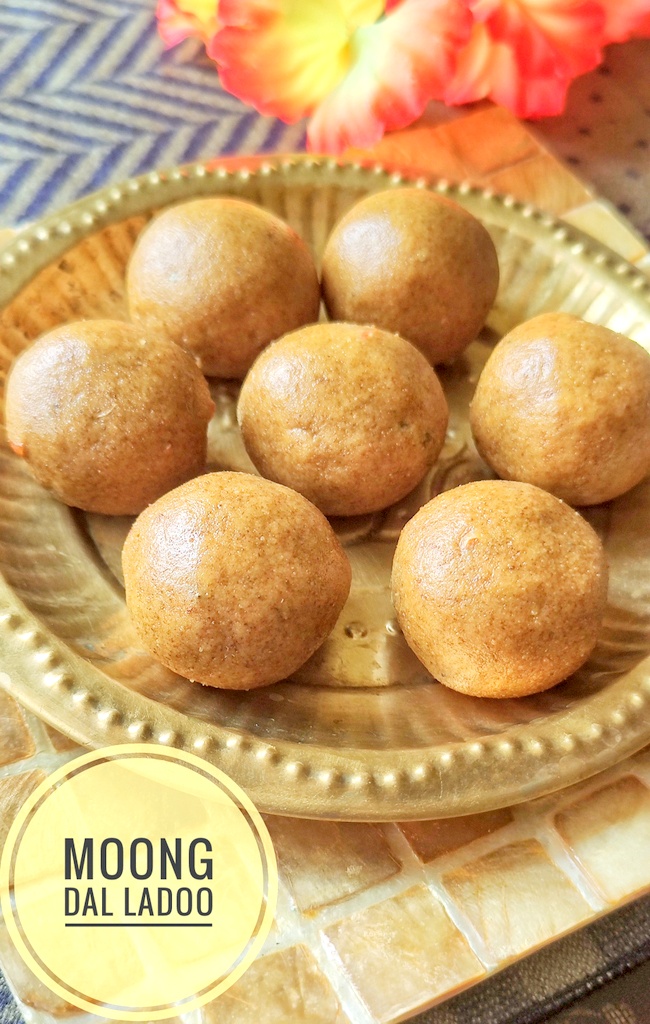 Prep Time : 10 mins
Cook Time :  20 mins
Yield :  8-9 ladoos
Indian cuisine
INGREDIENTS
Yellow moong dal (split skinned moong dal) – 1 cup
Powdered or grated jaggery – 3/4 cup
Green cardamoms – 3 nos
Ghee – 1/4 cup plus 1 teaspoon
Almonds/Badam – 10 nos
Raisins – 10 nos
Video link of the recipe :
HOW TO MAKE OR PREPARE YELLOW MOONG DAL LADOO RECIPE
Heat a non-stick pan or vessel on a medium flame.   Add 1 cup of moong dal and roast them till they turn light golden in colour and become crispy.  Stir continuously so that the dals are roasted evenly.  This will take approx. 15-20 minutes.
Once roasted, let the moong dal cool down completely.  Once cooled down, grind to a fine powder.
Now add 3/4 cup of  powdered jaggery and 3 green cardamoms to the ground moong dal.  Once again, grind to a smooth fine powder.  Keep it aside
Heat 1/4 cup of ghee in a pan. Add chopped almonds and raisins and stirfry till the raisins are puffed up.
Then add the ground moong dal-jaggery-cardamom mixture to the ghee and give a good mix.  Switch off the flame.
Transfer the mixture to a mixing bowl.  Let the mixture cool down a bit before you start making ladoos.  Once the mixture is still warm, add 1 teaspoon of ghee (if required) and mix them well.  If you are able to make ladoos without adding ghee, then no need to add ghee.
When it is little warm, make equal sized ladoos with your hand. If the ladoo breaks up or if the mixture is too dry, add little ghee accordingly and start making ladoos.
Store the moong dal ladoos in an airtight container and enjoy laddus as and when required. It stays good upto one week.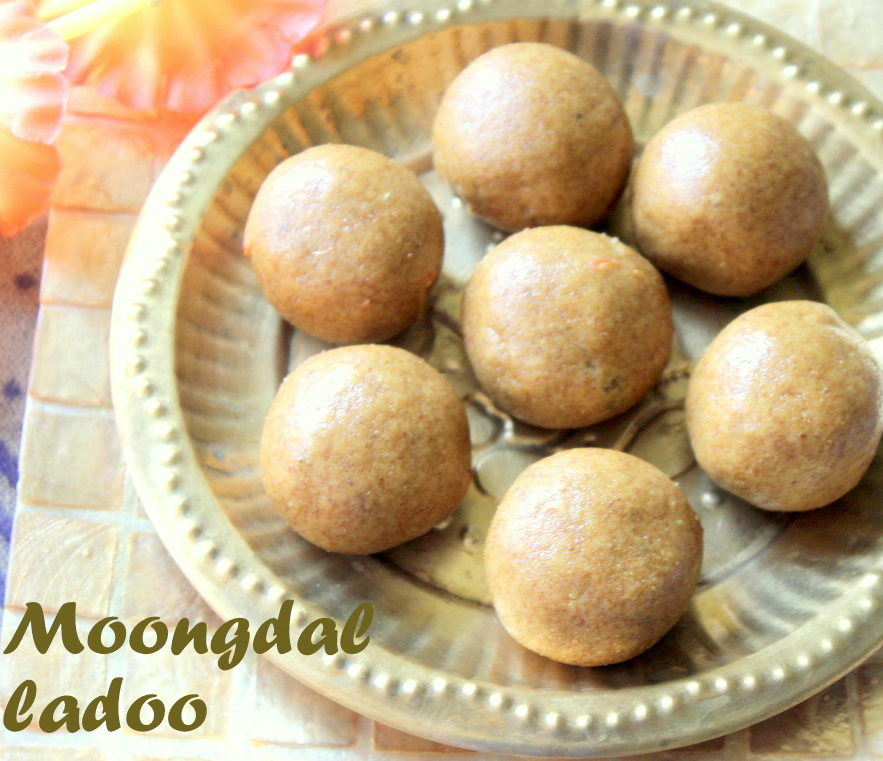 NOTES/TIPS
You can adjust the sweetness by increasing or decreasing the jaggery content. You can also add little dessicated coconut powder to enhance the taste. You can add powdered sugar instead of jaggery.
Ensure to roast the moong dal well so that it is evenly cooked.  Roast on low flame to prevent burning of the dals.
Moong dal ladoos stays good for a week.  You can also keep them in the refrigerator.
Add your choice of nuts like cashewnuts or pistachious.