Bread burfi recipe – How to make bread barfi recipe – easy bread recipes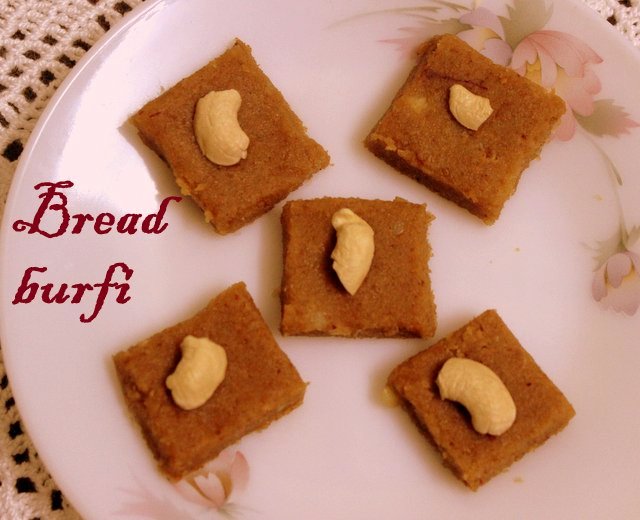 Bread burfi is a delicious sweet made with bread and sugar.  This recipe is not only simple but requires very few ingredients which are easily available at home.  You can also use leftover bread for this dish.  I made this burfi using brown bread.  But you can use white bread instead of brown bread.  You can try this sweet dish for any occasion or if you have any unexpected guests at home.  It can be served warm or chilled.  This is one of the easiest and simplest  way to make burfi using leftover bread slices.  So do try this tasty bread burfi and enjoy as a dessert or as an evening snack.
Pls click on this link for more bread recipes :
http://charuscuisine.com/10-easy-bread-recipes-collection-of-popular-bread-recipes/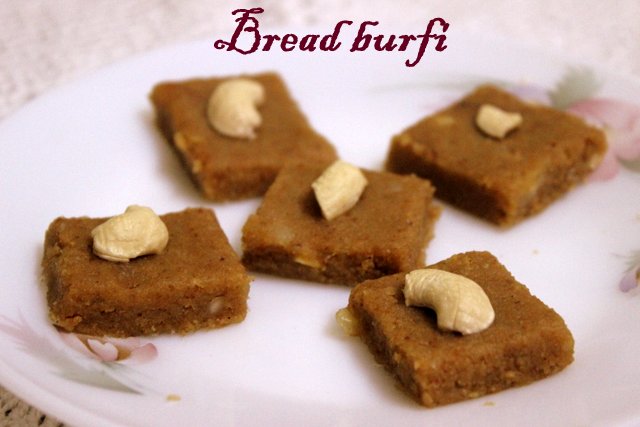 Prep Time :  10 mins
Cook Time :  15 mins
Yield: 20 burfis
INGREDIENTS
Bread slices – 8 (white or brown bread) (approx. 2 cups of bread crumbs)
Sugar – 3/4 cup
Milk – 200 ml
Grated coconut – 1 cup
Cardamom (elaichi)  powder – 1/2 teaspoon
Saffron strings – a small pinch
Cashewnuts – 15
Raisins – 15
Ghee – 3 tablespoons
HOW TO MAKE OR PREPARE BREAD BURFI RECIPE
Take 8 bread slices and chop them into small pieces.  Do not remove the edges.  Take these slices to a mixer grinder.
Grind them to make bread crumbs.  Take them to a mixing bowl. The bread crumbs should be 2 cups. Add milk and mix well.
Keep the bread crumbs soaked in milk for about 10-15 minutes.  Heat a pan on low flame.  Add grated coconut and sugar.  Mix well.
Keep stirring on low flame.  The sugar will start melting and the mixture will become little watery.  Once the sugar has melted completely, add the soaked bread crumbs.  Mix well.
Keep stirring the entire mixture.  Add ghee and keep stirring again.  The mixture will have a glossy look.
Keep cooking on a low flame by stirring continuously.  Once the mixture starts thickening a bit,  add cardamom powder, saffron strings, chopped cashewnuts and raisins.  Mix well.  Continue stirring till the mixture leaves the sides of the pan.
Pour the mixture to a greased tray and spread it evenly.  Allow it to cool down. Keep the barfis in the refrigerator for about 15-20 minutes for setting.  Then cut into desired shapes.  Store in an airtight container.
Garnish with chopped cashewnuts and serve as a dessert or evening snack.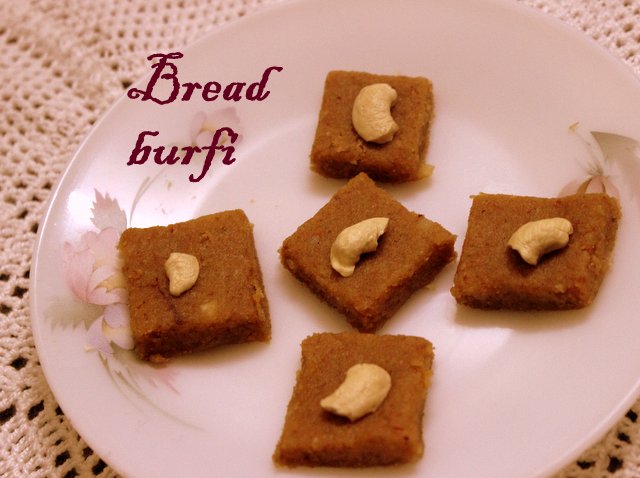 NOTES/TIPS
Freshly grated coconut gives good taste to the burfi.  But you can also use dessicated coconut.
You can also add few drops of rose essence for flavour.
Barfis stays good at room temperature for upto 2 days and in the refrigerator for a week.
Add grated carrot along with bread crumbs for making it more healthier.