Chocolate cup cake recipe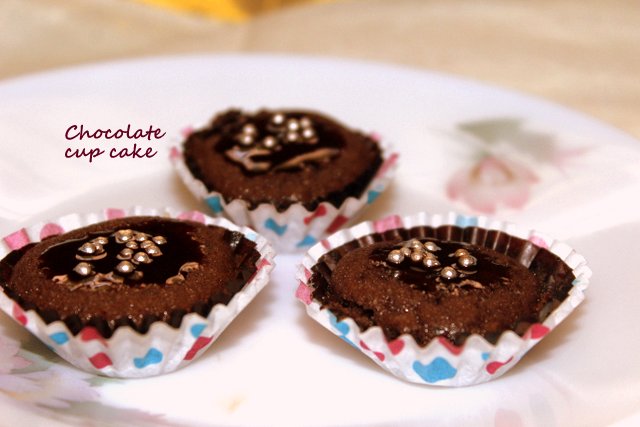 Chocolate cup cake is a very delicious cake made with easily available ingredients, maida flour, cocoa powder, butter, sugar, milk and condensed milk and without the use of eggs. It is even quick to make in just 30 minutes and a perfect party treat.
You can check similar cake/muffin recipes in my blog
Eggless whole wheat carrot muffins
Ingredients
Maida or all purpose flour - 1 1/2 cups
Unsweetened cocoa powder - 2 tablespoons
Butter - 1/2 cup
Powdered sugar - 1 cup
Condensed milk - 2 tablespoons
Milk - 1/3 cup
Baking powder - 1/2 teaspoon
Baking soda - 1/4 teaspoon
A pinch of salt
FOR DECORATION/GARNISHING
Chocolate syrup/sauce
Silver sugar balls
Method
Step 1
HOW TO MAKE CHOCOLATE CUP CAKE RECIPE In a mixing bowl, add all purpose flour, cocoa powder, baking powder, baking soda and salt and combine together to make a mixture. Sieve this mixture and keep it aside (dry mixture)
Step 2
In a separate large bowl, beat butter,condensed milk and sugar and whisk well it gets fluffy. (wet mixture)
Step 3
Add the dry mixture to the wet mixture and beat till just combined. Add milk alternately to the mixture till it becomes a smooth batter.
Step 4
Preheat the oven on 'convection' at 180 degree C. Line standard muffin cups with paper liner. Divide batter among muffin cups and bake for 25-30 minutes.
Step 5
Let it cool in pans on wire rack for 5 minutes. Then remove from wire rack and let cool completely.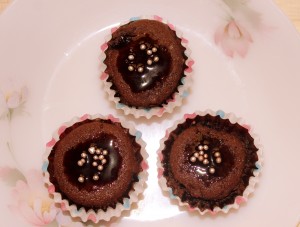 Step 6
Decorate with chocolate syrup and silver sugar balls before serving. You can also decorate with fresh fruits nuts of your choice.