Bread masala recipe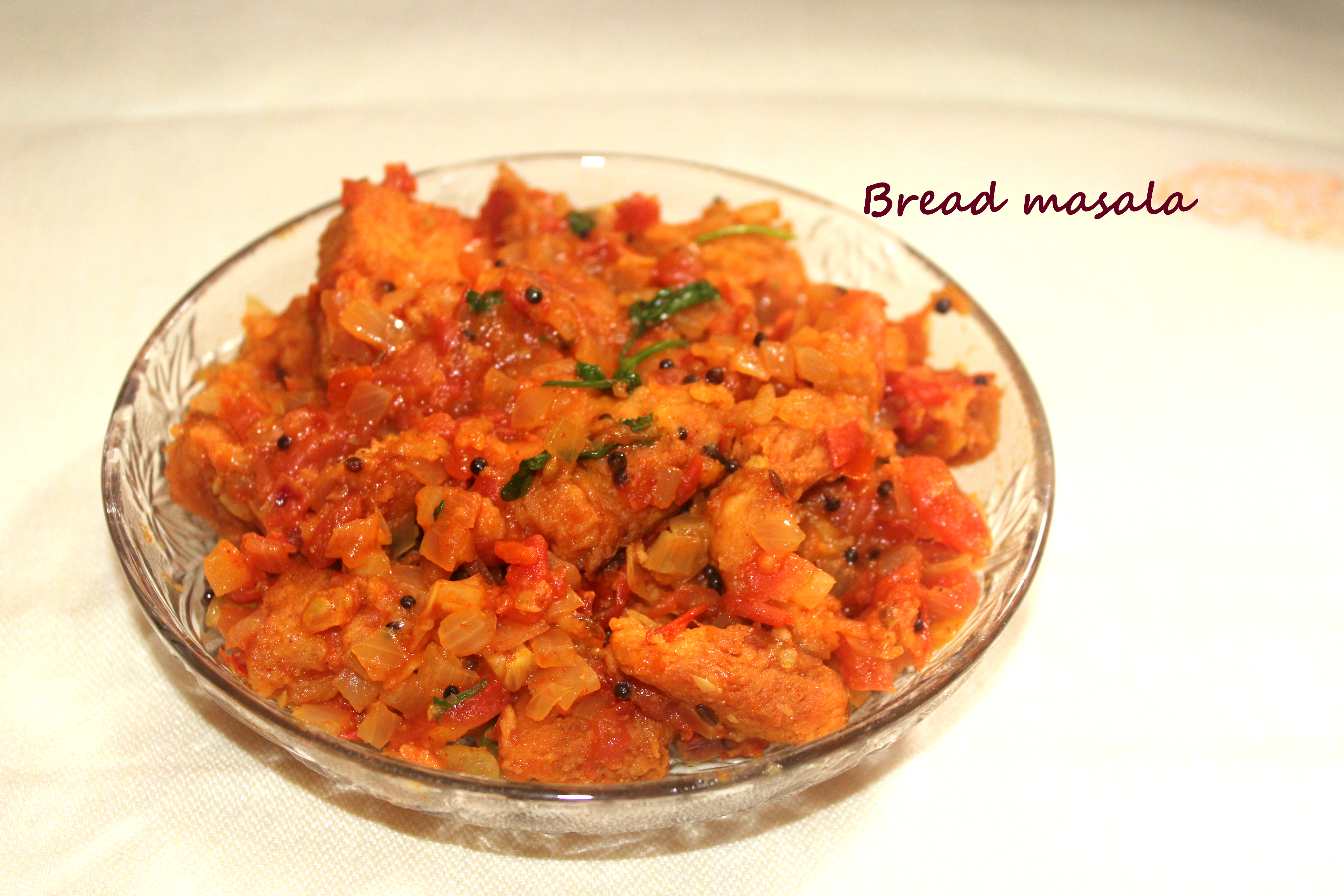 Bread masala is a very quick and easy to make breakfast or snack recipe. This snack is a welcome and good change from the normal snacks made with bread like sandwich or bread upma. Bread masala can be made with white bread or brown bread. Bread is lightly stir fried and then cooked with onions, tomatoes and mild spices.
Ingredients
Bread slices - 5-6
Onion - 1 (medium sized - chopped finely)
Tomatoes - 2 (chopped finely)
Cooking oil - 2 tablespoons
Mustard seeds - 1/2 teaspoon
Cumin seeds (jeera) - 1/2 teaspoon
Turmeric powder - 1/4 teaspoon
Coriander powder - 1/2 teaspoon
Red chilli powder - 1/2 teaspoon
Tomato ketchup - 1 tablespoon
Chopped coriander leaves - 1 tablespoon
Salt to taste
Method
Step 1
HOW TO MAKE BREAD MASALA RECIPE Heat a flat pan or tawa on a medium flame. Keep the bread slices and toast them lightly by adding little oil.
Step 2
Once toasted, cut each bread slice into 4 equal square pieces. Keep it aside.
Step 3
Heat oil in a pan. Add mustard seeds. Once the seeds stops spluttering add cumin seeds and saute for half a minute.
Step 4
Add chopped onions and saute till they become translucent. Then add chopped tomatoes and saute till tomatoes are fully cooked and become little soft.
Step 5
Add turmeric powder, coriander powder, red chilli powder and salt and mix well. Stir fry for a minute on a low flame.
Step 6
Now add tomato ketchup and combine together. If required add few tablespoons of water and mix the masala well. Cook for another 2 minutes.
Step 7
Add the toasted bread slices and mix all the ingredients well. Switch off the flame. Remove the bread masala in a serving bowl.
Step 8
Garnish with chopped coriander leaves and serve bread masala hot or warm.