Toasty paneer (cottage cheese) sandwich recipe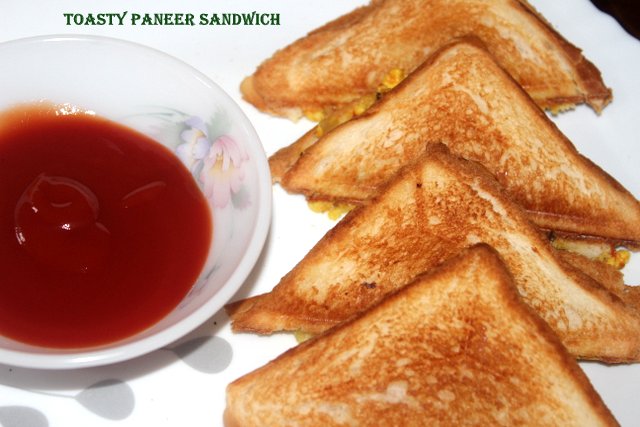 Toasty paneer sandwich is a very simple, delicious and  quick to make sandwich recipe made with paneer, onions, tomatoes and spices.  It is an ideal snack for breakfast, brunch or even school lunchboxes.  Sandwiches when toasted become hygienic and healthy even if it is made at home or outside.  Enjoy it plain or toasted as breakfast or evening snack item.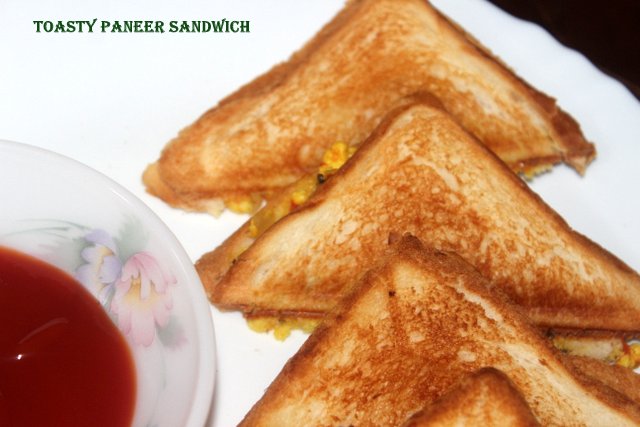 Prep Time : 15 mins
Cook Time : 10 mins (for toasting)
Servings : 2-3 persons
Total time – 25 mins
INGREDIENTS
Crumbly cottage cheese or paneer – 1 cup
Butter or oil – 2 tablespoons
Mustard seeds – 1/2 teaspoon
Cumin seeds (jeera) – 1 teaspoon
Onion -1 (chopped finely)
Tomatoes – 2 (medium sized – chopped finely)
Green chillies – 2 (chopped finely)
Turmeric powder – 1/4 teaspoon
Salt to taste
6-8 slices of fresh soft sandwich bread
HOW TO MAKE OR PREPARE TOASTY PANEER SANDWICH RECIPE
Heat a pan on a medium flame.  Add butter to it.  Once the butter starts melting, add mustard seeds and cumin seeds and allow it to splutter.  When they stop spluttering, add green chillies and chopped onions.  Cook till the onions become little translucent.
Add chopped tomatoes, turmeric powder and salt and cook for 2-3 minutes by stirring continuously and till the tomatoes become little soft.
Add paneer  and mix well.  Stir-fry for 3-4 minutes and then switch off the flame.
Keep a slice of bread  in a plate or a clean board. Spread little butter in it. Put the prepared paneer mixture on the slice and spread evenly.  Cover with another buttered slice of bread.
Grill or toast the sandwich in a sandwich toaster till golden and crispy.  When done in sandwich toaster, it helps to seal the edges and turns out nice and prevents the mixture from falling out.  (Otherwise you can toast the sandwich on a tawa and press gently with the back of the ladle.  Toast till golden and crisp).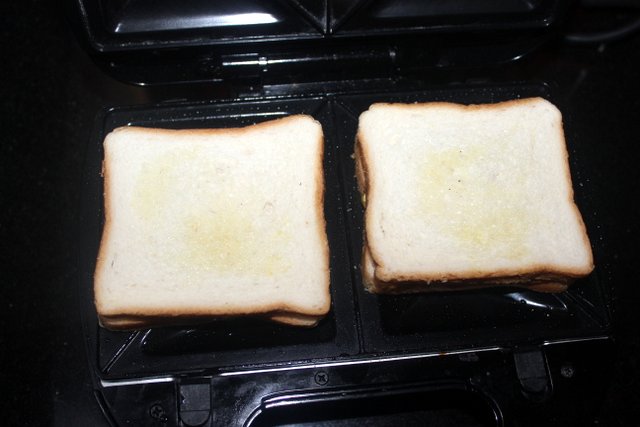 Serve toasty paneer sandwich hot with tomato ketchup or chutney of your choice.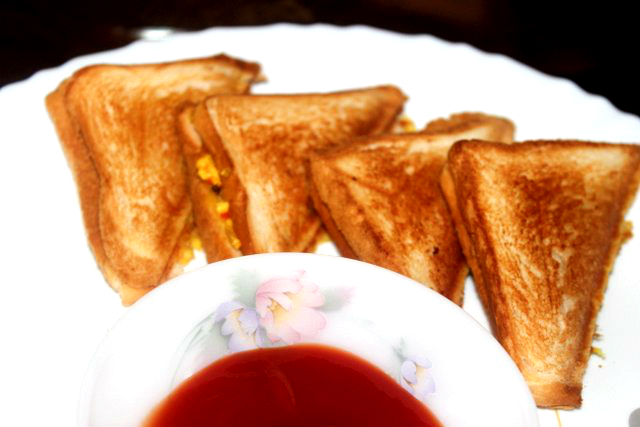 NOTES/TIPS
You can make this mixture and store it in fridge for 2-3 days and warm them before making the sandwich.
Add boiled peas, mushroom, mashed potatoes, carrots or any vegetable of your choice,  to make it more nutritious.
Instead of green chillies, you can use red chilli powder.