Cucumber peanut salad recipe – How to make cucumber peanut salad or khamang kakdi salad recipe – salad recipes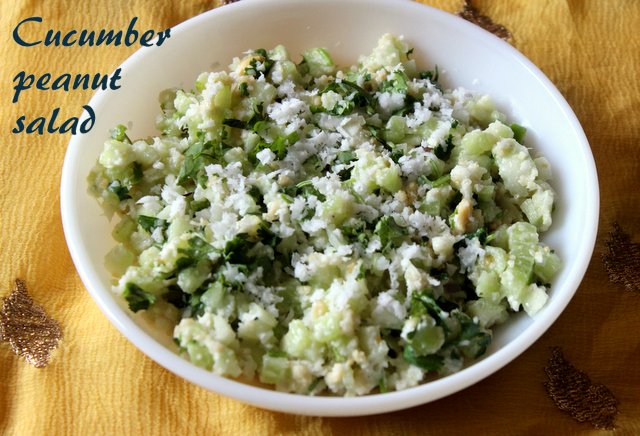 Cucumber peanut salad – a very simple, easy and delicious salad recipe made with cucumbers, grated coconut, roasted peanuts powder, lemon juice and spices.  This is a very refreshing as well as nutritious salad, as coconuts and peanuts add nutrition and cucumbers gives a refreshing taste to the salad.  Lemon juice, when added, gives a nice tangy taste to the salad. Cucumber peanut salad or khamang kakdi is a very popular dish in Maharashtra.  It can be served as a side dish with dal rice or khichdi  or just had as an evening snack.
Try this simple and yummy salad at your home and enjoy with your loved ones!!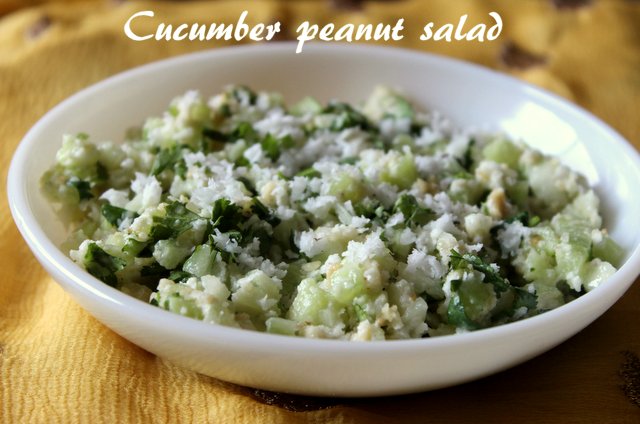 Prep Time :  10 mins
Servings : 2 persons
Maharashtrian cuisine
INGREDIENTS
Cucumber – 2 to 3 nos  (medium sized) (chopped into small pieces)
Freshly grated coconut – 1/4 cup
Roasted peanut powder – 1/4 cup
Finely chopped coriander leaves – 1/4 cup
Green chillies – 2 nos (chopped finely)
Sugar – 2 teaspoons
Half  lemon juice
Salt to taste
HOW TO MAKE  OR PREPARE CUCUMBER PEANUT SALAD RECIPE
Peel the skin of the cucumber and discard the skin.  Chop the cucumber into small pieces.  Transfer the small cucumber cubes/pieces to a wide bowl
Powder or grind the skinned and roasted peanuts to a coarse powder.  Keep it aside.
Add 2 chopped green chillies to the cucumber pieces.  Then add 1/4 cup powdered peanuts, 1/4 cup grated coconut, 1/4 cup chopped coriander leaves and 2 teaspoons of sugar to it.
Mix well all the ingredients.  Finally add lemon juice and salt.  Mix well to combine.   Tasty and healthy salad is ready to be served.
NOTES/TIPS
After adding salt, serve the salad immediately, otherwise the salad becomes very moist and watery.
Adjust lemon juice as per your taste.
If you prefer a mild spicy salad, add little red chilli powder.
You can also grate the cucumber instead of small pieces/cubes.