Tri coloured dosa recipe – Independence day special recipe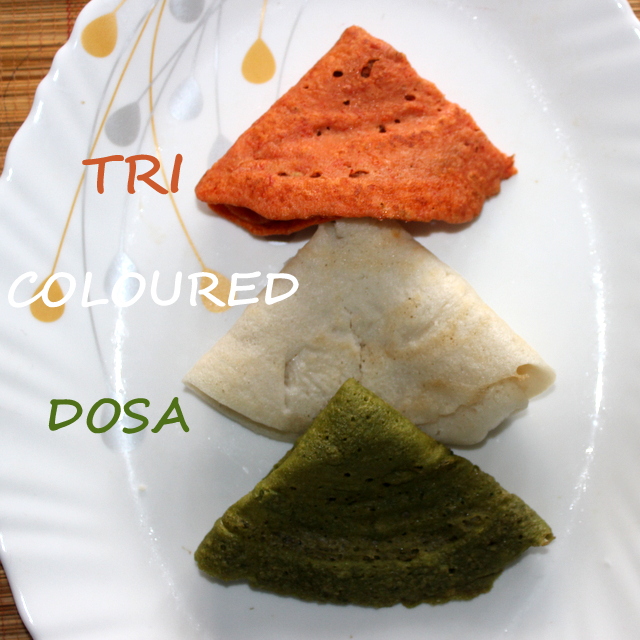 Happy Independence Day to all  my dear friends !!..Tri coloured dosa —  a very special dosa prepared to celebrate Independence day in true spirit.  Dosa is a popular breakfast dish in India and I wanted to try a new recipe with dosa, as a perfect and  ideal dish to celebrate this event.  Do give a try and surprise your loved ones with this tri coloured dosa on this day..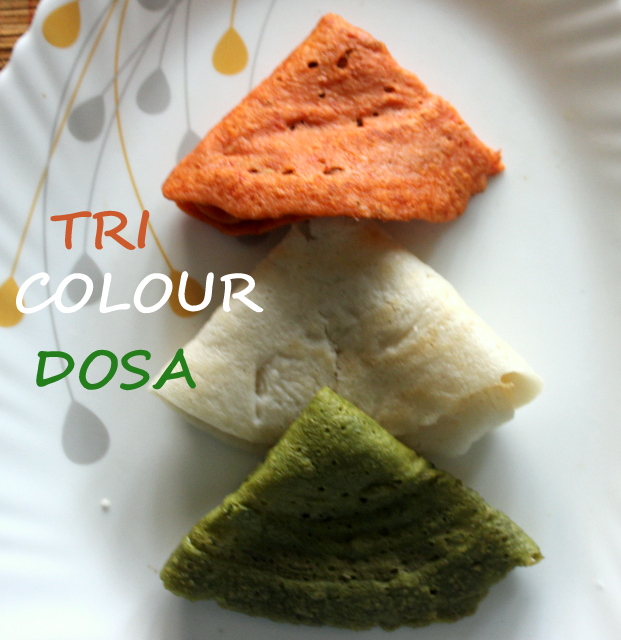 Prep Time : 20  mins
Cook Time :  15 mins
Yield : 10-12 dosas
Indian cuisine
INGREDIENTS
Dosa batter –  3 cups
Cooking oil for making dosas
For the saffron colour
Tomatoes – 2
Kashmiri red chilli powder – 1/2 teaspoon
For the green colour
Spinach or palak leaves – 1 small bunch
Green chillies – 2
HOW TO MAKE OR  PREPARE TRI COLOURED DOSA RECIPE
PREPARATION
For saffron coloured dosa
Blanch the tomatoes with sufficient water.  Once cooled down,  grind the blanched tomatoes along with red chilli powder, without adding water.  Keep the tomato puree aside.
For white coloured dosa
For white dosa, use the plain dosa batter for making the dosa.
For green coloured dosa
Blanch the palak leaves with enough water.  Grind the blanched palak leaves alongwith green chillies to a smooth paste.  Do not add water while grinding.  Keep the spinach puree aside.
Take equal portions of dosa batter in 3 separate bowls.  Add tomato puree to one portion of batter and mix well.  Adjust the puree/paste as per the consistency required.  Then add spinach puree to another portion of batter and mix well.  Keep the plain dosa batter in another bowl.
METHOD
Heat a tawa on a medium flame.  When the tawa becomes hot, pour a ladle of tomato dosa  batter to the tawa and spread the dosa to a medium circle by spreading the batter evenly. Put 1 tsp of oil on the top and around the dosa and cook for a minute on a medium flame. Once the dosa turns golden and crisp, flip on the other side and cook for half a minute.  Continue with the same method for the spinach dosa and plain dosa batter.
Serve tri coloured dosa hot with sambar or coconut chutney.