Wheat halwa (with fenugreek seeds) recipe – How to make wheat halwa (atta ka halwa) recipe – halwa recipes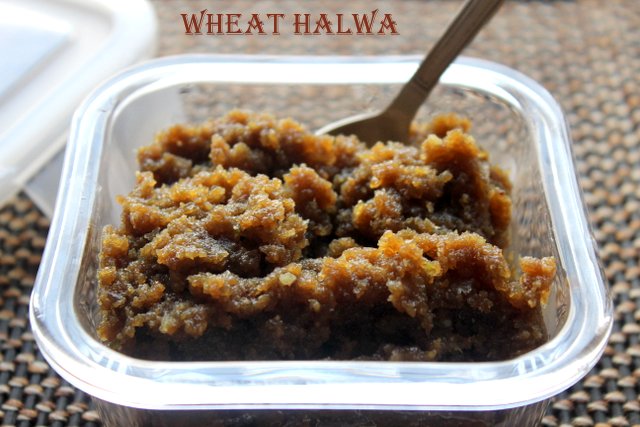 Wheat halwa or atta ka halwa is a delicious halwa made from whole wheat flour, dry fruits and jaggery as the main ingredients.  In this recipe, I have added methi seeds to make it more nutritious and healthy.  Methi seeds are used as a cure for joint and back pains especially during winter season.  This halwa is effective in increasing energy levels and provides good nourishment to the body.  Fenugreek seeds added to this halwa makes it more healthy, as fenugreek seeds is rich in minerals and vitamins which are beneficial for bones.  Methi seeds are also full of fibre and iron content.  Do try this yummy and enjoy this winter season!!  Enjoy this halwa as a sweet dessert after meals or as a anytime snack.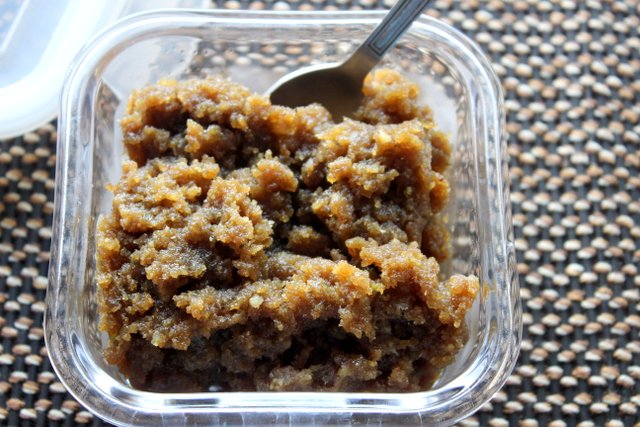 Prep Time : 15 mins
Cook Time 30 mins
Servings :  8 to 9 persons
Indian cuisine
INGREDIENTS
Dry Fenugreek seeds/methi dana – 3/4 cup
Whole wheat flour – 2 cups
Milk – 3 cups
Jaggery – 3 cups
Ghee – 2 cups
Dry coconut powder – 1 cup
Mix of dry fruits powder – 1 cup (almonds, cashewnuts and pistachios)
Gond/dink/edible gum – 2 tablespoons
HOW TO MAKE OR PREPARE WHEAT HALWA (WITH FENUGREEK SEEDS) RECIPE
Take all the dry fruits – badam, pista and kaju to a mixer grinder.  Grind them to a coarse powder and keep it aside.
(Heat a pan and dry roast the methi seeds for 2-3 minutes on a medium flame.  Switch off the flame.  Once cooled down, grind the roasted methi seeds to a fine powder.  Heat 3 cups of milk on a medium flame.  Once it comes to a boiling point, reduce the flame and add the methi seeds powder and mix well.  Switch off the flame)
Keep the soaked methi seeds powder aside for 3-4 hours.  After 4 hours, the milk would have been fully absorbed.
Heat 2 tablespoons of ghee in a kadai.  Add the gond and fry on medium flame.
Once it fully puffs up, remove them and keep it aside.  To the same pan, add another 1 tablespoon of ghee.
Add the wheat flour and roast on a low to medium flame.  Keep stirring continuously to ensure that it does not get burnt.
Add another 2 tablespoons of ghee to the flour and keep stirring.
Slowly the ghee will be absorbed by the wheat flour.  Keep adding the ghee little by little and mix well.
If you see the flour is dry, keep adding the ghee slowly and keep mixing.
After 20-25 minutes, the flour will stop absorbing the ghee and will start turning light brown in colour.  It will look like a batter.  At this point, add the soaked methi little by little and give a good mix.
Add the rest of the ghee and mix again.  Cook on a low flame for 2 minutes.
Add the coconut powder, powdered dry fruits and mix.
Lastly add the powdered jaggery and crushed gond. Combine all the ingredients well. Switch off the flame (You can add more ghee at this point.  But 2 cups of ghee is sufficient for making this halwa).
Yummy and healthy wheat halwa with methi is ready to be served.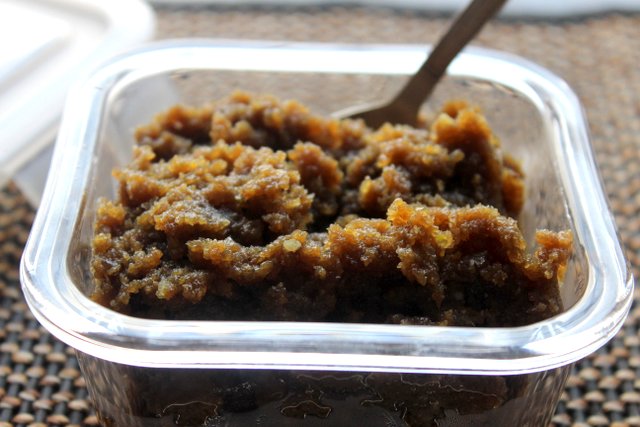 NOTES/TIPS
It is better to use thick bottomed kadai or pan so that the atta does not get burnt.
Ensure to roast the atta on a low to medium flame.
You can use sugar instead of jaggery for making this halwa.
If you are refrigerating halwa, then warm it before serving it.
Adjust jaggery according to your taste.