Udupi saaru or udupi rasam recipe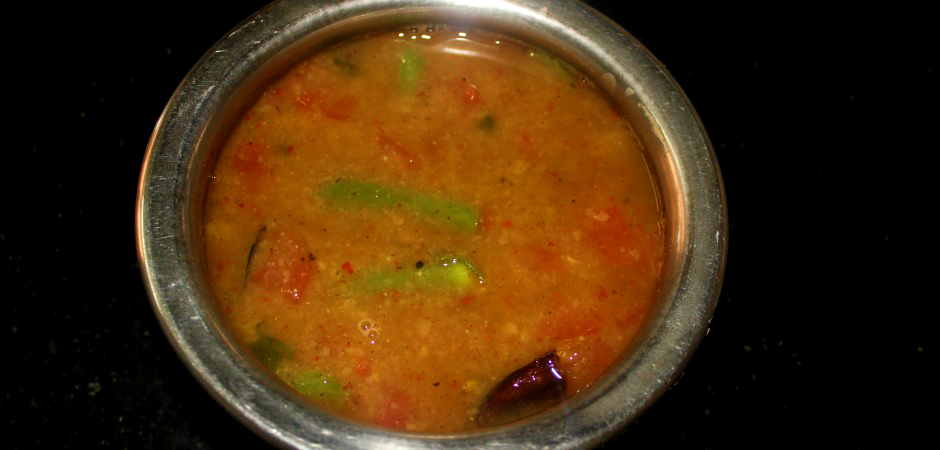 Udupi saaru or rasam  is very popular for its unique and divine taste.   The important ingredients used are coconut oil and jaggery.   This is my humble try to get that taste and flavour through this recipe.
Ingredients
Tur dal - 3/4 cup
Tamarind water - 1/2 cup
Grated jaggery - 2 tablespoons
1 string of curry leaves
A pinch of asafoetida
Salt to taste
Turmeric powder - 1/4 teaspoon
Chopped coriander leaves - 2 tablespoons
Tomato - 1 (chopped finely)
FOR RASAM POWDER
Coriander seeds - 1 1/2 tablespoons
Cumin seeds - 1/2 teaspoon
Methi (fenugreek) seeds - 1/4 teaspoon
Byadagi red chillies - 5 to 6
Curry leaves - 5
Coconut oil - 1 teaspoon
FOR SEASONING
Coconut oil - 1 teaspoon
Mustard seeds - 1/2 teaspoon
Urad dal - 1/2 teaspoon
Green chillies - 2
Byadagi red chillies - 2
Method
Step 1
Wash and soak tur dal for half an hour. Add turmeric powder and pressure cook the dal upto 4 whistles till it is soft. Mash the dal and keep aside.
Step 2
Soak one lemon sized tamarind in a cup of warm water. Extract 1/2 cup of tamarind juice by diluting it with water and discard the pulp.
Step 3
Heat coconut oil in a pan. Add coriander seeds, cumin seeds, methi seeds, red chillies and curry leaves. Roast till light brown on a low flame. Grind to a fine dry powder.
Step 4
Take a vessel. Add tamarind water, salt, asafoetida and jaggery. Boil till raw smell of tamarind goes away and jaggery dissoves.
Step 5
Add chopped tomato, coriander leaves, curry leaves and rasam powder. Boil on low flame for 2 to 3 minutes till the aroma exudes.
Step 6
Add mashed dal and enough water to get the consistency of rasam.
Step 7
Boil rasam on a low flame till it reaches the boiling point. Switch off the flame.
Step 8
For seasoning, heat coconut oil in a tadka pan. Add mustard seeds. Once the seeds startspluttering, add urad dal, green chillies and red chillies. Stir till light brown. Pour the seasoning to the rasam
Step 9
Serve udupi rasam hot with rice.
Step 10
Note : Byadagi chillies are widely used in Udupi cuisine and it is an important ingredient for spicy preparations like sambar, bisi bele bath, rasam and other food items. These chiliies are less spicy but known for its deep red colour. But if these chillies are not available, you can also use whole red chillies instead of byadagi red chillies.