White pumpkin curry (ash gourd curry) recipe – How to make white pumpkin curry recipe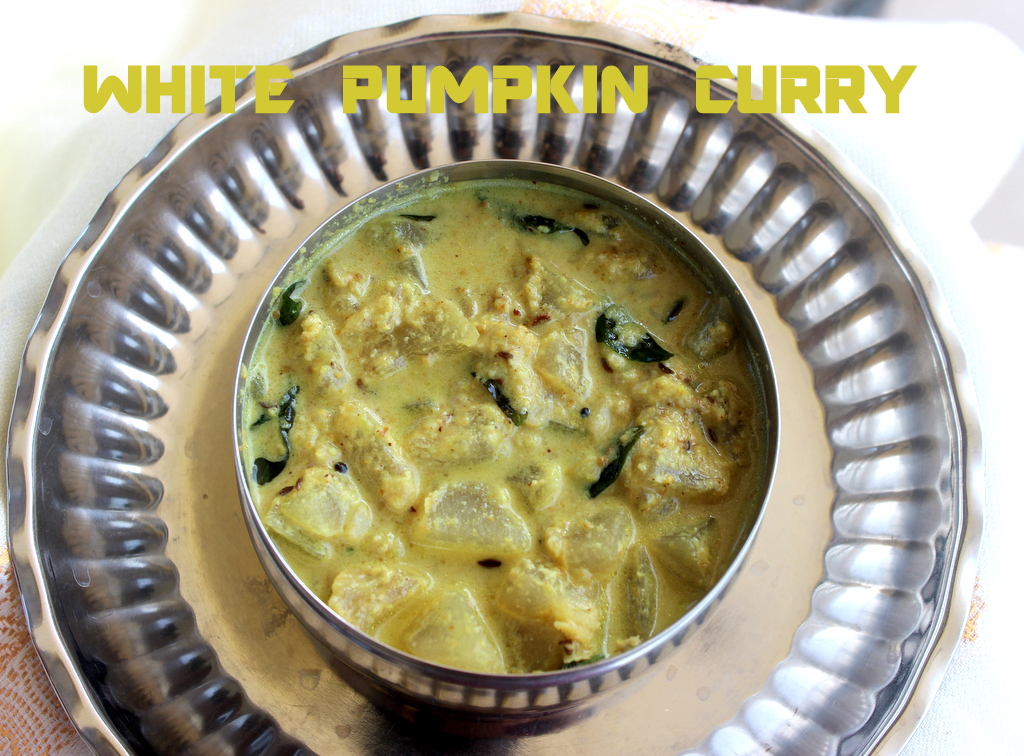 White pumpkin is also called a winter melon, ash gourd or winter gourd. In Indian cuisine, this vegetable is traditionally used to prepare a wide variety of dishes. In northern India, it is used to prepare a candy called petha. In South India, it is traditionally used to make a variety of curries  and sometimes with curd or buttermilk.   White pumpkin curry is also called as poosanikkai mor kootu in Tamil Nadu.  It is very easy to prepare and goes well with rotis as well as rice.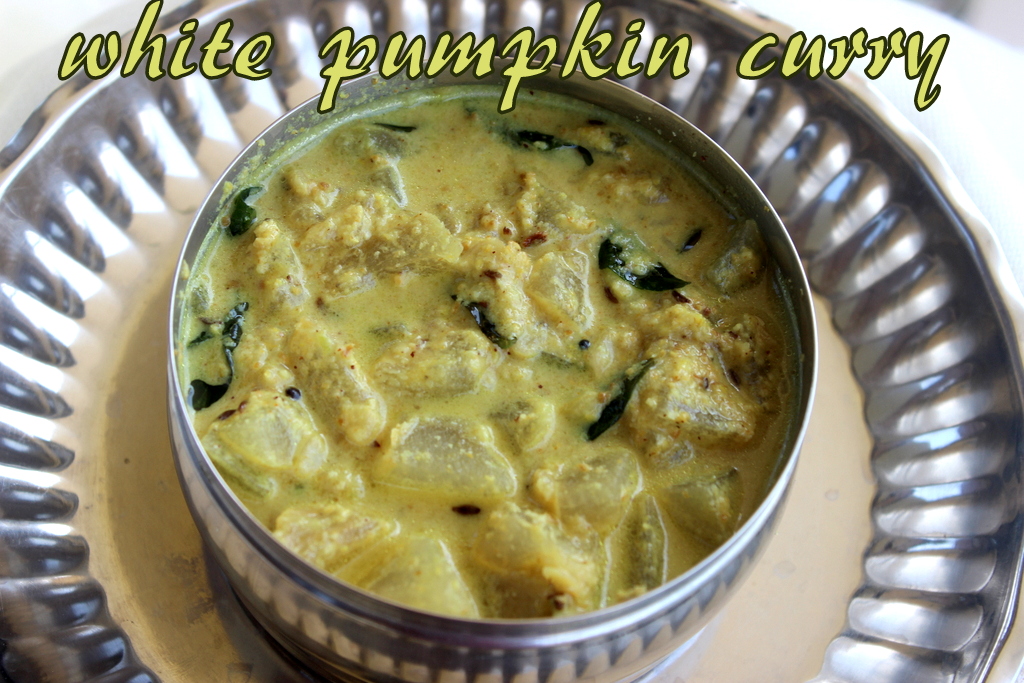 Prep Time : 15 mins
Cook Time : 20 mins
Servings : 3 to 4 persons
South Indian cuisine
INGREDIENTS
White pumpkin – 2 cups (chopped into medium cubes)
Onion – 1 (chopped finely)
Cooking oil – 2 tablespoons
Mustard seeds – 1/2 teaspoon
Cumin seeds – 1/2 teaspoon
Few curry leaves
Salt to taste
TO BE GROUND TO A FINE PASTE
Coconut – 1/2 cup (grated)
Turmeric powder – a pinch
Cumin seeds – 1/2 teaspoon
Green chillies – 3
Coriander seeds – 1 teaspoon
Garlic cloves – 5 to 6
Cinnamon stick – 1 inch sized
Cloves – 2
HOW TO MAKE OR PREPARE WHITE PUMPKIN CURRY RECIPE
PREPARATION
Boil the pumpkin cubes with little water and salt, till they become little soft.  Do not overboil them.  Once done, drain the water and keep the boiled pumpkin cubes aside.
Grind the coconut, cumin seeds, green chillies, coriander seeds, garlic cloves, cinnamon stick and cloves with little to a smooth paste.  Set aside
METHOD
Heat oil in a pan. Add mustard seeds and saute till the seeds stops spluttering.  Add cumin seeds and curry leaves and stir for few seconds, till the cumin seeds become light brown in colour.  Add chopped onions and cook till they become translucent.
Add the ground masala, salt and little water.  Cook on a low flame for 3-4 minutes.  Finally add the boiled pumpkin pieces and mix well.  Cover the pan with a lid and cook for another 2-3 minutes on a low flame.   Check for salt and add if required.  Bring the curry to a nice medium consistency.  Then switch off the flame.
Serve white pumpkin curry with rotis or as a side dish for steamed rice.
NOTES/TIPS
You can add curd along with ground masala for a sour taste.
Use coconut oil for an enhanced flavour.
Adjust the consistency as desired by you.