Oats adai or oats and lentils pancake recipe – healthy breakfast recipes – oats recipes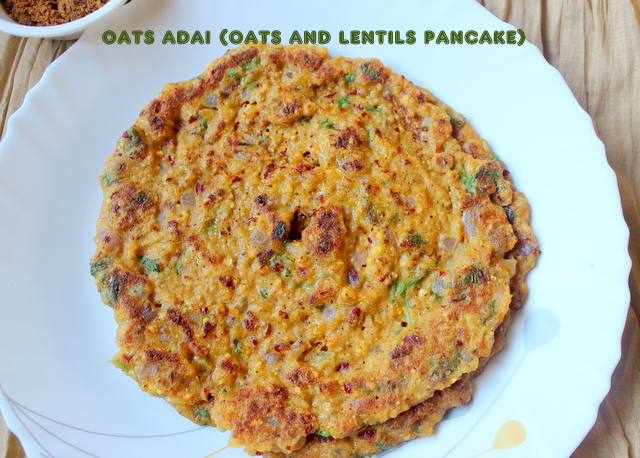 Oats adai is a nutritious breakfast dish made with oats.  Oats is rich in proteins and fibre and so makes up for a healthy breakfast recipe.  Traditionally, adai is prepared with rice and lentils.  But in this recipe, rice is replaced by oats and hence can be had even  by people who are diabetic and by people who want to lose weight.  Oats adai is best served with coconut chutney, jaggery or pickle. You can also add vegetables like grated carrot, finely chopped green capsicum or beans to the batter and make adais.  Try this  oats adai  for a more healthy, tasty and filling breakfast. 
If you are looking for oats recipes, pls check these recipes in my blog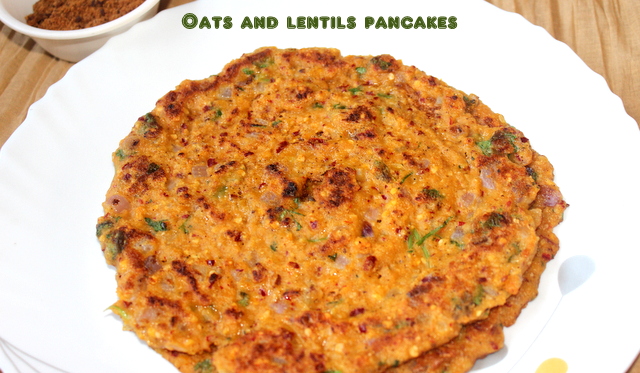 Prep Time : 10 mins plus 1 hr soaking time
Cook Time :  15 mins
Yield : 5 adais or pancakes
INGREDIENTS
Oats – 1 cup
Chana dal or bengalgram – 1/4 cup
Yellow moong dal – 1/4 cup
Toor dal or arhar dal – 1/4 cup
Urad dal – 1 tablespoon
Onion – 2 small sized (chopped finely)
Whole red chillies – 5 to 6
Ginger – 1 inch small piece
10-12 curry leaves
A pinch of asafoetida
Chopped coriander leaves – 2 tablespoons
Salt to taste
HOW TO MAKE OR PREPARE OATS ADAI OR OATS AND LENTILS PANCAKE RECIPE
Grind the oats to a fine powder and keep it aside.
Wash and soak the dals (chana dal, tur dal, moong dal and urad dal) for an hour.  Drain the water and grind the dals along with red chillies, asafoetida, curry leaves, ginger to a coarse paste.
In a mixing bowl, add the ground dal paste, powdered oats, turmeric powder and chopped onions.  Add water and bring to a medium batter consistency.  Add chopped coriander leaves and salt and mix well.  Rest this batter for an hour.
Heat a dosa tawa or griddle on a medium flame.  Smear oil and spread one ladleful of this batter to a thick circular shape.  Make a hole in the centre of the adai.  Pour oil on the sides and in the centre.  Once cooked, flip on the other side and cook till it is crisp and golden brown in colour.
Serve oats dosa with jaggery or coconut chutney or any chutney of your choice.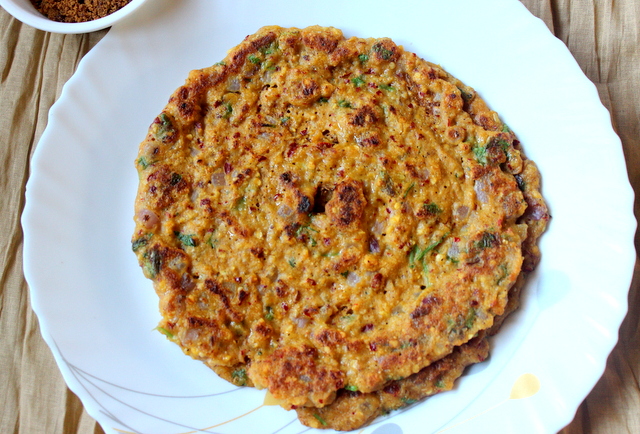 NOTES/TIPS
Serve oats adais immediately as it tastes good when it is hot or just warm.
You can also make the adais little thinner and crisper.  But traditionally adais are prepared little thick.  Both the ways, it tastes good.