Swiss roll recipe – how to make no bake swiss roll recipe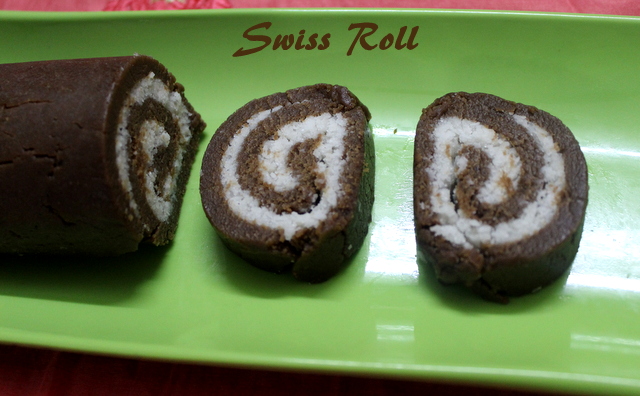 Swiss roll is an easy, quick and tasty snack recipe for kids and is made with biscuits, coconut, chocolate syrup, butter and sugar.  It is a no bake and no cooking recipe and only needs to be refrigerated for 2 hours.  Swiss roll is an ideal recipe for any birthday party or any get together party where not only the kids even the elders will relish this snack.  Try this light, chocolate and coconut flavoured swiss roll and enjoy with your family!!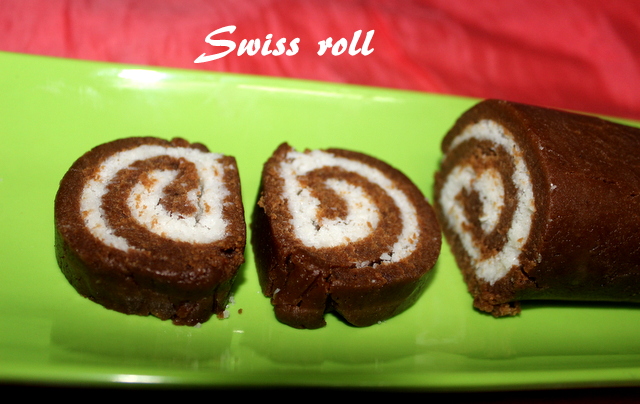 Prep Time : 20 mins
Refrigeration time :  2 hours
Servings :  4 persons
INGREDIENTS
Parle or marie biscuits – 250 gms
Chocolate sauce or syrup  – 4 tablespoons
Instant coffee powder – 1/2 teaspoon
Cocoa powder – 2 teaspoons (optional)
Butter – 2 tablespoons
Milk – 2 to 3 tablespoons or as required
Butter paper or aluminium foil to roll
FOR THE FILLING
Dessicated coconut – 1/2 cup
Powdered sugar – 1/2 cup
Vanilla essence – 1/2 teaspoon
HOW TO MAKE OR PREPARE NO BAKE CHOCOLATE FLAVOURED SWISS ROLL RECIPE
Break the biscuits into two pieces and grind them into a fine powder.
Take them out in a bowl.  To this add chocolate syrup, coffee powder, cocoa powder, butter and 1-2 tablespoons of milk and knead them to a soft dough.  The dough should be neither too soft nor too hard, just enough to roll it easily.
In a separate bowl, add dessicated coconut, powdered sugar, vanilla essence and few drops of milk.  Mix it well and keep it aside for filling/stuffing.
Grease the butter paper with little butter smeared on all the sides.  Roll the chocolate dough to a rectangular shape with the help of a rolling pin.
Adjust the breaks on the sides of the dough with your palm and roll to a  nice rectangular shape.  Add the coconut mixture and spread it evenly to all the sides.
Now press the coconut mixture gently with your hand so that it gets stuck to the chocolate dough.  Roll with the help of the butter paper to a tight log shape.
Refrigerate  the swiss roll in the freezer for 2 hours.  After 2 hours, cut them into round shapes and serve chilled.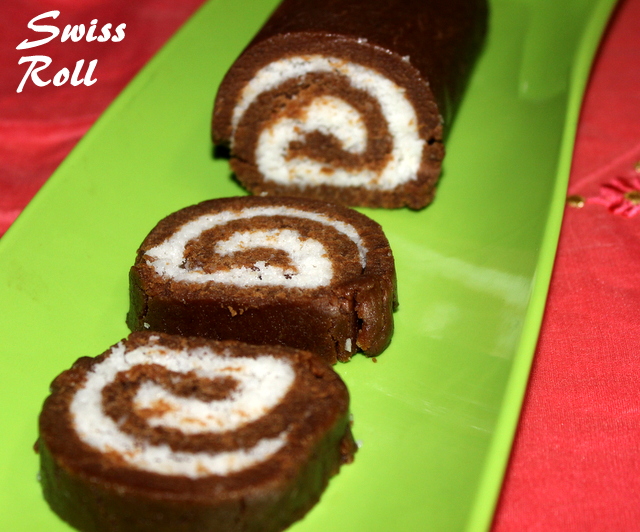 NOTES/TIPS
Cocoa powder is optional.  If you are adding chocolate syrup that is enough.
Once prepared, store the swiss rolls in an airtight container to avoid from become too soft.
You can also use oreo biscuits or any cocoa biscuits of your choice, to make it more chocolate flavoured.
Add nuts like cashewnuts or any dry fruits of your choice.
You can refrigerate outside the freezer too.  In that case,  keep it in the fridge for 4 hours to set.