Banana lassi recipe – How to make banana lassi recipe – lassi recipes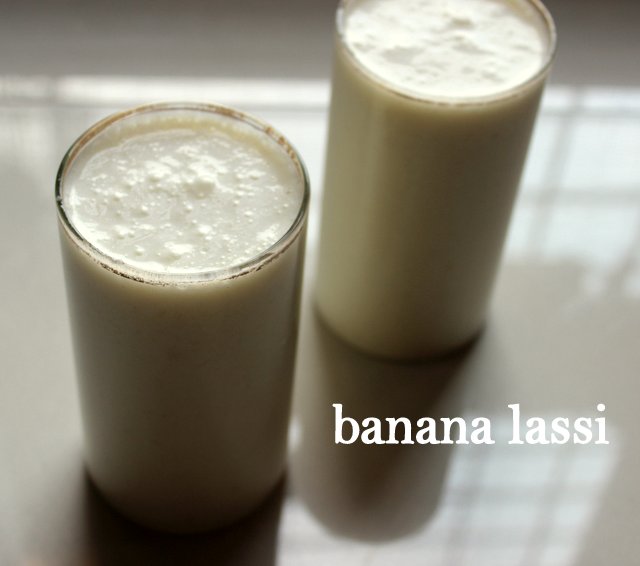 Lassi is a very popular and traditional drink from North India prepared from yoghurt,  sugar and cardamom powder.  It is an ideal drink during summers as yoghurt cools down your body.  You can add different flavours to the yoghurt like mango pulp, bananas, chickoos or even dry fruits and make it more nutritious and flavourful drink.  Here in this recipe, I have added chopped bananas and a pinch of saffron strings to make it more filling and enhance the flavour of the lassi.
If you are looking for lassi recipes, then do check these recipes, :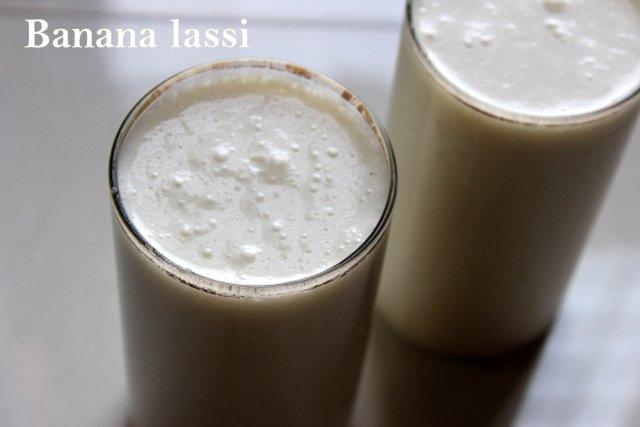 Prep Time :  15 mins
Servings :  2 persons
North Indian cuisine
INGREDIENTS
Yoghurt/curd – 2 cups
Milk – 1/2 cup
Bananas – 2 (medium sized) (chopped into medium pieces)
Sugar – 4 tablespoons or as per taste
Cardamom powder – 1/4 teaspoon
Saffron strings – a pinch
Water – 2 cups
HOW TO MAKE OR PREPARE BANANA LASSI RECIPE
Take a blender. Add 2 cups of curd and 1/2 cup of milk.  Then add chopped bananas.
Blend well till it becomes smooth and creamy.  Add cardamom powder, sugar and saffron strings.
Add 2 cups of water and blend again till you get the right consistency.  Pour it into glasses and serve chilled.
Delicious banana lassi is ready to be served.  Serve immediately chilled and enjoy!!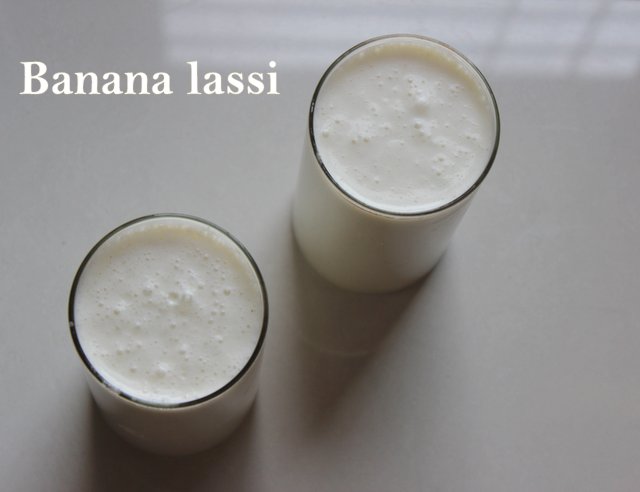 NOTES/TIPS
Add ice-cubes if you want to serve immediately chilled lassi.
You can chill the lassi in the refrigerator before serving.
Add sugar as per your taste.
Add honey or coconut sugar instead of normal sugar.
If you prefer a thinner lassi, add little cold water instead of milk, to adjust the consistency.
Adding ice-cubes at the time of blending gives you a cold and refreshing lassi.
Ensure to use fresh and not so sour curd for making the lassi.