Beetroot raita recipe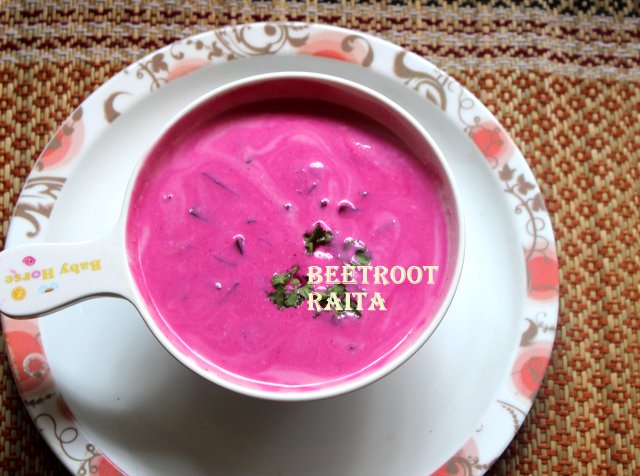 Beetroot raita is a very easy, healthy and tasty raita made with beetroot, chilled curd or yoghurt, cumin powder, red chilli powder and salt.  It is a no-0il recipe which goes well with pulao or biryani or any flavoured rice.  Beetroot raita is simple to make too with very few ingredients and is a very brightly coloured raita recipe.
 Prep Time : 10 mins
Cook Time : 10 mins
Serves : 2 persons
Total time – 20 mins
INGREDIENTS
Beetroot – 1 (medium sized)
Curd/yoghurt – 1 1/2 to 2 cups
Cumin powder – 1/2 teaspoon
Red chilli powder – 1/2 teaspoon
Salt to taste
Chopped coriander leaves for garnishing
HOW TO MAKE BEETROOT RAITA RECIPE
Wash the beetroot thoroughly and boil it with sufficient water.  Once cooled down, peel and chop them into small pieces.  Set aside.
Take yoghurt in a bowl and whisk thoroughly.  Add boiled and chopped beetroot pieces, cumin powder, red chilli powder and salt and mix well.
Garnish with chopped coriander leaves and serve chilled.
Delicious and chilled beetroot is ready to be served.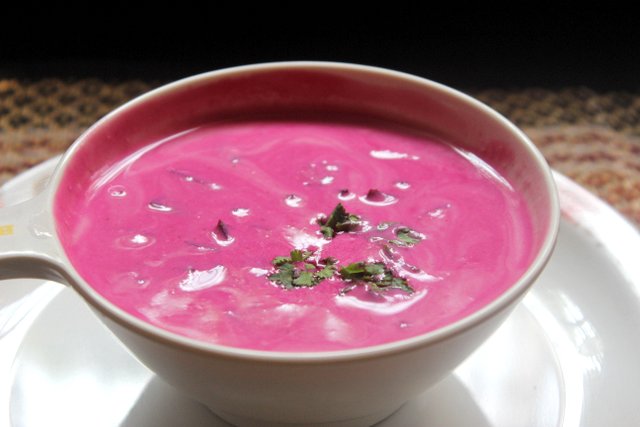 NOTES/TIPS
You can also grate the beetroot and make raita directly by adding curd and spices to it.  No need to boil the beetroot.
You can add chopped green chillies and mint leaves, if you want to make it more spicy and add flavour to the raita.
Do not overcook or overboil the beetroot as it becomes mushy.