Mango kheer recipe – how to make mango rice kheer or mango payasam recipe | Indian desserts | Mango recipes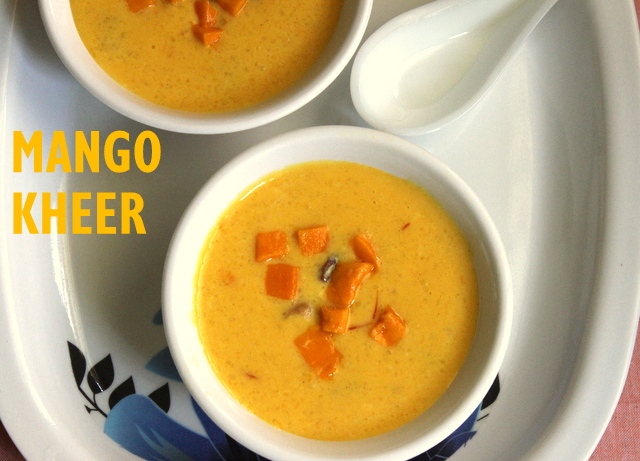 Mango kheer is a delicious dessert made with ripe mangoes and a simple and easy to make recipe too.  Since summer season is already started and mangoes are plenty in market, it is an ideal dessert to enjoy during this sunny days.  Rice is cooked in saffron milk and then flavoured with mango pulp and garnished with fried cashewnuts and raisins.  Mango kheer can be served at all occasions and mango added to the kheer makes it even more flavourful.  Do try mango kheer this season and enjoy!!
If you are looking for mango recipes, then do check :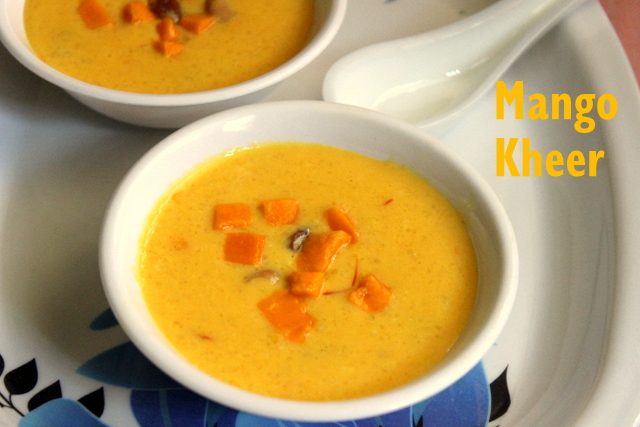 Prep Time : 15 mins
Cook Time :  20 mins
Servings :  2-3 persons
Indian cuisine
INGREDIENTS
Milk – 2 cups
Mango puree – 1/2 cup
Raw rice – 3 tablespoons
Sugar – 1/4 cup
Saffron strings – few strands
Cardamom powder – 1/4 teaspoon
Ghee – 2 teaspoons
Cashewnuts – 1 tablespoon
Raisins – 1 tablespoon
HOW TO MAKE MANGO KHEER OR MANGO PAYASAM RECIPE
Soak the rice with required water for half an hour.  Then strain the water and grind the soaked rice, with very little water to make a coarse paste.  Set it aside.
Peel one medium-sized mango and chop them into small cubes.  Blend the cubes in a blender to form a smooth paste of the pulp.   Soak the saffron strings in 2 teaspoons of warm milk for 10-15 minutes.
Heat ghee in a pan on medium flame.  Stir fry the cashewnuts and raisins till golden brown in colour and set it aside.  Heat 2 cups of milk in a deep bottomed vessel  and bring it to a nice boil.
Then lower the flame and add the ground rice paste to the milk. Cook till the rice is fully cooked. Keep stirring the milk in between and keep the flame on low heat.
Once the rice is fully cooked and the milk reduces a bit in volume, add the saffron strings soaked in milk and the sugar.  Mix well and heat till the sugar is fully dissolved.
Then add cardamom powder and fried cashewnuts and raisins.  Add more ghee here, if required, and mix everything well.
Switch off the flame.  Let the kheer cool down and come to room temperature.  Then add the mango puree and mix well.
Mango kheer is ready to be served.  Enjoy the mango kheer either warm or refrigerate to have it chilled.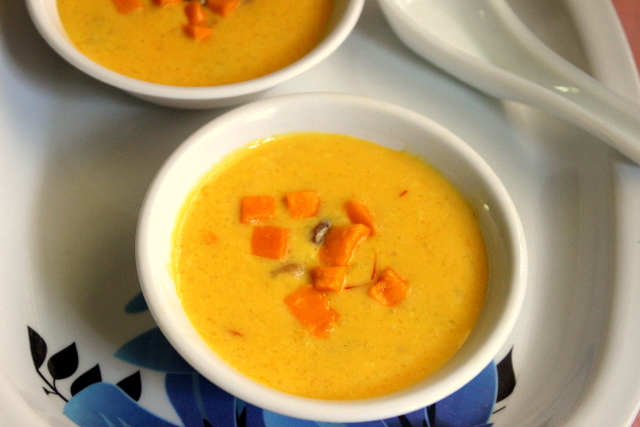 NOTES/TIPS
I have used sona masoori rice for this recipe. You can also use basmati rice for making this kheer.
Add condensed milk at the time of adding sugar, for an enhanced flavour.
Add sugar after the rice is completely cooked.
Adjust sugar according to your taste.
Ensure to add mango puree only after the kheer is completely cooled down.  Otherwise it tends to curdle.