Coconut and rice kheer (thengai arisi payasam) recipe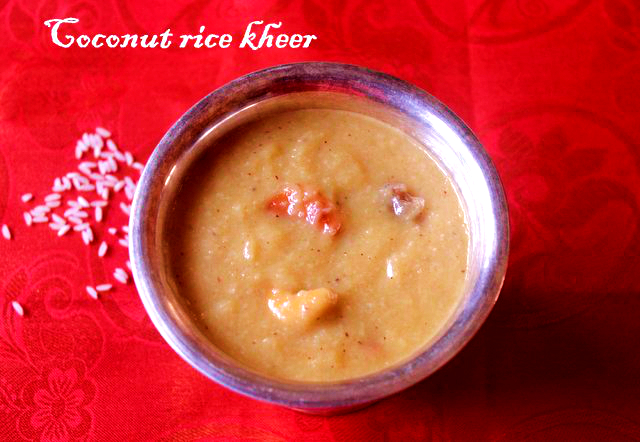 Coconut rice kheer is a delicious kheer or pudding prepared with freshly grated coconut, rice, jaggery, cardamom powder and garnished with nuts and raisins.  It is generally made on festivals and special occasions.  It is called as thengai arisi payasam in Tamil Nadu and very popular because of its unique taste and simple ingredients.  Thengai arisi payasam can also be prepared with sugar instead of jaggery, but it tastes divine when made with jaggery.  Do prepare this divine kheer on festivals or special occasions and enjoy with your loved ones…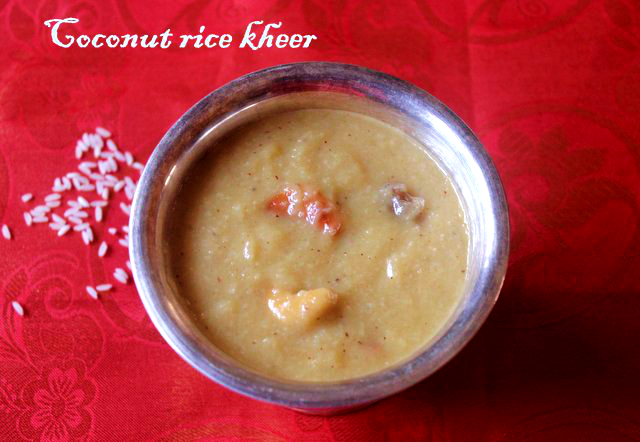 Prep Time :  10 mins plus half an hour soaking time
Cook Time :  20-25 mins
Servings :  2-3 persons
South Indian cuisine
INGREDIENTS
Freshly grated coconut – 1 cup
Jaggery – 1 cup
Raw rice – 4 tablespoons
Cardamom powder – 1/2 teaspoon
Ghee – 1 tablespoon
Cashewnuts and raisins -15
Boiled and cooled milk – 1/4 cup (optional)
HOW TO MAKE OR PREPARE RICE COCONUT KHEER OR THENGAI ARISI PAYASAM RECIPE
Wash and soak the raw rice for half an hour.  Drain the water. Grind the rice and coconut with little water to a smooth paste.  Keep it aside.
Heat half a cup of water and dissolve jaggery in it. Once the jaggery is fully dissolved, switch off the flame.
Strain or filter the jaggery water with the help of a strainer to remove any impurities.  Set aside.
In a vessel add 2 cups of water and the ground rice-coconut paste and bring it to a boil.    Cook on a low to medium flame for 10 minutes, stirring continuously to avoid burning at the bottom of the vessel.  Once the rice and coconut mixture is cooked and comes to a thick medium consistency, add the jaggery water and mix well.  Simmer the payasam on a low flame till it comes to a boil.  Switch off the flame.
Heat ghee in a pan and roast cashewnuts till golden brown.  Then add raisins and saute till they puff up.  It takes only few seconds for raisins to puff up.  Add to the kheer and mix well. Add cardamom powder and combine together.
Once the kheer is cooled down after 5-10 minutes,  add the boiled and cooled milk to the kheer and give a good mix.
Rice coconut kheer or thengai arisi payasam is now ready to be served.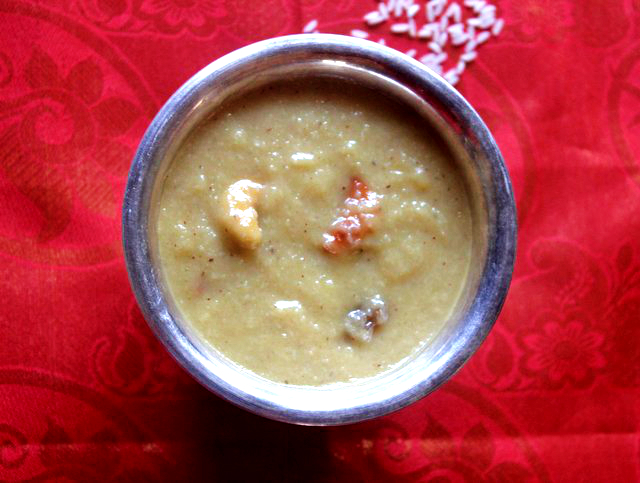 TIPS/NOTES
Add cooled milk at the end, to avoid curdling of the milk.  Adding milk is purely optional, but it gives richness to the kheer.
The colour of the payasam depends on the amount and quality of jaggery used.
Add jaggery according to the sweet taste desired by you.