Sweet corn pulao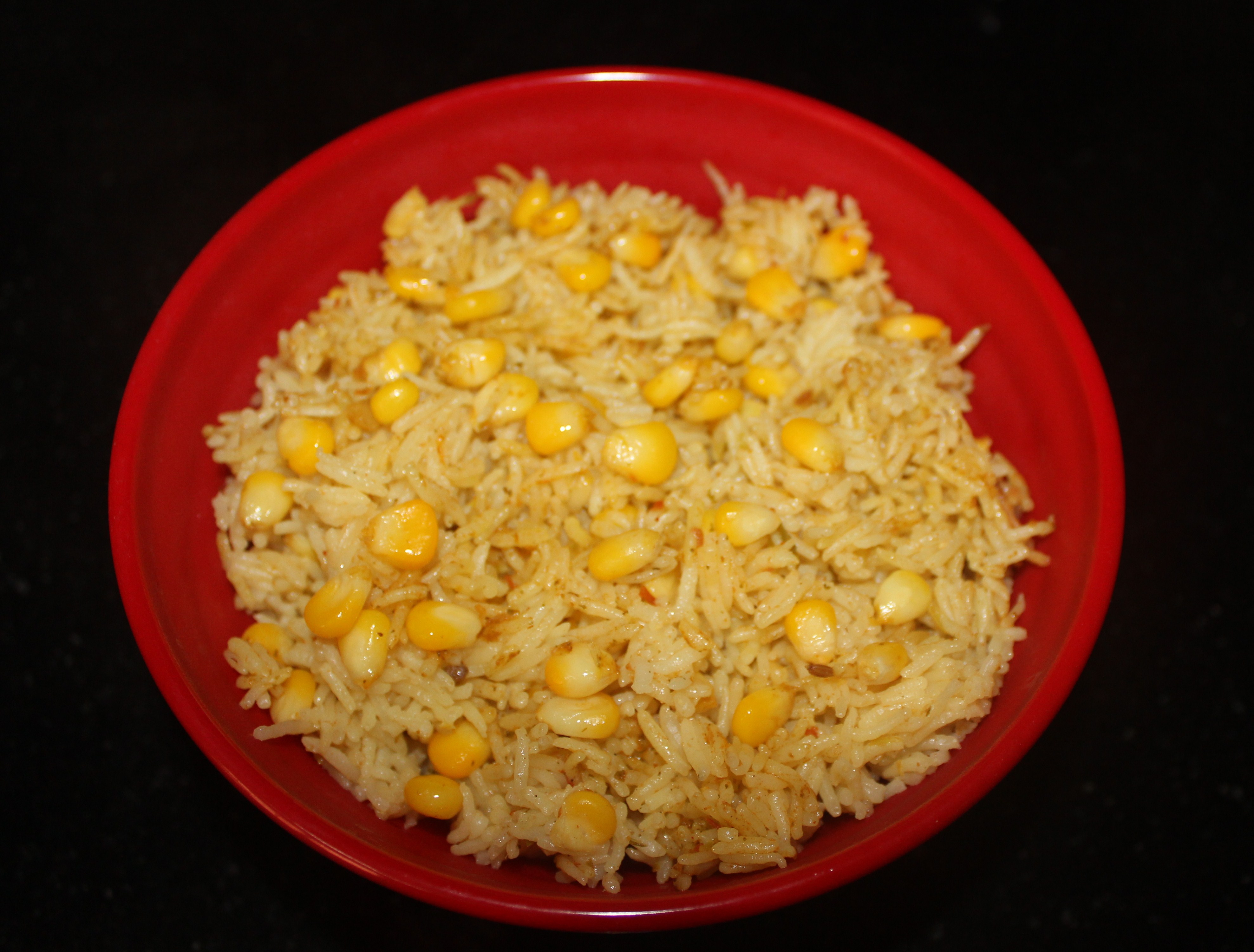 A complete meal by itself, sweet corn pulao is a very healthy and delicious rice dish. Corn is low in fat and has lot of vitamins including vitamin C and it is also high in fiber. Corn pulao is made with rice, corn and mixed with spices.  It can be had on its own or served with raita or papads.  Corn pulao recipe is easy to make and healthy too.
Ingredients
Basmati rice - 2 cups
Sweet corn kernels (fresh or frozen) - 1 cup
Red chilli powder - 1 teaspoon
Turmeric powder - 1/4 teaspoon
Garam masala powder - 1 teaspoon
Salt to taste
Lemon juice - 2 teaspoons
FOR GRINDING
Garlic - 5 cloves
Ginger - 1 inch piece peeled
Green chillies - 2 to 3
Coriander leaves - 1 handful
Tomatoes - 2 (cut into medium pieces)
FOR SEASONING
Ghee- 2 tablespoons
Cumin seeds - 1/2 teaspoon
Cinnamon stick - 2 small pieces
Star anise - 1
Green Cardamom - 1
Cloves - 2
Method
Step 1
HOW TO MAKE SWEET CORN PULAO Wash and soak basmati rice in water for 30 minutes.
Step 2
Grind garlic, ginger, green chillies, coriander leaves and tomatoes with little water to make a smooth paste. Keep aside.
Step 3
Heat a small pressure cooker on a medium flame. Add ghee. Once hot, add cumin seeds, star anise, cinnamon stick, cardamom and cloves and stir fry for a minute.
Step 4
Then add ground mixture, red chilli powder, turmeric powder, garam masala and salt and mix well. Cook for 2 to 3 minutes on a medium flame.
Step 5
Add sweet corn kernels, drained basmati rice, lemon juice and 2 1/2 to 3 cups of water and mix well. Here you can check the taste of water for salt requirement and add accordingly.
Step 6
Close and pressure cook till 3 whistles. Once cooked, allow to cool for 8 to 10 minutes
Step 7
Transfer sweet corn pulao to a serving bowl. Serve hot with curd, raita, papads or dal tadka.
Step 8
NOTES : You can also add onions or green peas in the recipe to make it more nutritious.