Mango icecream – how to make homemade mango icecream recipe – summer recipes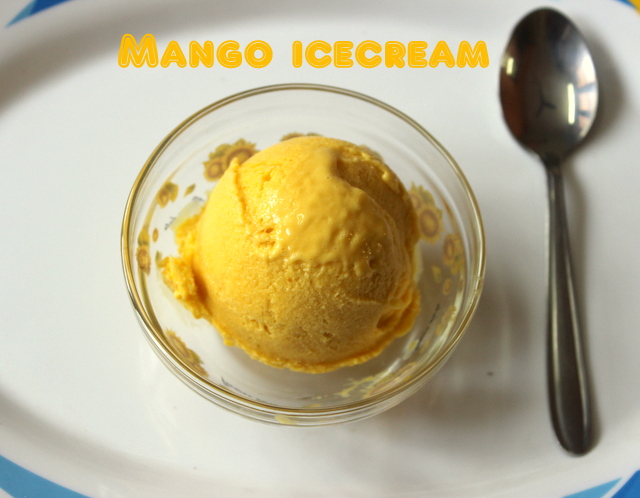 Mango icecream is a very delicious and easy ice-cream recipe made with just 3 ingredients – mango puree, condensed milk and milk cream.  It is summer time and now mangoes are in plenty in market.  So you can easily make this ice-cream at home to beat the heat.  This icecream recipe is without the use of icecream maker.  This homemade mango icecream is so rich and creamy that it just melts in your mouth and has a natural flavour of mangoes in it.   You can add chopped mango pieces or little honey or chopped dry fruits as a topping to the icecream or just serve plain as it is.  It tastes great anyways.
Other mango recipes :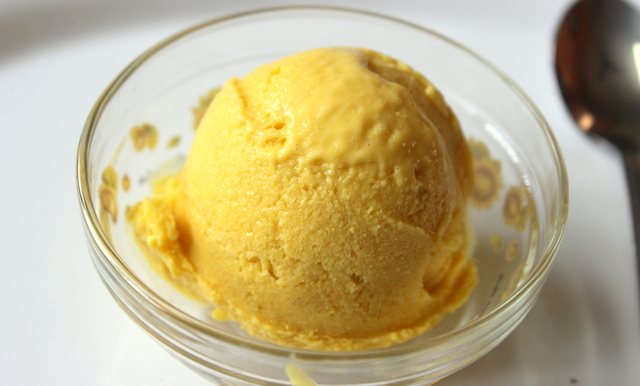 Prep Time : 25  mins
Refrigeration time :  7-8 hours or overnight
Servings : 3-4 persons
Indian cuisine
INGREDIENTS
Mango pulp or puree – 1 cup (with 2 large alphonso mangoes)
Condensed milk – 1/2 cup
Medium or low fat cream – 1/2 cup
Milk – 2-3 tablespoons
HOW TO MAKE OR PREPARE HOMEMADE MANGO ICE-CREAM RECIPE
PREPARATION
Peel the mangoes and chop them into small pieces.   Whip the milk cream till they become soft.
METHOD
Take a blender and blend the chopped mangoes to a puree.  To this puree add condensed milk.
Whip the mixture again.    Add the whipped milk cream.
Whip the mixture well.  Finally add 3 tablespoons of milk.
Whip the entire mixture again till it is mixed evenly.  Transfer the ice-cream mixture to a freezer proof container  and cover it tightly with a lid.  Freeze the ice-cream mixture in freezer, for few hours, till half set.
Once half set, pour the mixture again to a blender and whip till smooth.  Transfer the mixture to the same container and cover it tightly with a lid and freeze till fully set.  This process helps to avoid ice crystals from forming and also for a smooth texture.
Once fully set, scoop out the mango ice-cream in a bowl and serve plain or with chopped mango pieces or dry fruits as a topping.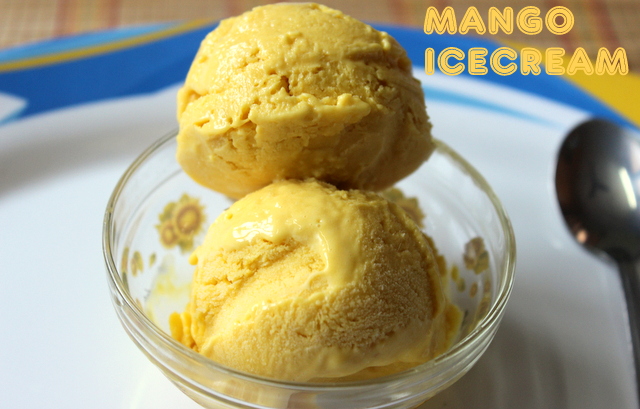 NOTES/TIPS
Add more sugar if you prefer a little more sweet taste to the ice-cream.  Otherwise the condensed milk is just sweet enough for this  ice-cream.
Whip the cream well in a blender, for a softer ice-cream.