Ragi (finger millet) murukku or chakli recipe – How to make ragi murukku/chakli recipe – ragi recipes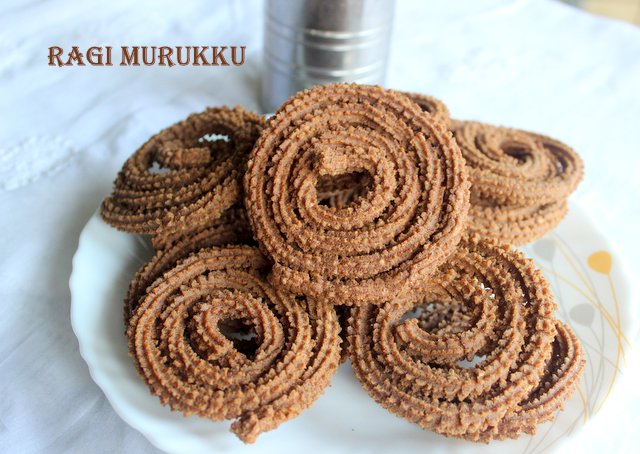 Ragi murukku or chakli is a healthy snack made with ragi flour.  Ragi is rich in iron and calcium and has got lot of other health benefits too.  This chakli recipe is also simple and quick to make.  Do try this chakli and give a healthy twist to the usual chaklis made.  It is a perfect and tasty teatime snack and very popular in Karnataka.  Though the look of ragi chakli is not that appealing, it tastes really good.  Now for the recipe..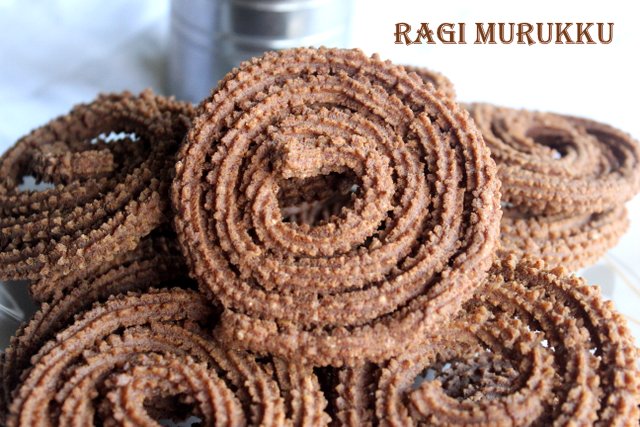 Prep Time : 10 mins
Cook Time : 20 mins
Servings : 13-15 chaklis
South Indian cuisine
INGREDIENTS
Ragi flour/finger millet flour – 1 cup
Rice flour – 1/2 cup
Besan/gram flour – 1/4 cup
Melted butter/ghee – 1 tablespoon
Red chilli powder – 1 teaspoon
White sesame seeds – 1 teaspoon
A pinch of asafetida or hing
Salt as per taste
Cooking oil for deep-frying
HOW TO MAKE OR PREPARE RAGI MURUKKU OR CHAKLI RECIPE
Sieve the ragi flour, rice flour and gram flour in a wide vessel or bowl.  Discard the small lumps or impurities if any.
Add red chilli powder, white sesame seeds, melted butter, hing and salt. Mix well all the ingredients by hand first.  Then add little water and make a smooth and pliable dough.  The dough should not be too thick nor too thin consistency.
Keep the dough covered with a cloth to prevent it from drying.  Take a chakli mould with a single hole in it.
Take a little dough and place it in the chakli mould.  Press the dough a bit inside the mould and tighten the lid.
Press the chakli mould in rounds, to get a spiral shaped chaklis on a butter paper or flat plate, so that it is easy to remove them. Or you can press  the chakli directly on the back of the ladle (as shown in the pic).
Gently flip the chaklis into the oil and deep fry till light golden brown in colour.
Enjoy the crispy and tasty ragi murukkus as a  teatime snack or any time snack.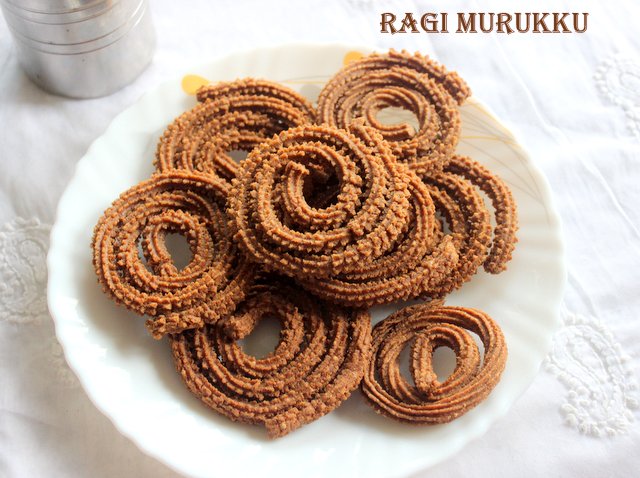 NOTES/TIPS
You can also add little oats flour along with ragi flour to make it more nutritious.
Add cumin seeds if you do not have sesame seeds.
Do not add more butter or ghee, as the chakli tends to get dispersed in the oil.
Ensure to deep fry the chaklis on medium flame.
Keep the murukku dough covered to prevent it from drying.
Ensure not to overcrowd the frying pan with lot of chaklis.  Deep-fry 3 to 4 chaklis at a time for a more crispier chaklis,