Methi subzi or bhaji recipe or how to make methi subzi recipe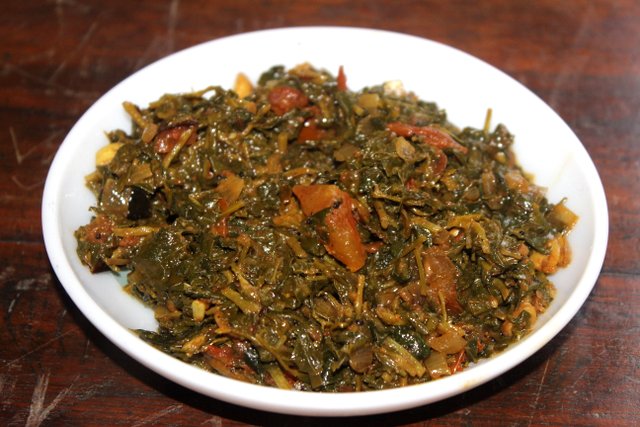 Methi or fenugreek leaves contains protein, fibre, vitamin C, niacin, potassium and iron. Methi has been found to lower cholesterol and triglycerides and it also helps increase good cholesterol levels in the body. So do try to include methi in your regular diet. Methi Bhaji prepared with fresh green methi leaves is a very simple, easy and healthy recipe prepared with fenugreek leaves, onions, tomatoes and mild spices. With minimum use of spices it helps bring out the flavor of fenugreek. Methi subzi is slightly dry making it ideal to be served as side dish for rotis, chapatis or steamed rice. Other delicious recipes using fenugreek include Methi Rice and Methi Matar Malai Curry. While fresh methi is a good choice for using in these dishes, you can also go for dried methi, known as kasuri methi, to make these delicious fenugreek recipes.
Ingredients
Fenugreek or methi leaves - 3 cups
Onion - 1 (chopped finely)
Tomatoes - 2 (chopped finely)
Garlic cloves -5 (chopped finely)
Oil - 2 tablespoons
Cumin seeds or Jeera - 1/4 teaspoon
Red chilli powder - 1/2 teaspoon
Turmeric powder - 1/4 teaspoon
Coriander powder - 1 teaspoon
Garam masala - 1/2 teaspoon
Lemon juice - 1/2 teaspoon
Salt to taste
Method
Step 1
HOW TO MAKE METHI SUBZI RECIPE Clean and wash the methi leaves thorougly 2 to 3 times to remove soil it might have on its leaves. Drain the water and chop them finely. Keep it aside.
Step 2
Heat oil in a pan on a medium flame. Add cumin seeds and saute till it turns light brown in colour.
Step 3
Add chopped onion and saute on a low flame till they become translucent. Add chopped garlic cloves and stir fry for half a minute.
Step 4
Add chopped tomatoes and cook for 2-3 minutes on a low flame till they become little soft.
Step 5
Add turmeric powder, red chilli powder, coriander powder and salt and mix well.
Step 6
Add chopped fenugreek leaves and combine together. Cook for 2-3 minutes till they get well blended with the masala and oil starts to separate.
Step 7
Now add garam masala and mix well. Sprinkle lemon juice on the subzi and mix well. Switch off the flame
Step 8
Remove methi subzi in a serving bowl. Serve hot with rotis, chapatis or steamed rice.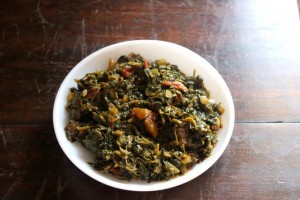 Step 9
NOTES/TIPS : You can add boiled potato pieces to make aloo methi.