Masala tea recipe – How to make Indian masala tea/ masala chai recipe – Indian tea recipe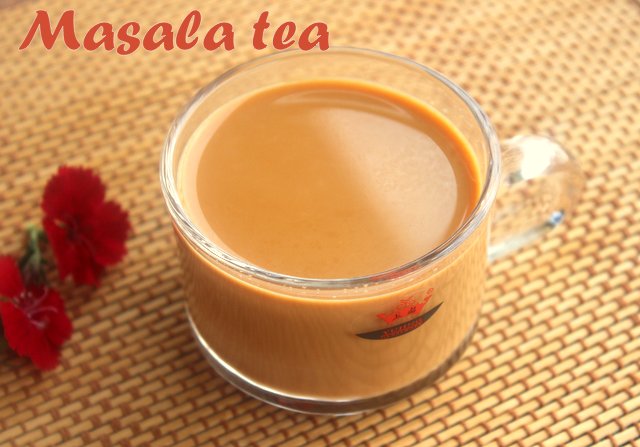 Masala tea is the most flavoured tea which is prepared with a mix of spices – ginger, cardamoms, cloves, cinnamon and cloves.  It is also the most popular among all teas.  This is the instant masala tea recipe made by crushing the spices and adding it immediately to make the tea.  The other version of making this tea is to ground the tea masala powder and store it in an airtight container and use it as and when required.  Masala tea is also a very healthy tea, as each spice added to it, has its own health benefits.  It also revitalizes the body and removes the fatigue.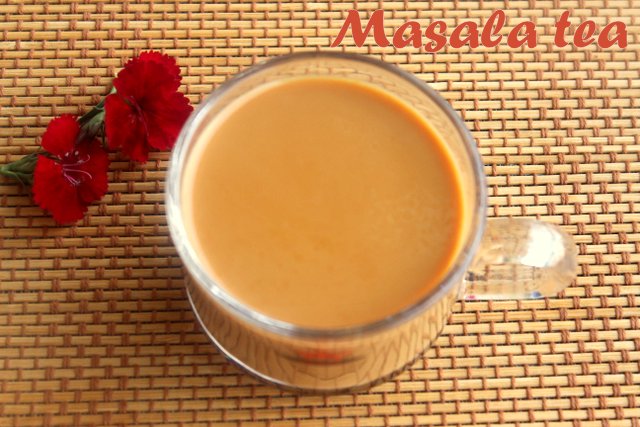 Prep Time :  2 mins
Cook Time :  10 mins
Servings : 2  persons
Indian cuisine
INGREDIENTS (1 cup – 250 ml)
Water – 1 cup
Milk – 3/4 cup or add as per taste
Sugar – 2 teaspoons or add as per taste
Tea leaves – 1 and 1/2 teaspoons
FOR MASALA
Ginger (adrak) – half inch sized
Cloves (lavang) – 2
Green cardamoms (elaichi)  – 2
Cinnamon (dalchini) – 1/2 inch
HOW TO MAKE OR PREPARE MASALA TEA OR MASALA CHAI RECIPE
Take a mortar-pestle . Add ginger, cloves, cardamoms and cinnamon.  Crush it coarsely and keep it aside.
Boil 1 cup of water in a small pan.  When it comes to a nice boil, add the crushed spices (masala).  Boil the water along with the spices for 2-3  minutes.  Add the tea leaves and boil again for a minute or two.
Add sugar as per your taste.  Then add 3/4 cup of milk.
Simmer for another 2-3 minutes.  Switch off the flame.  Pour the masala tea to the cup with the help of a tea-strainer.  Enjoy hot masala tea with biscuits, cookies or any evening or tea-time snacks.
NOTES/TIPS
You can add black pepper corns along with other spices.
If you prefer strong tea, boil for few more minutes.
Adjust spices as per your taste.