Brown rice kheer (payasam) with jaggery recipe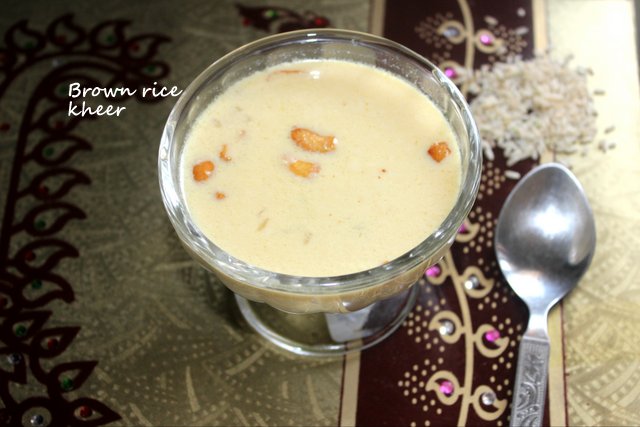 Brown rice kheer or payasam is a very healthy kheer or payasam made with brown rice and jaggery and garnished with cashewnuts and raisins. Brown rice is very rich in fibre and jaggery is full of iron. This kheer is absolutely delicious when served chilled and very easy and quick to make too. Brown rice gives a nice rich light brown colour to the kheer. Do try this brown rice kheer for a change and enjoy..
Ingredients
Brown rice - 1/4 cup
Grated or powdered jaggery - 1/2 cup
Full cream milk - 500 ml (Half litre)
Cardamom powder - 1/4 teaspoon
Cashewnuts and raisins for garnishing
Ghee - 2 tablespoons
Method
Step 1
HOW TO MAKE OR PREPARED BROWN RICE KHEER/PAYASAM RECIPE Soak brown rice with enough water for an hour. After an hour, drain the water and keep the rice aside.
Step 2
Heat milk and rice on a medium flame in a pan or vessel. Cook on a low to medium flame till the rice is fully cooked and milk gets reduced a little. Keep stirring in between to avoid burning of rice.
Step 3
Once the rice is fully cooked, add powdered jaggery and cardamom powder and mix well. Cook for a minute and switch off the flame.
Step 4
Heat ghee in a tadka pan. Roast cashewnuts till golden brown. Remove them and add raisins and stir fry till they pop up. Add them to the kheer and combine together.
Step 5
Serve brown rice kheer or payasam warm or chilled.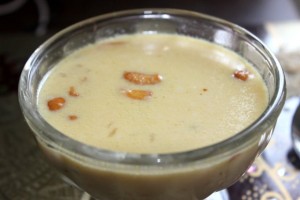 Step 6
NOTES/TIPS : After you add jaggery, mix well and then switch off the flame immediately. Do not overcook as it tends to curdle the milk. Once the kheer is cooled down, it tends to thicken. You can add milk accordingly to get the consistency as desired by you. Brown rice takes a little more time to cook. Ensure that the rice is fully cooked before adding jaggery to it.