Ragi rotti or ragi roti – how to make fingermillet roti/ragi rotti recipe – Indian recipes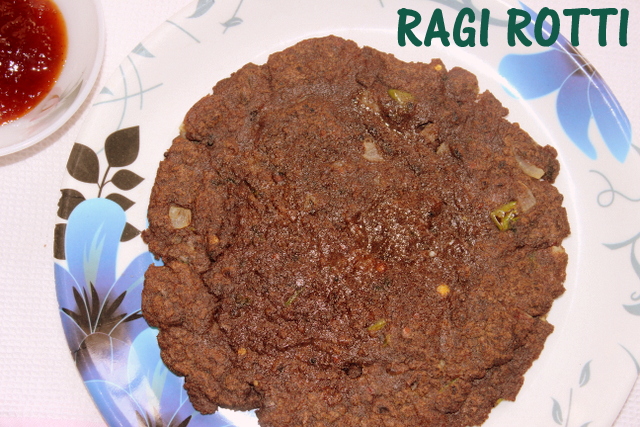 Ragi rotti is a popular and traditional breakfast dish in Karnataka, especially in the rural areas of South Karnataka.  Ragi rotti means ragi pancake  and is prepared from ragi flour and mild spices.  Ragi flour is mixed with salt and water and then a dough is prepared, which is then rolled into thin rottis or pancake.  You can add your own choice of vegetables like chopped onions or carrots and spices like green chillies for added taste.  Ragi rotti is best served hot with onion chutney, yoghurt or any vegetable curry.  Do try this ragi rotti, which is well known for its various nutritional and health benefits..
Other ragi recipes from this blog :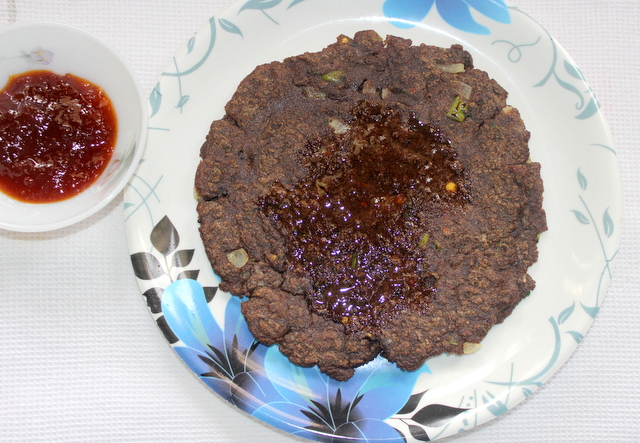 Prep Time : 10 mins
Cook Time : 15 mins
Servings :  2 persons
South Indian cuisine
INGREDIENTS
Ragi flour – 1 cup
Water – 2 cups
Oil – 2 tablespoons
Mustard seeds or rai – 1/2 teaspoon
Urad dal – 1/4 teaspoon
Chana dal – 1/4 teaspoon
Onion – 1 (small sized) (finely chopped)
Green chillies – 2 (finely chopped)
Chopped coriander leaves – 2 tablespoons
Salt to taste
HOW TO MAKE OR PREPARE HEALTHY RAGI ROTTI RECIPE
Heat oil in a pan and add mustard seeds.  Once the seeds stops crackling, add urad dal and chana dal and saute till light brown in colour.  Add chopped onions and coriander leaves and cook till onions become translucent.  Then add 2 cups of water and salt.  Bring it to a nice boil.
Once the water starts boiling, reduce the flame to low.  Add 1 cup of ragi flour and mix well continuously.
Ensure there are no lumps in the mixture.  Close the pan with a lid and cook on low flame for a minute.  Then switch off the flame.
Once the mixture cools down, make a dough from the mixture.  Divide the dough into equal medium sized balls.  Smear oil in a plastic sheet or polythene sheet.  Place the ball sized dough in the centre.
Apply some oil in your fingers and start making round shaped ragi rotti, with the help of your fingers.  Apply more oil to your fingers, if required, to avoid sticking.  Heat a non-stick pan or tawa on medium flame.  Gently remove the ragi rotti from the plastic sheet and transfer it to the hot pan.
Apply some oil around the edges of the rotti and top of the rotti and cook till it becomes crisp.  Flip on the other side to cook on both the sides of the rotti.
Serve ragi rotti hot with butter, chutney or plain curd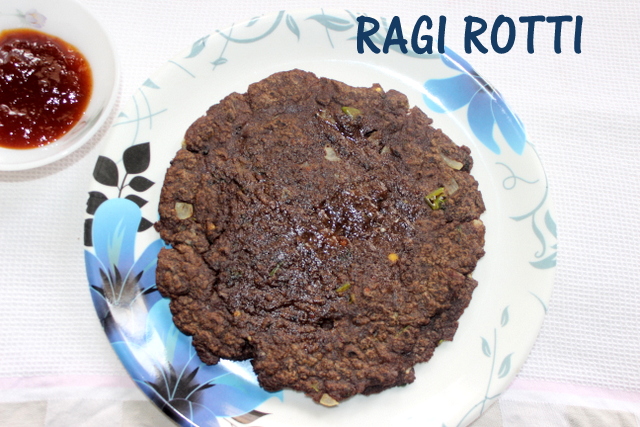 NOTES/TIPS
Use a non-stick pan or tawa for  best results.
Be careful while transferring the roti from the sheet to the pan, as sometimes it results in breaking the ragi rotti.
Add ghee on the top of the rotti for a rich flavour.