Paneer tadka or paneer masala recipe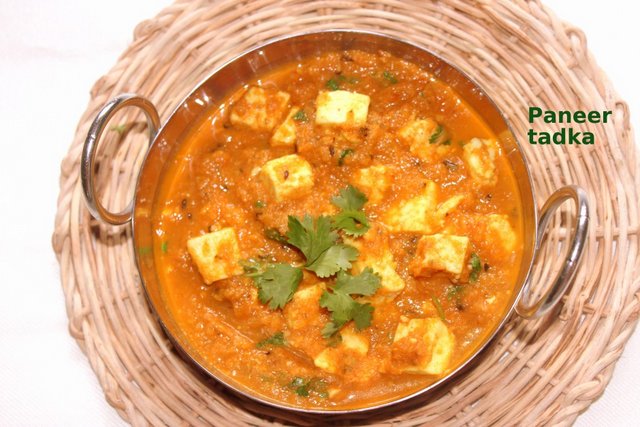 Paneer tadka is a most perfect delicious dish made from cottage cheese, onions and tomatoes and Indian spices. It is a popular dish of North Indian cuisine. Paneer is cooked in a rich gravy of cashewnuts and milk and tastes excellent with naans, chapatis or rotis. There are different versions in paneer recipes, but I found this to be a rich and perfect side dish for rotis. Do try this recipe and let me have your comments. Enjoy!!
Ingredients
Paneer (cottage cheese) - 200 gms
Onions -2 (medium)
Tomatoes - 4 (medium)
Cumin seeds - 1/2 teaspoon
Garlic cloves -6-7
Cashewnuts - 6-7
Milk - 1/3 cup
Green chillies - 2 (slit vertically)
Coriander powder - 1 teaspoon
Cumin powder - 1/2 teaspoon
Red chilli powder - 1 teaspoon
Turmeric powder - 1/4 teaspoon
Garam masala - 1/2 teaspoon
Kasuri methi - 2 teaspoons
Sugar - 1/2 teaspoon
Chopped coriander leaves - 2 tablespoons
Salt to taste
Butter or oil - 3 tablespoons
Method
Step 1
HOW TO MAKE PANEER TADKA RECIPE Cut paneer into small equal pieces and immerse them in warm water, till the time it is used. You can also use readily available cut cubes of paneer available in the market.
Step 2
Soak cashew nuts in milk for 10 minutes. Grind them to a smooth paste along with the milk.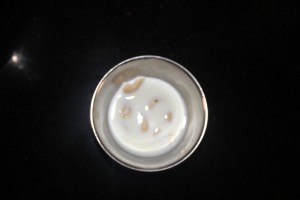 Step 3
Grind onions alongwith garlic cloves to a smooth paste. Keep it aside.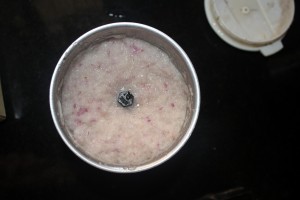 Step 4
Blanch the tomatoes in hot water for 5 minutes. Once it is slightly cooled down, peel the skin and grind it to a smooth puree. Set aside.
Step 5
Heat oil or butter in a pan . Add cumin seeds and allow them to splutter. Then add slit green chillies and onion-garlic paste mixture and fry well until it turns light brown colour and the raw smell goes away.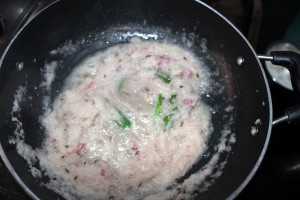 Step 6
Add tomato puree and stir-fry continuously for 6-7 minutes on a medium flame, till the mixture becomes little thick and oil separates and leaves the sides of the pan. This is important to get a deep red color to the gravy and also it enhances the taste of it. Take care not to burn the masala.
Step 7
Add salt, cumin powder, coriander powder, red chili powder, turmeric powder and salt and mix well. Saute again for 2-3 minutes. Add 1/2 cup of water and simmer for 5-6 minutes till the oil separates and the it comes to a thick masala gravy.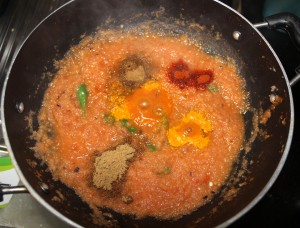 Step 8
Add the ground cashewnut-milk paste, kasuri methi and garam masala and give a quick stir. Add paneer pieces and combine together. Cook on a low flame for another 2 minutes. Switch off the flame. Garnish with chopped coriander leaves.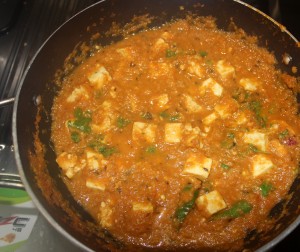 Step 9
Paneer tadka is ready to be served. Serve along with chapatis, rotis or naans.