Paneer paratha recipe – how to make paneer paratha recipe – paratha recipes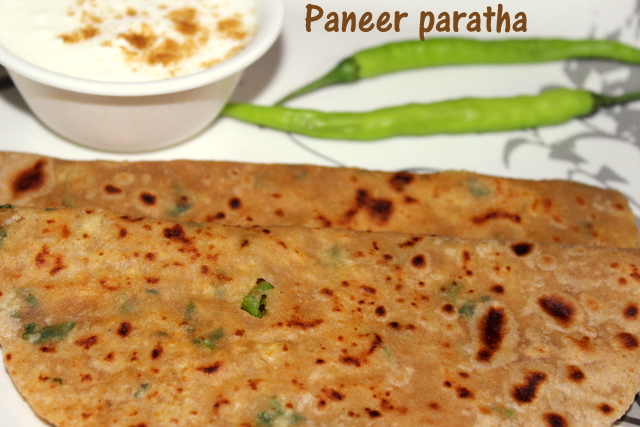 Paneer paratha is a very delicious and  popular paratha in the Indian cuisine. It is a Indian bread stuffed with cottage cheese and goes well with curd, pickle or any curry/dal.  Parathas can be made thicker or little lighter as per your desire.  You can adjust the stuffing according to your choice.  Paneer parathas are a perfect breakfast dish or dinner snack during a busy day as it can be prepared in a jiffy if the stuffing  and the dough is ready.  Paneer parathas tastes best when made with homemade paneer, but you can use the readymade paneer easily available in the markets for this recipe.
Other paratha recipes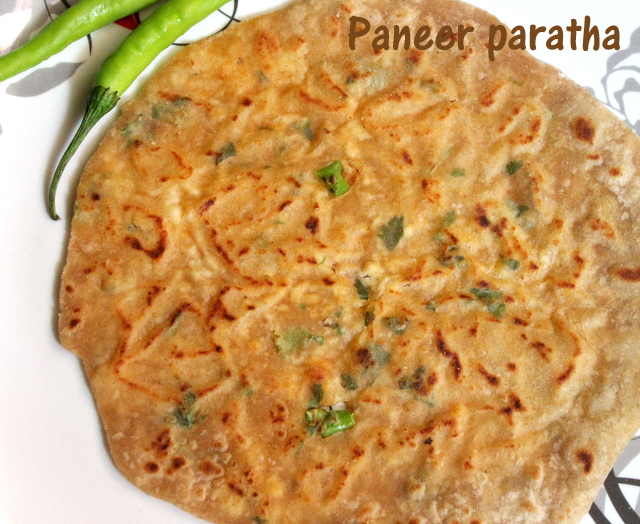 Prep Time :  15 mins
Cook Time :  25 mins
Yield:  4 parathas
North Indian cuisine
INGREDIENTS
For the dough
Whole wheat flour – 1 cup
Oil – 2 teaspoons
Salt – 1/4 teaspoon
Oil/ghee/butter for cooking the parathas
For the stuffing
Paneer or cottage cheese – 100 grams (grated or crumbled)
Green chillies – 2 (chopped finely)
Red chilli powder – 1/2 teaspoon
Amchoor (mango) powder – 1/2 teaspoon
Chopped coriander leaves – 2 tablespoons
Salt as per taste
HOW TO MAKE OR PREPARE PANEER PARATHA RECIPE
Take a mixing bowl and add wheat flour.  Add oil and salt and mix well.
Add water little by little and knead into a soft and smooth dough.  Knead the dough well and keep it covered.  Let the dough rest for 25-30 minutes.
For the stuffing, take an another bowl and add the grated paneer.  To this, add chopped green chillies, red chilli powder, amchoor powder, salt and chopped coriander leaves.
Mix everything well.  Stuffing for the parathas are now ready.  Divide the dough into 4 equal balls and make 4 equal sized paneer stuffing.
Roll each ball of dough into a thin round shape.  Put the stuffing in the centre of each paratha and lightly fold on all the sides.  Remove the excess dough from the top.
Dust with wheat flour and press lightly by hand.  Roll it gently with the stuffing to a round shape.
Heat tawa on a medium flame.  Add oil, ghee or butter and put the rolled paratha on the tawa.   Cook for few minutes.
Once the bubbles start appearing, apply oil on the top of the paratha.  Flip on the other side and spread oil on the other side too.  Cook on both the sides till they become little crisp and golden brown in colour.  Repeat the process with the remaining dough.
Serve paneer parathas hot with curd, raita, pickle or any curry/dal.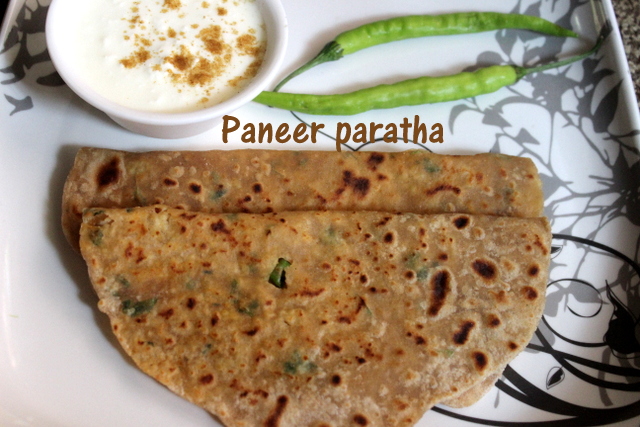 NOTES/TIPS
You can also grate the green chillies instead of chopping them finely.
Add garam masala to the stuffing for an enhanced and better taste.
You can substitute amchoor powder with 2-3 teaspoons of lemon juice.
Parathas are best enjoyed when served hot.