Adai recipe or mixed lentils dosa recipe – healthy breakfast recipe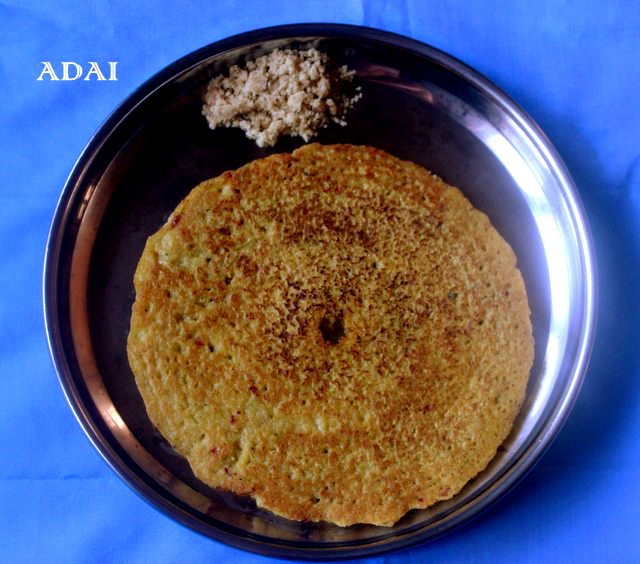 Adai is a healthy breakfast dish made from rice and lentils. Since it is a mix of different dals with rice, it is very high in protein content and make this dish protein rich. It does not require any elaborate preparation and is very simple to make.  Adai is best served with avial, butter or powdered jaggery.  It is a favourite South Indian snack which is not only nutritious but also filling to the stomach.
You can also try raw banana dosa and brown rice dosa for a healthy breakfast.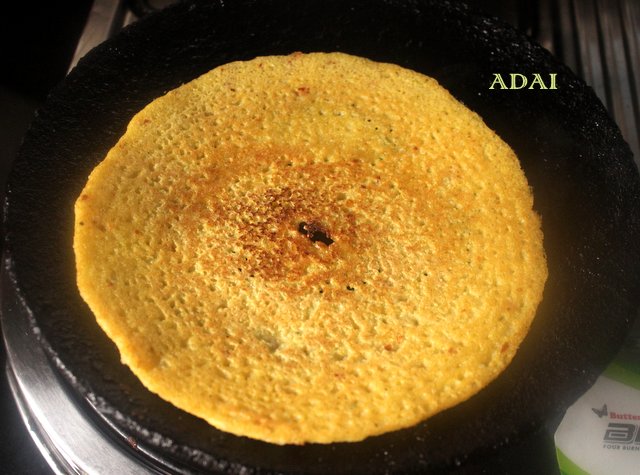 Prep Time :  15 mins (excluding soaking time)
Cook Time : 5 mins for one adai
Yield : 15-16 adais
Total time – 30 mins
South Indian cuisine
INGREDIENTS
Raw rice – 1 cup
Bengalgram / Chana dal – 1/2 cup
Toor dal – 1/4 cup
Urad dal – 2 tablespoons
Split yellow moong dal/paasi paruppu – 2 tablespoons
Green chillies – 2
Whole red chillies – 5
Turmeric powder – a pinch (optional)
Ginger or adrak – 1 inch small piece
Grated coconut – 2 tablespoons
A pinch of hing or asafoetida
1 string of curry leaves
Salt to taste
Cooking oil for making adais
HOW TO MAKE ADAI RECIPE
Wash and soak rice and dals together for 3-4 hours.  Drain and keep it aside.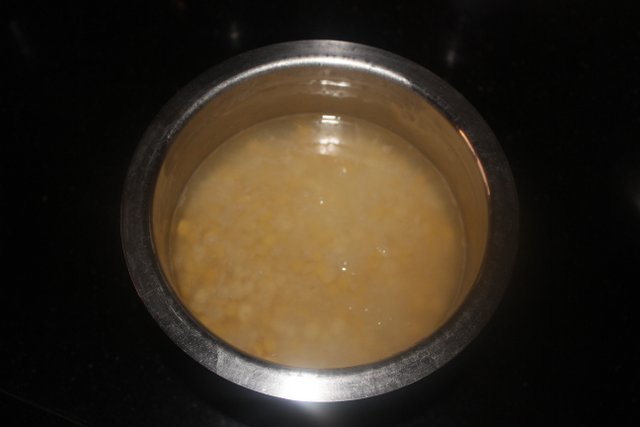 First grind green chillies, red chillies, adrak, coconut, hing, curry leaves and salt.  Then add soaked and drained rice and dals and grind into a coarse paste.   Add little water and make a thick batter.  The batter should be thicker than the idli dosa batter.  You can start making adais immediately or keep upto 3 hours and then make it.  Both the ways, it tastes good.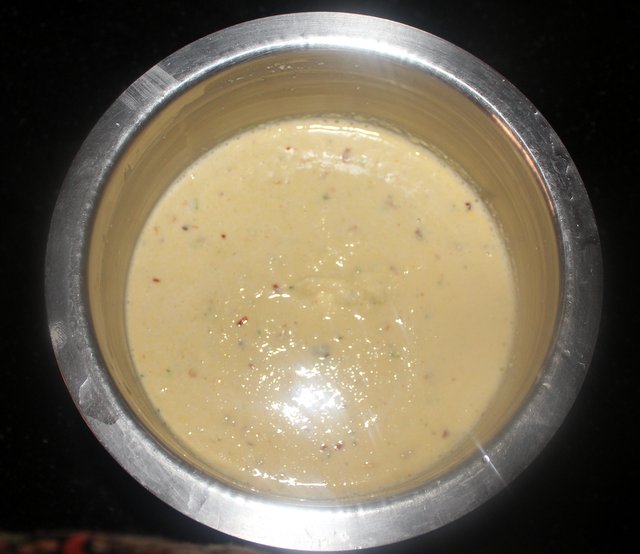 Heat a flat pan or tawa on  a medium flame. Pour two ladles of batter and form a thick round circle.  Make a small hole in the middle and drizzle little oil in it.  Pour little  oil around the adai and cook for sometime until golden brown.  Turn and cook on the other side, pouring another teaspoon of oil around it.  Once both the sides are cooked well, remove from the tawa and serve hot with avial or jaggery or butter.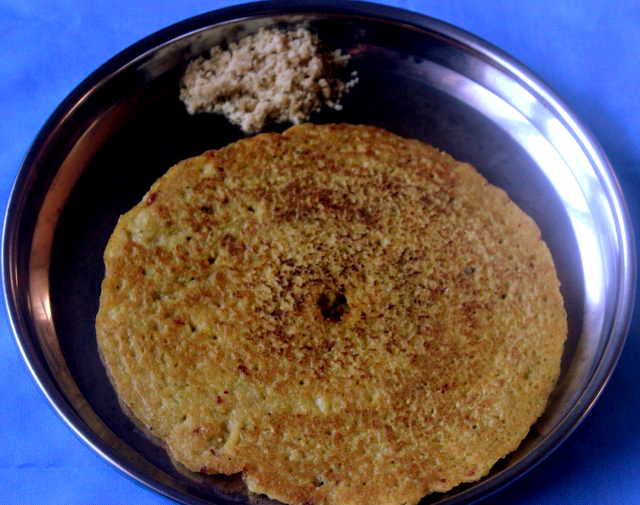 NOTES/TIPS
Finely chopped onions or chopped carrots can  be added to the batter just before making adais to make it more tastier and healthier.  (Here I have not added onions).
Grind the batter to a coarse paste and not too soft as it gives a nice crispier texture to the adais.
You can refrigerate the batter for upto  2-3 days.  It stays good if onions or coconut are not added to it.