Banana/plantain stem stir fry recipe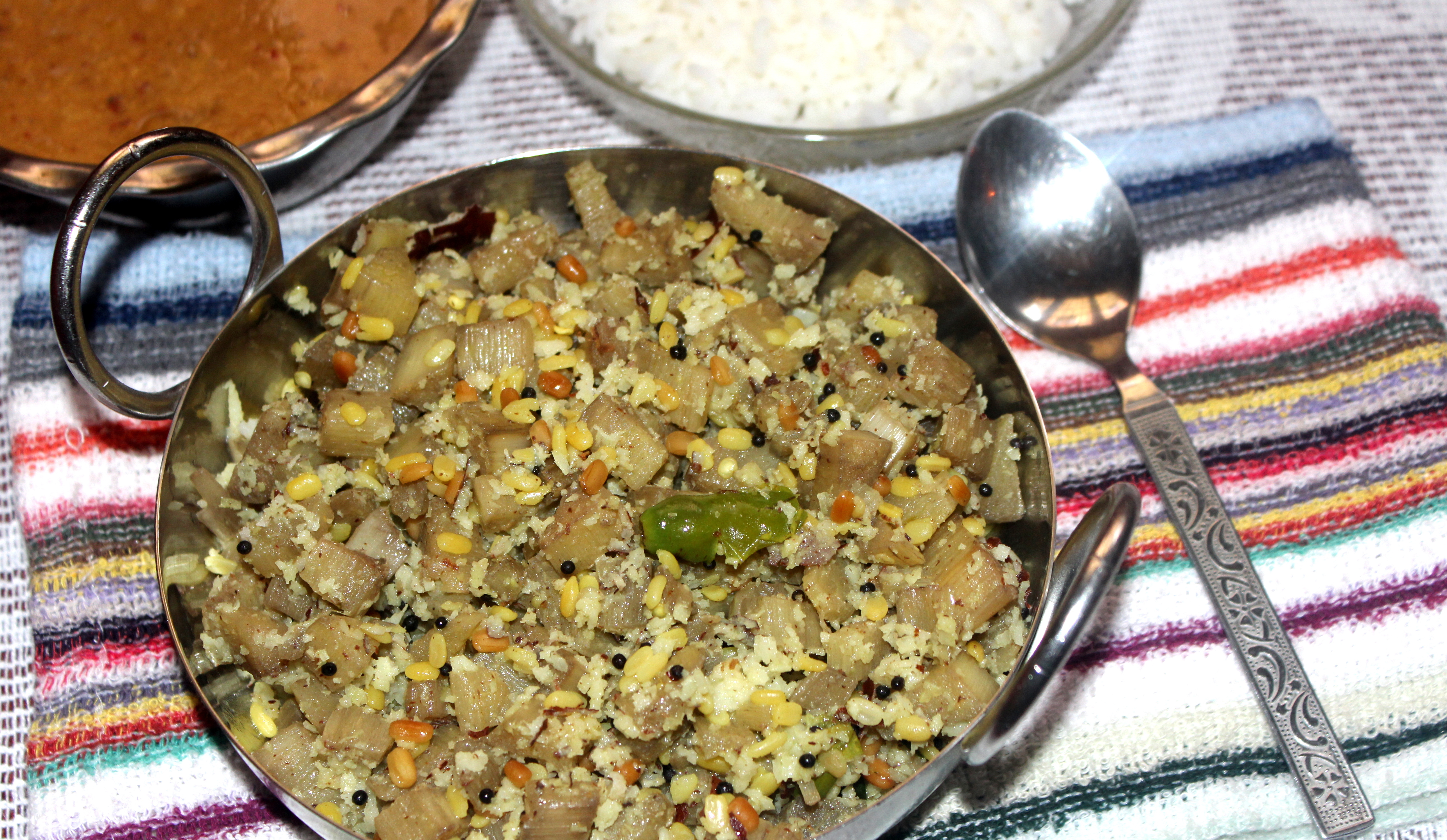 Plantain stem fry or vazhathandu poriyal is a very healthy and tasty vegetable made with banana stem and spiced mildly and garnished with grated coconut. Plantain stem contains dietary fibre which helps in normal bowel movements, thereby reducing constipation problems. Plantains have more vitamin A than bananas which helps in enhancing skin complexion. Plantain stem stir fry is also very easy and quick to make and can be included in your daily diet.
Ingredients
Banana stem - 1 (medium sized)
Turmeric powder - 1/4 teaspoon
Grated coconut - 3 tablespoons
Salt to taste
Buttermilk - 1/4 cup
FOR TEMPERING/SEASONING
Cooking oil - 2 tablespoons
Mustard seeds - 1/2 teaspoon
Urad dal - 1/2 teaspoon
Split moong dal - 2 tablespoons
1 string of curry leaves
Green chillies - 2 (vertically slit)
Method
Step 1
HOW TO MAKE BANANA STEM STIR FRY OR VAZHATHANDU PORIYAL RECIPE Soak the split moong dal in water for half an hour. After 30 minutes, drain the water and set aside.
Step 2
Remove the outer rings or covering of the banana stem and cut them into round pieces. Then chop them into small thin pieces.
Step 3
Put the chopped banana stem pieces in a bowl of water with buttermilk added to it. This prevents discoloration of the vegetable.
Step 4
Heat oil in a pan. Add mustard seeds. Once the seeds starts spluttering, add urad dal and stir fry till they turn golden brown. Add curry leaves and green chillies and saute for a minute on low flame.
Step 5
Drain the buttermilk water and add the drained banana stem pieces to the pan. Add the split moong dal and mix well.
Step 6
Add salt and turmeric powder and combine together. Sprinkle some water and cook on a low to medium flame. Keep the pan covered with a lid.
Step 7
Once the plaintain stem is cooked and the excess water is absorbed well, add grated coconut and mix well. Switch off the flame.
Step 8
Serve plantain stem stir fry or vazhathandu poriyal as an accompaniment to rice and sambar.