Bisi bele bath recipe – How to make bisibelebath or bisi bele huliyanna recipe – Karnataka recipes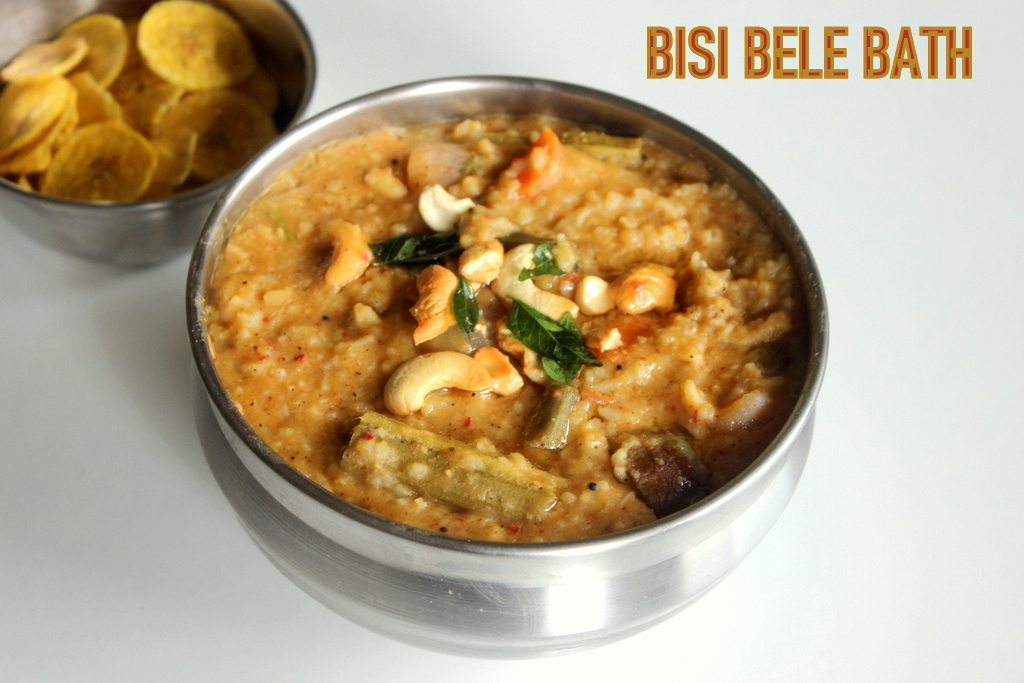 Bisi bele bath or bisi bele huliyanna (hot lentil rice) is a popular and traditional Karnataka rice dish made with rice, lentils, mixed vegetables and spices.  Bisi means hot in Kannada, bele means lentils and bath means rice.  Thus it translates to 'hot lentil rice dish' in Kannada and a wholesome meal in itself.  It is a spicy rice based dish which has origins in the State of Karnataka.   Bisi bele bath is commonly served in the restaurants that has Udupi cuisine.  It tastes best with khara boondi or potato chips and best eaten hot as the name itself suggests.
You can prepare the bisi bele bath powder separately in advance and store in an airtight container for a longer shelf life.  Even though bisi bele bath is a popular lunch rice dish in Karnataka, it can be had any time of the day for breakfast, lunch or dinner.  Topping with ghee, fried cashewnuts, curry leaves and fried peanuts enhances the taste of this dish.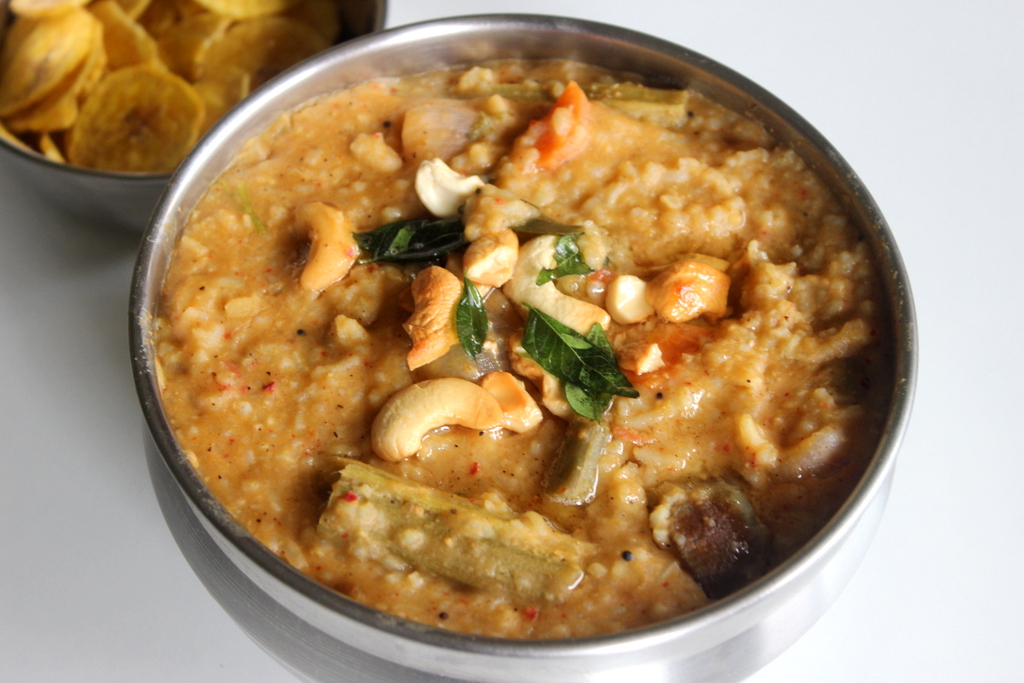 Prep Time : 20 mins
Cook Time :  25 mins
Servings : 4 to 5 persons
Karnataka cuisine
INGREDIENTS
Rice – 1 cup
Tur dal – 3/4 cup
Turmeric powder – 1/2 teaspoon
Oil – 2 tablespoons
Mustard seeds or rai – 1/2 teaspoon
A pinch of asafetida or hing
Shallot onions – 15 nos
Brinjal – 1
Potato – 1
Carrot – 1
French beans – 5 nos
Tomato – 1
Drumstick – 1
Few curry leaves
Tamarind – 4 tablespoons
Powdered jaggery – 2 teaspoons
Salt to taste
FOR FINE MASALA PASTE
Chana dal – 1 tablespoon
Urad dal – 1 tablespoon
Coriander seeds – 2 teaspoons
Cumin seeds – 1 teaspoon
White sesame seeds – 1 teaspoon
Methi seeds – 1/4 teaspoon
Red chillies – 5 nos
Cloves – 2
Cinnamon – 1 small stick
FOR SEASONING
Ghee – 2 tablespoons
Cashew nuts – 10 nos
VIDEO LINK FOR BISI BELE BATH RECIPE :
HOW TO MAKE OR PREPARE BISI BELE BATH RECIPE
In a pressure cooker, add 1 cup rice and 3/4 cup of tur dal.  Wash the rice and dal thoroughly with water.
Add 4 cups of water and pressure cook for 3-4 whistles or till soft and well cooked.  Set aside.
In a pan, add 1 tblspn chana dal, 1 tblspn urad dal, 2 tspns coriander seeds, 1 tsp cumin seeds, 1 tsp white sesame seeds, 1/4 tsp methi seeds, red chillies, 2 cloves, 1 small piece cinnamon stick and 1/2 cup grated coconut.  Dry roast till the dals become golden in colour.  Roast till the spices become aromatic.  Then switch off the flame.  Let the mixture cool down a bit.
Take the mixture to a grinder.  Add little water and make a smooth paste out of it.  (You can also make a fine dry powder in advance and store in a airtight container for a month).  Keep the ground masala paste aside.
In a separate vessel or pan,  add 2 tablespoons of oil.  Add hing, curry leaves and  mustard seeds and allow the seeds to splutter.  Add all the veggies – 15 onion shallots, 1 tomato, 1 potato, 1 drumstick, 1 carrot, 1 brinjal, 5 French beans.
Add 3-4 cups of water and cook on a low to medium flame, till the vegetables are well cooked.
Once the vegetables cooked, add  1 cup of tamarind water and salt.  (for tamarind water, soak the tamarind for half an hour in hot water.  Later squeeze and extract  the tamarind water and remove the debris).
Mix well and cook till the raw smell of the tamarind goes away.  Then add the ground masala paste and give a good mix.  Cook for 2-3 minutes on a low flame till the masala and tamarind water  gets well blended with the veggies.
Mash the rice and dal well before adding to the veggies.  This give a good texture and taste to the dish.  Add 2 teaspoons of powdered jaggery here if like a bit sweet taste to the dish.  But this step is purely optional.  Check for salt and add if required.  Cook on a low flame for 2-3 minutes till you get a slightly thick consistency.
Heat 2 tablespoons of ghee in a tadka pan.  Add few cashewnuts and fry till light golden in colour. Add them to the bisi bele bath and mix well.  Karnataka style bisi bele bath is ready to be served.
Serve bisi bele bath hot with papad, chips or raita or just plain.  It tastes great anyways.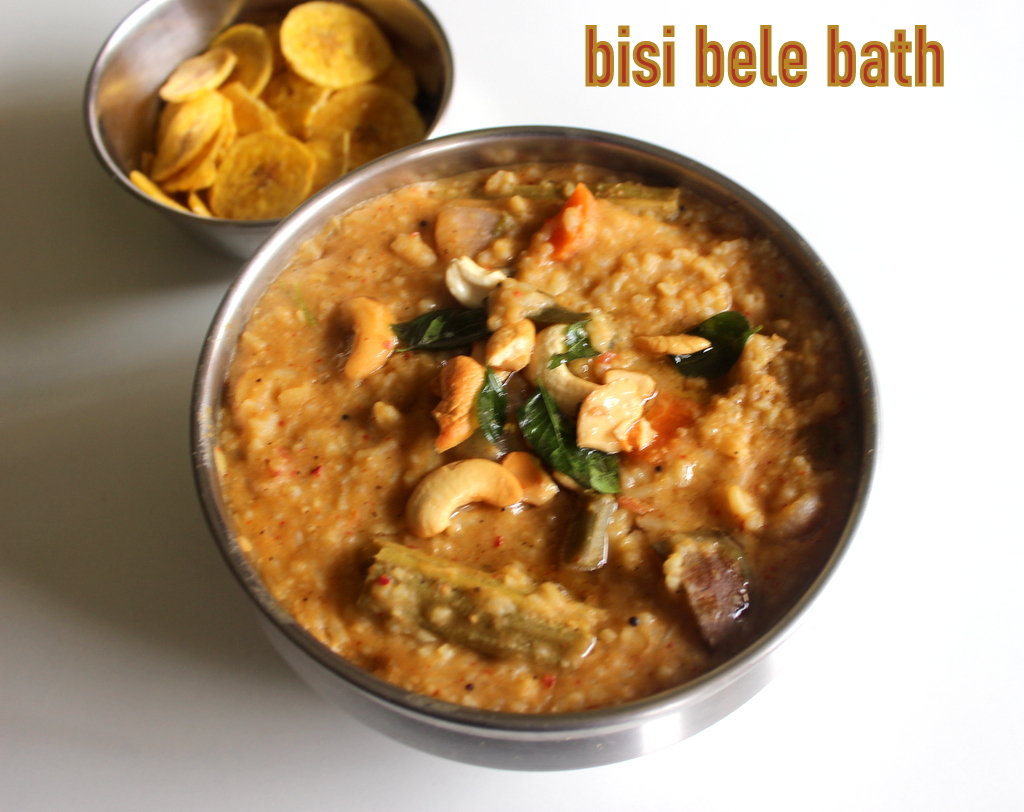 NOTES/TIPS
You can also add other vegetables like green capsicum, green peas or cauliflower.
Rice and dal can also be cooked separately and then mixed with the vegetables.  Just ensure to mash the dal and rice well as it gives a good taste and texture to the dish.
Bisi bele bath tends to become thick after some time.  In that case, add some hot water and give a  good mix.  Do not add cold water.
Bisi bele bath tastes better the next day too, as the spices gets well blended with the rice.
Top with little ghee before serving bisi bele bath.
If you do not have shallots, you can use regular onions.