Ridgegourd chutney or heerekai chutney recipe – How to make ridgegourd chutney – chutney recipes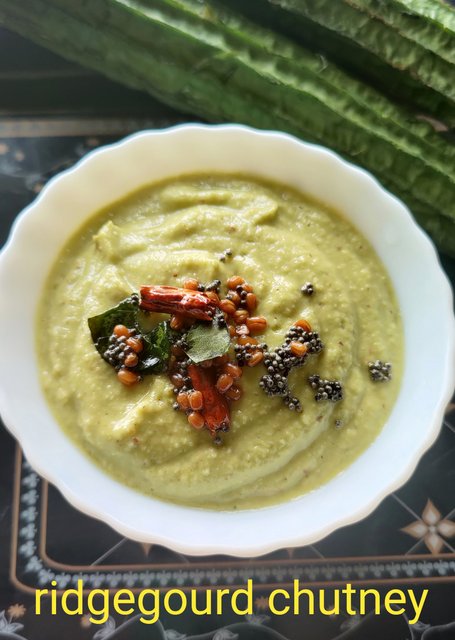 Ridgegourd chutney or heerekai chutney – a healthy and tasty chutney prepared with ridgegourd, coconut, tamarind and spices.  It is a good accompaniment for steamed rice as well as idlis or dosas.  This chutney is a good way of including ridgegourd in your diet and reap its benefits.  In this recipe, I have discarded only the sharp edges of the vegetable and used the entire ridgegourd to make the chutney.  You can also use only the peels of the ridgegourd to make this chutney.   You can store this chutney in the refrigerator as it stays good for 2-3 days in the fridge.
Ridgegourd is called as heerekai in Kannada,  peerkangai in Tamil and turai in hindi. It is low in fat and high in dietary fibre, vitamin C and iron. It helps in strengthening your immune system against any infection. It is low in saturated fat, cholesterol and calories that aids in weight loss. It is high in beta-carotene which is good for enhancing eye sight. Being rich in dietary fibers helps in easy digestion.  Do try this popular side dish from South Indian cuisine which is different from the regular chutneys made at home.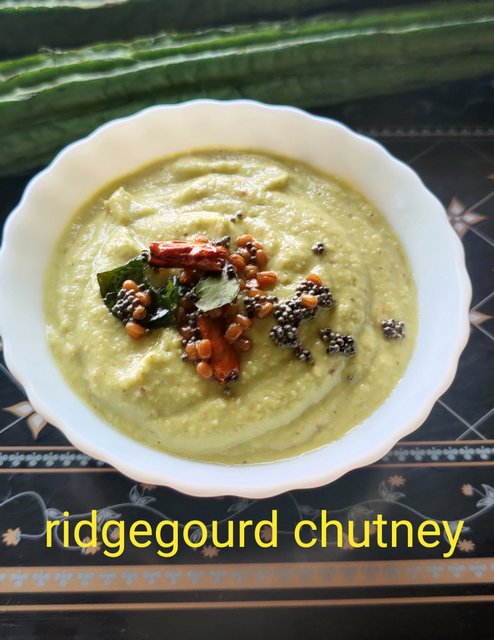 Prep Time : 15 mins
Cook Time : 20 mins
South Indian cuisine
INGREDIENTS
Ridgegourd or heerekai – 2 cups  (chopped roughly with skin)
Oil – 2 tablespoons
Chana dal – 1 tsp
Urad dal – 1 tsp
Red chillies – 2
Grated coconut – 1/2 cup
Tamarind – 1 small piece
Jaggery powder – 1 tsp (optional)
Salt to taste
TO TEMPER
Oil – 1 tsp
Mustard seeds or rai – 1/2 tsp
Urad dal – 1/2 tsp
Red chillies – 1 small
HOW TO MAKE OR PREPARE RIDGEGOURD OR HEEREKAI CHUTNEY RECIPE
Heat 2 tablespoons of oil in a pan or kadai. Add 1 tsp urad dal, 1 tsp chana dal  and 2 red chillies.  Fry them till the dals turn golden brown in colour.  Once done, transfer them to a mixer grinder.
To the same pan, add roughly chopped ridgegourd and salt and stir fry for 2 minutes.  Close the pan with its lid and cook on a medium flame for 10 minutes or till the ridgegourd is fully cooked.  You can just sprinkle some water for cooking, as the vegetable has enough moisture in it.
The vegetable will reduce in volume, once cooked.  Switch off the flame.  Once cooled down, transfer the cooked ridgegourd to the same mixer grinder contained the fried urad dal and chana dal.
Now add 1/2 cup of grated coconut, 1 small piece of tamarind and 1 tsp of jaggery powder to the same mixer grinder.  By adding very little water, grind all the ingredients to a smooth paste.  Transfer the chutney to a bowl.
For tempering, add 1 tsp of oil, mustard seeds, urad dal and red chillies in a tadka pan and fry it golden brown in colour.  Pour this seasoning over the chutney and mix well.  Enjoy this delicious and healthy ridgegourd chutney with rice, idlis and dosas.
NOTES/TIPS
Discard the rims of the ridgegourd vegetable, before using it for making chutney.
Add very little water to grind the chutney, as the vegetable has enough moisture in it.
Add little ghee to rice and chutney and enjoy.
Ridgegourd chutney stays good for upto 2 days when refrigerated.