Vegetable brinji rice – How to make brinji rice / veg brinji recipe – rice recipes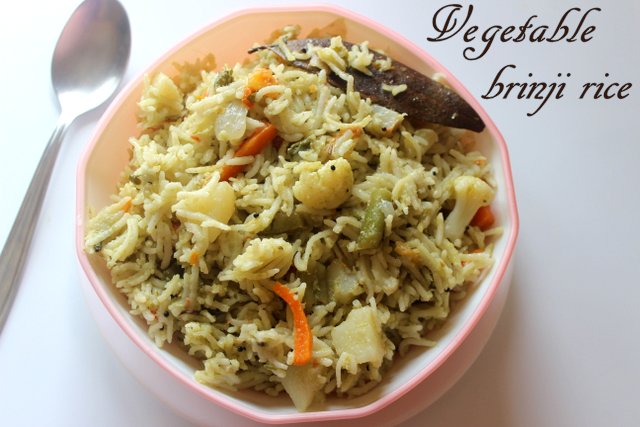 Vegetable brinji rice or brinji sadam is a traditional rice dish from the State of Tamil Nadu.  It is a one pot meal prepared with basmati rice, coconut milk, spices and a mix of vegetables.  Coconut milk is the ingredient which gives a unique taste and flavor to this rice recipe. It is called as brinji rice because brinji elai  is added to this dish.  Tejpatta or bay leaves is called as brinji elai in Tamil Nadu.  Brinji rice can be had as it is without a side dish or with raita.
Vegetable brinji rice is a very popular dish especially in wedding receptions in Tamil Nadu.   This delicious and flavourful one pot dish can also be served with spicy curry or veg kurma.  It tastes best when served after 1-2 hours as the coconut milk along with spices gets well mixed and blended with rice.  It makes the rice more delicious as the flavour becomes more intense with time.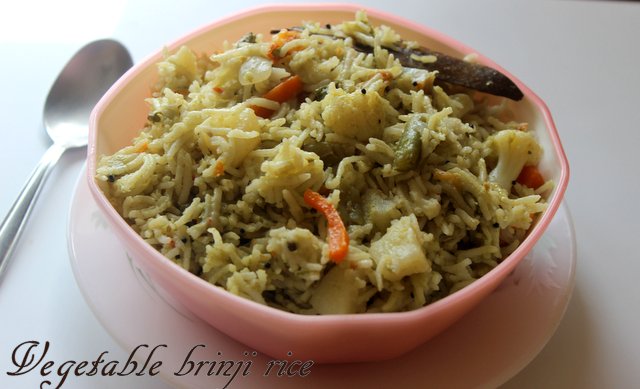 Prep Time : 15  mins
Cook Time :  20 mins
Servings :  4 persons
South Indian cuisine
INGREDIENTS
Basmati rice  -1 cup
Coconut milk – 1 cup
Ghee – 4 tablespoons
Mustard seeds or rai- 1/2 teaspoon
Cumin seeds – 1/2 teaspoon
Bay leaves or brinji elai or tejpatta – 4 nos
Cloves – 2
Star anise – 1
Cardamom pods – 2
Cinnamon – 1/2 inch stick
Onion – 1 (chopped finely)
Tomatoes – 2 (chopped finely)
Carrot – 1/4 cup (chopped)
Cauliflower florets – 1/4 cup
Potatoes – 1/4 cup (cubed)
French beans –  1/4 cup (chopped)
Chopped coriander leaves – 2 tablespoons
Mint leaves – 2 tablespoons
Ghee – 1 tablespoon
Water – 1 cup
Salt to taste
TO BE GROUND TO A SMOOTH PASTE
Grated coconut – 1/4 cup
Green chillies – 4 nos
Garlic cloves – 5 nos
Fennel seeds or saunf – 1 teaspoon
Ginger – 1 inch sized (chopped)
Mint leaves or pudina – 1/4 cup
Coriander leaves – 1/4 cup
HOW TO MAKE OR PREPARE VEGETABLE BRINJI RICE
Wash 1 cup of basmati rice thoroughly and soak it in water for half an hour.
In a mixer grinder, add 1/4 cup grated coconut, 4-5 green chillies, 5 garlic cloves, 1 inch sized ginger, 1 tsp saunf.  Then add a handful of coriander leaves and mint leaves.
Add little water to make a smooth paste and keep it aside.  Chop all the veggies and keep it ready.
Heat 4 tablespoons of ghee in a small pressure pan on medium flame.  Once hot, add mustard seeds, jeera, bay leaves, star anise, cloves, cinnamon stick and cardamom pods.  Stir fry for half a minute till you get a nice aroma.
Add chopped onion and saute till the onion becomes translucent.  Add chopped tomatoes and mix well.  Once the tomatoes becomes slightly soft, add 1/4 cup carrots, 1/4 cup green beans, 1/4 cup cauliflower florets and 1/4 cup cubed potatoes.  Mix well all the vegetables.
Add salt and give a good mix.  Cook on a low flame for 2 minutes.  Then add the ground masala paste.
Saute for a minute till the raw flavour goes away.  Add 1 cup of coconut milk and mix.
Then add 1 cup of water and give a good mix again.  Let it come to a nice boil.  Then add the soaked 1 cup of basmati rice.
Add 1 tablespoon of ghee, 2 tablespoons of coriander leaves and 2 tablespoons of mint leaves.  Give a good stir.
Cover and pressure cook for 3 whistles on medium flame.  Allow it cool down and then open the lid of the pressure cooker.
Gently fluff the rice so that it gets mixed up evenly.  Vegetable brinji rice is ready to be served. Serve it with cucumber raita or onion tomato raita.
NOTES/TIPS
You can garnish brinji rice with fried cashew nuts or raisins or fried bread cubes.
You can add red chilli powder for that extra spiciness in the dish.
Add veggies of your choice.
You can use samba rice also instead of basmati rice.