Palak (spinach) recipes -Indian spinach recipes – 12 Indian spinach/palak recipes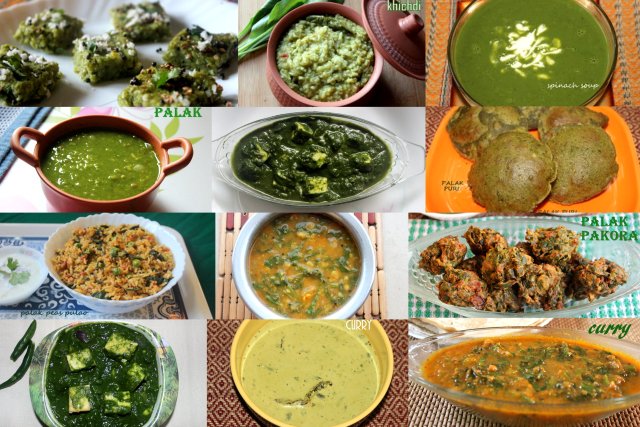 Spinach or palak is a superfood which is loaded with tons of nutrients in a low-calorie package.  It is one of the most popular green leafy vegetable  and staple in a number of cultural cuisines.
They are important for skin, hair and bone health. They also provide protein, iron, vitamins, and minerals and hence highly beneficial to the body.  There are various ways to include spinach in your diet.  Spinach can be added as an ingredient to many dishes either in cooked or in raw form.
This post is a collection of spinach recipes which can be prepared in a very easy manner.  Spinach is best sautéed for a short time or steamed or blanched.  Avoid overcooking of spinach for health benefits.
Dal palak recipe – How to make dal palak (spinach dal) recipes – vegetarian recipes
Spinach (palak) dhokla recipe – Spinach with arhar (toor) dal dhoklas
Palak curry recipe – how to make simple palak curry recipe – side dish for rotis/rice
Palak chana dal recipe – How to make spinach chana dal – Dal recipes
Palak khichdi recipe – How to make spinach or palak dal khichdi recipe – khichdi recipes
Palak pakora recipe – How to make palak pakora/pakoda recipe – spinach fritters recipe
Palak tofu / spinach tofu recipe – How to make tofu in spinach gravy recipe – palak recipes
Spinach curd curry recipe – how to make spinach curd curry recipe – Indian curry recipes