Gond or gaund ke ladoo/laddu recipe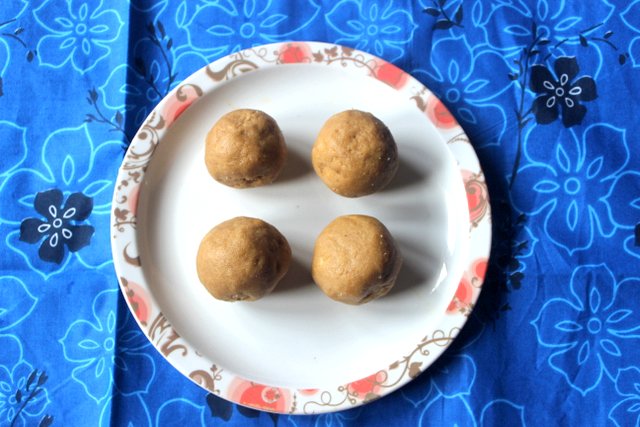 Gond is a natural edible gum  and is available in crystal form and it is slightly yellowish translucent in color.  Gond is a kind of edible resin and is available in supermarkets as gum resin. It looks like lightweight, transparent crystals and are roasted in ghee before use. Gond ladoo is especially made during winter months, as gond gives heat to the body and is low in fibre too.  It is a perfect winter dessert as it gives warmth to the body.  It is more popular in North India.  Gond ke ladoo is very delicious and easy to make too. This dish originates from Rajasthan and is prepared from whole wheat flour, gond, powdered sugar, ghee, nuts and cardamom powder.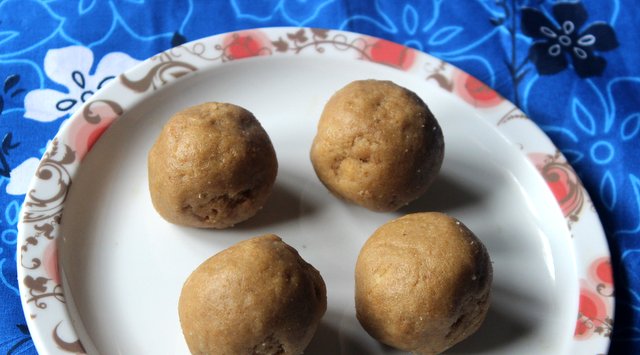 Prep Time : 15 mins
Cook Time : 35 mins
Yield : 15 laddus
Total time – 50 mins
INGREDIENTS
Whole wheat flour (gehun ka atta) – 2 cups
Gaund or gond (edible gum/resin) – 4 tablespoons
Powdered sugar – 3/4 cup
Ghee – 1/2 cup
Cardamom powder – 1/2 teaspoon
Cashew nuts and almonds (badam) – 15 nos
HOW TO MAKE GOND OR GAUND KE LADOO/LADDU RECIPE
Heat  the ghee in a heavy bottomed kadai or pan. Add gond or resin to ghee and cook on low flame, till it puffs up to double the size.  It happens very quickly  Lift it out of the ghee, as soon as it fluffs up. Otherwise, it will burn and get bitter.   Once done,  remove and keep it aside.
Crush the fried gum resin gently to a  coarse powder with the help of  a rolling pin. You must not powder it. It should be coarse and granular.
To the same pan, add cashewnuts and almonds and stir fry till golden brown and set aside.
Now add whole wheat flour to the pan and roast them stirring continuously till it turns brown and gives a nice roasted aroma.  Take care to roast them on a low flame to avoid burning.  Ghee separates from the flour when it is ready.  Switch off the flame.
Add the fried gum  to the roasted flour and continue to stir and mix well.  To this, add powdered sugar, fried cashewnuts and almonds and combine together well.
Allow it to cool a bit, so that it can be handled by hand.  Take a small portion of the mixture in hand and make ladoos.
Store them in an airtight container as they keep well for many days.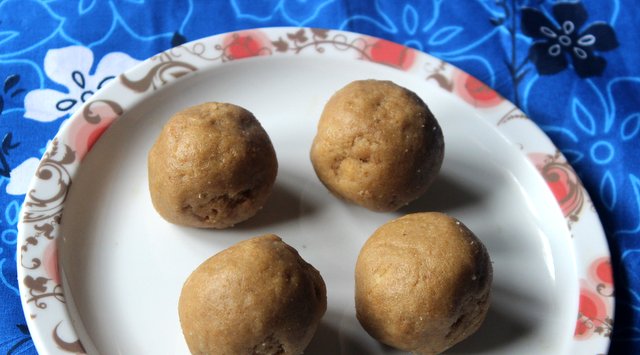 NOTES/TIPS
If you are not able or finding difficult  to shape the laddus, add a little melted ghee and then try making the ladoos.  Ghee helps in binding the mixture.