Rava corn dhokla recipe – How to make rava sweet corn dhokla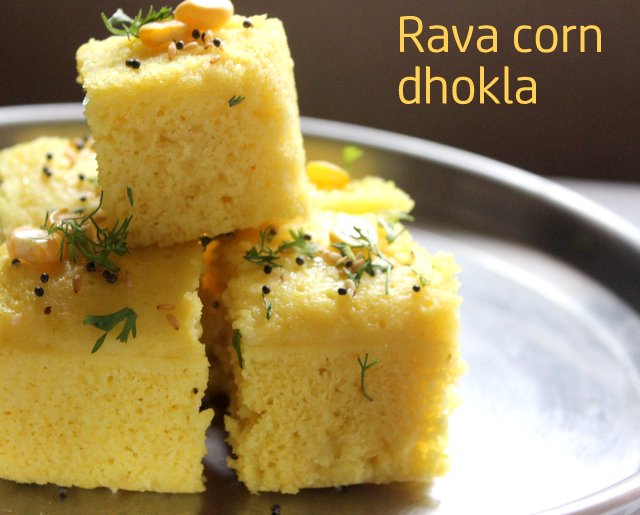 Dhokla is a delicacy of Gujarat State.  It is a savoury steamed cake and eaten as a side dish or as a tea-time snack.  Although a Gujarati snack, it has become popular across India.  You can serve as it is or with pudina chutney or with tomato ketchup or tamarind chutney.
Rava corn dhokla is a very delicious and healthy dhokla made with fine rava and sweet corn kernels.  The combination of rava and fresh sweet corns gives a nice flavour and taste to the dhokla. I have used green lemon flavoured eno for making the dhokla.   You can replace eno with 1/2 tsp of cooking soda for making this dhokla.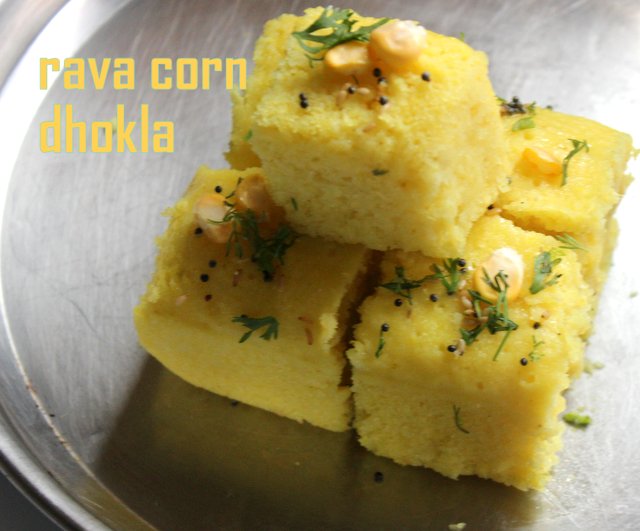 Prep Time :  10 mins
Cook Time : 10-12  mins
Servings : 4 persons
Gujarati cuisine
INGREDIENTS
Fine semolina/rava – 1 cup
Sweet corn kernels – 1 cup
Curd/yoghurt – 1/2 cup
Besan/chanadal flour – 1 tablespoon
Turmeric powder – 1/4 teaspoon
Green chilli-ginger paste – 1 teaspoon
Oil – 1 teaspoon
Powdered sugar – 1 teaspoon
Lemon – half
Eno powder – 1 teaspoon
Salt as per taste
FOR TEMPERING
Oil – 2 tablespoons
A pinch of asafoetida or hing
Mustard seeds/rai – 1/2 teaspoon
Cumin seeds – 1/2 teaspoon
White sesame seeds – 1/2 teaspoon
Green chillies – 4 (slit vertically)
FOR GARNISHING
Few chopped coriander leaves
HOW TO MAKE OR PREPARE RAVA CORN DHOKLA RECIPE
Take 1 cup of fine rava in a mixing bowl.  Take another one cup of sweet corn kernels.
Add the sweet corn kernels to a mixer grinder. Add 1/2 cup of curd to it.  Grind them to a smooth paste.
Add this ground paste and besan to the fine rava.  Mix well.
Add 1 tsp of oil, turmeric powder, powdered sugar and salt.  Add the green chilli-ginger paste and mix well again.
Add 1/4 cup of water and mix.  Keep the dhokla batter closed with a lid and set aside for 15 minutes.
After 15 minutes, add another 1/4 cup of water to make a thick dropping consistency batter.  Add half lemon juice to the batter and mix.
Lastly add 1 tsp of eno to the batter and sprinkle few drops of water to the eno.  It will start to bubble up.
Whisk well to form a smooth batter. Ensure there are no lumps formed.
Bring the batter to a thick and smooth dropping consistency batter.
Take a plate/pan and grease it with little oil.  Pour the dhokla batter to the greased pan and tap it lightly to even the batter.
Meanwhile prepare the steamer or a pressure cooker (use the cooker without the whistle) by adding little water to it and let it come to a nice boil.
Place the dhokla batter inside the steamer.  Close the steamer/pressure cooker with its lid and steam it for 10-15 minutes or till cooked.  Insert a knife into the dhokla and if it comes out clean, then it is ready.  Once done, let it cool down for 10 minutes.
Heat oil in a tadka pan on medium flame.  Add hing, mustard seeds, cumin seeds, white sesame seeds and green chillies and allow them to splutter.  Switch off the flame.
Pour the seasoning over the dhokla evenly.  Cut into square or desired shapes.  Garnish with chopped coriander leaves.  Serve hot or warm with green chutney or tomato ketchup.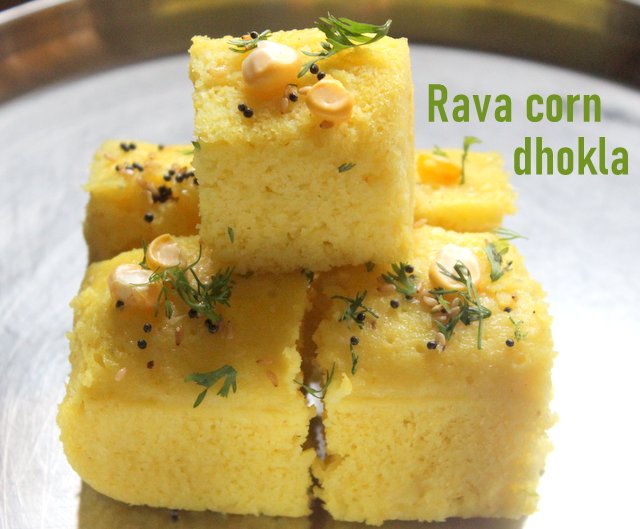 NOTES/TIPS
After adding eno salt, do not whip the batter too much.  Just mix it and stir well.
You can make dhoklas in a pressure cooker too.  In that case, do not use the whistle.  Steam the batter on high flame for 10-12 minutes or till cooked.
You can also add chopped green chillies to the batter for a more spicy flavor.
Ensure that the batter is of a smooth and little thick consistency.