Grilled vegetable sandwich recipe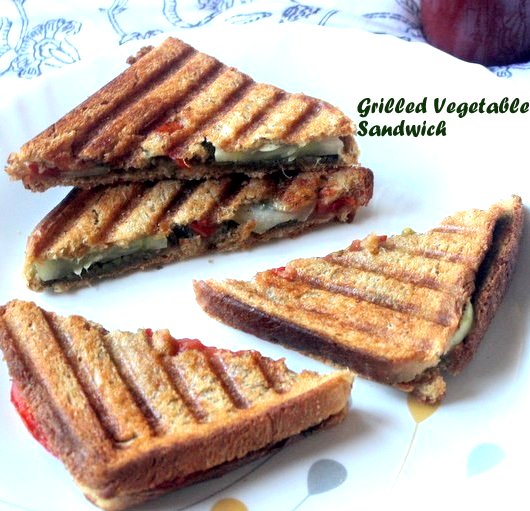 Grilled vegetable sandwich is a quick, easy and healthy sandwich recipe and can be had as an instant breakfast.  It is similar to the Bombay vegetable sandwich which is a  popular street food there. Grilling the sandwich adds  taste to the sandwich and makes the bread golden and crisp.  This sandwich is nutritious because vegetables like onion, tomatoes, cucumber and potatoes are assembled to make the sandwich.  You can use a toaster or  stove top too to make this sandwich to get that crunchy taste.
Prep Time : 30 mins
Cook Time : 10 mins
Serves: 3 persons
Total time – 40 mins
INGREDIENTS
Bread – 10 slices (White or brown or sandwich or whole wheat bread)
Onion – 1 (sliced thin)
Tomato -1 (sliced thin)
Cucumber -1 (sliced thin)
Potatoes – 2 (boiled and sliced round)
Pepper powder as required
Chaat masala as required
Black salt as required
Butter as required
Tomato ketchup or sauce
FOR THE CORIANDER CHUTNEY
Fresh chopped coriander leaves – 1 cup
Green chillies – 1
Garlic cloves – 2
Lemon juice – 1 teaspoon
Salt as per taste
HOW TO MAKE GRILLED VEGETABLE SANDWICH RECIPE
To make the coriander chutney,  grind all the ingredients given above, in a mixer grinder with little water to make a smooth paste.  Keep this chutney aside.  ( You can store any leftover chutney in an airtight container in the refrigerator).
Boil the potatoes till just cooked and soft.  Do not overcook the potatoes.  Peel and slice them into round pieces.  Peel and slice the onions, tomatoes and cucumbers into round slices and set aside.
Take 2 bread slices and apply butter on both the slices evenly.  Spread some chutney on the slices.
Place 2 to 3 onion, tomato, potato and cucumber slices on the bread slice.  Sprinkle pepper powder and  black salt as needed.  Cover the sandwich with another slice of bread.  Spread butter on the top of the slice.
Preheat the grill and place the sandwich with the buttered slice facing the bottom.  Now apply butter on the top side of the slice facing you.
Now close  and  grill the sandwich for 2-3 minutes, till crisp and golden brown.  Remove the sandwich carefully and serve hot with tomato sauce or ketchup.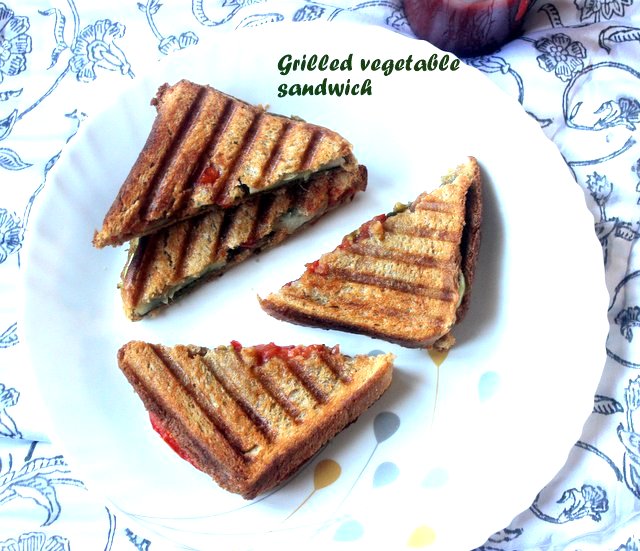 NOTES/TIPS
Add vegetables of your choice like beetroot and capsicum to make it more healthier.
You can also use mint chutney or any green chutney of your choice to make the sandwich.
Serve immediately after grilling the sandwich for better taste.