Cabbage masala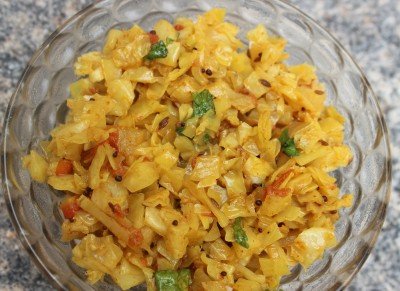 A spicy cabbage recipe
Ingredients
Cabbage -1 (medium)
Onion - 1 (chopped finely)
Tomatoes - 2 (chopped finely)
Red chilli powder - 1 teaspoon
Garam masala powder - 1 teaspoon
Mustard seeds - 1 teaspoon
Cumin seeds - 1/2 teaspoon
Salt to taste
Oil - 2 tablespoons
Coriander leaves - 2 tablespoons
Turmeric powder - 1/4 teaspoon
Method
Step 1
Chop the cabbage into small pieces and set aside.
Step 2
Heat oil in a pan. Add mustard seeds. Once it splutters, add cumin seeds and stir fry for half a minute.
Step 3
Add chopped onions and saute till they become translucent.
Step 4
Add chopped tomatoes and stir fry for 2 minutes.
Step 5
Add chopped cabbage, salt, red chilli powder and turmeric powder and combine well.
Step 6
Sprinkle little water and cover the pan with a lid and cook on a medium flame for 10 to 15 minutes.
Step 7
Add garam masala powder and cook for a minute. Switch off the flame
Step 8
Garnish with coriander leaves and serve hot with rotis.