Mushroom masala | mushroom curry recipe | mushroom recipes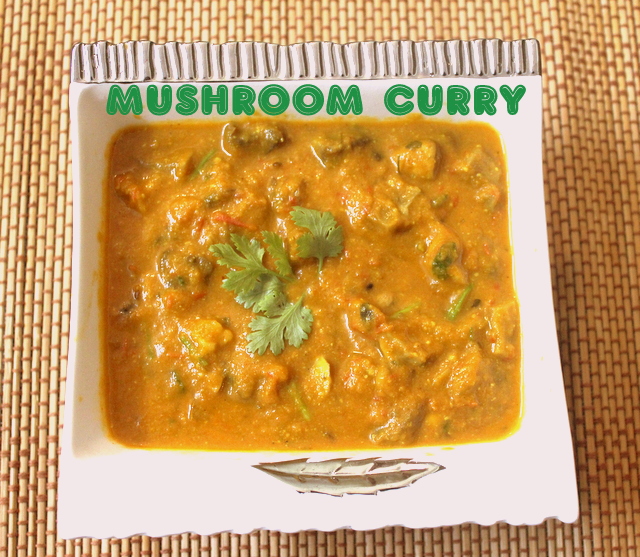 Mushroom masala is a delicious recipe of white buttom mushrooms cooked in onion-tomato gravy and spices.    It is a medium consistency gravy dish which goes well with rotis or parathas as well as steamed rice or as a side dish with biryani or pulao..  Mushrooms provide with lean proteins and important minerals and vitamins.  They have no cholesterol or fat and are very low in carbohydrates. They have lot of fibre and water.  Moreover, the high lean protein content in mushrooms helps burn cholesterol when they are digested.  Mushrooms are an ideal low energy diet for diabetics and weight-watchers.
Other side dish recipes for rotis/chapathis :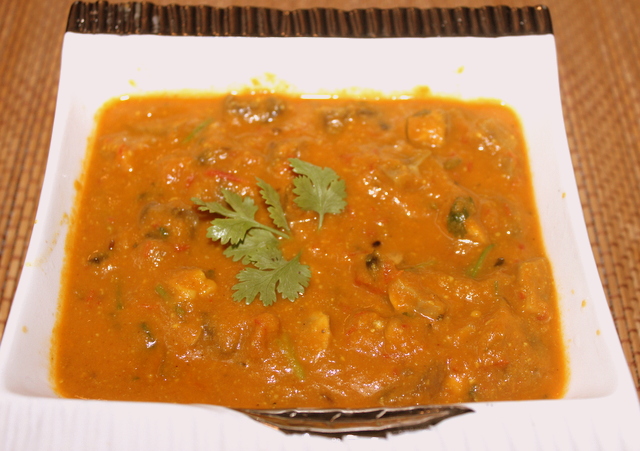 Prep Time : 20 mins
Cooking Time : 20 mins
Yield : 2-3 persons
North Indian cuisine
INGREDIENTS
White button mushrooms – 200 gms
Cumin seeds – 1/2 teaspoon
Tej patta – 1
Green cardamoms – 2
Dalchini/cinnamon stick – 1/2 inch
Cloves – 2
Red chilli powder – 1/2 teaspoon
Turmeric powder – 1/4 teaspoon
Coriander powder – 1 teaspoon
Garam masala – 1/2 teaspoon
Kasuri methi or dry fenugreek leaves  – 1/2 teaspoon
Chopped coriander leaves – 2 tablespoons
Salt to taste
TO GRIND TO A SMOOTH PASTE
Onions – 2 small sized
Tomatoes – 2 medium-sized
Ginger – 1/2 inch sized
Garlic cloves – 7 to 8
Green chillies – 3
Cashewnuts – 8
HOW TO MAKE OR PREPARE MUSHROOM MASALA OR MUSHROOM GRAVY  RECIPE
Rinse the mushrooms thoroughly and wipe them dry with  a clean cloth.  Then chop them into small or medium pieces and set aside. In a mixer grinder, add the chopped onions, tomatoes, green chillies, ginger, garlic cloves and cashewnuts.
Grind all the ingredients to a smooth paste without adding water.  Heat 1 tablespoon of oil in  a pan on low flame.  Add cumin seeds, tejpatta, cloves, cardamoms and dalchini and saute till it exudes a nice aroma.
Then add the onion-tomato paste and stir-fry on a low to medium flame,  till the paste becomes light golden in colour.  Continue to stir-fry on a low flame, till the mixture starts thickening.
Add turmeric powder, coriander powder, red chilli powder and garam masala.  Mix well and saute till the oil starts releasing from the sides of the masala.
Add the chopped mushroom and salt.  Combine together.
Add 1/2 cup of water or as required and stir very well. Cover the pan with a lid and simmer the curry on a low to medium flame for 10-12 minutes.  Finally add chopped coriander leaves and kasuri methi and mix well.
Delicious mushroom masala or mushroom curry is ready to be served.  Serve this with plain rotis, parathas, steamed rice, biryani or pulao.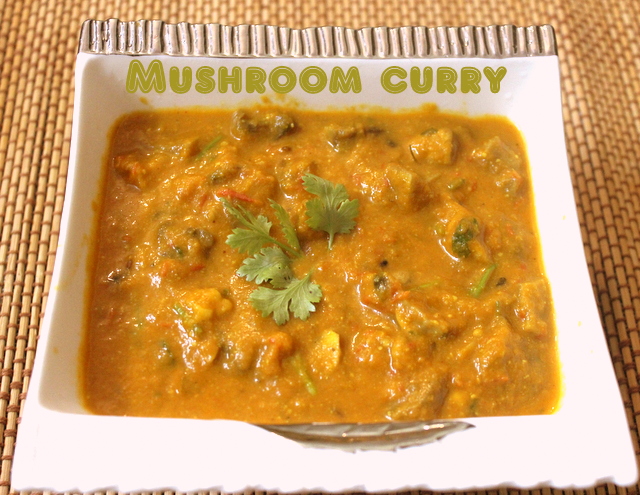 NOTES/TIPS
You can also add almonds or peanuts instead of cashewnuts.
You can add little cream or malai at the end of cooking process for an enhanced and rich flavour.