Heerekai tove or ridgegourd dal or turai ki dal recipe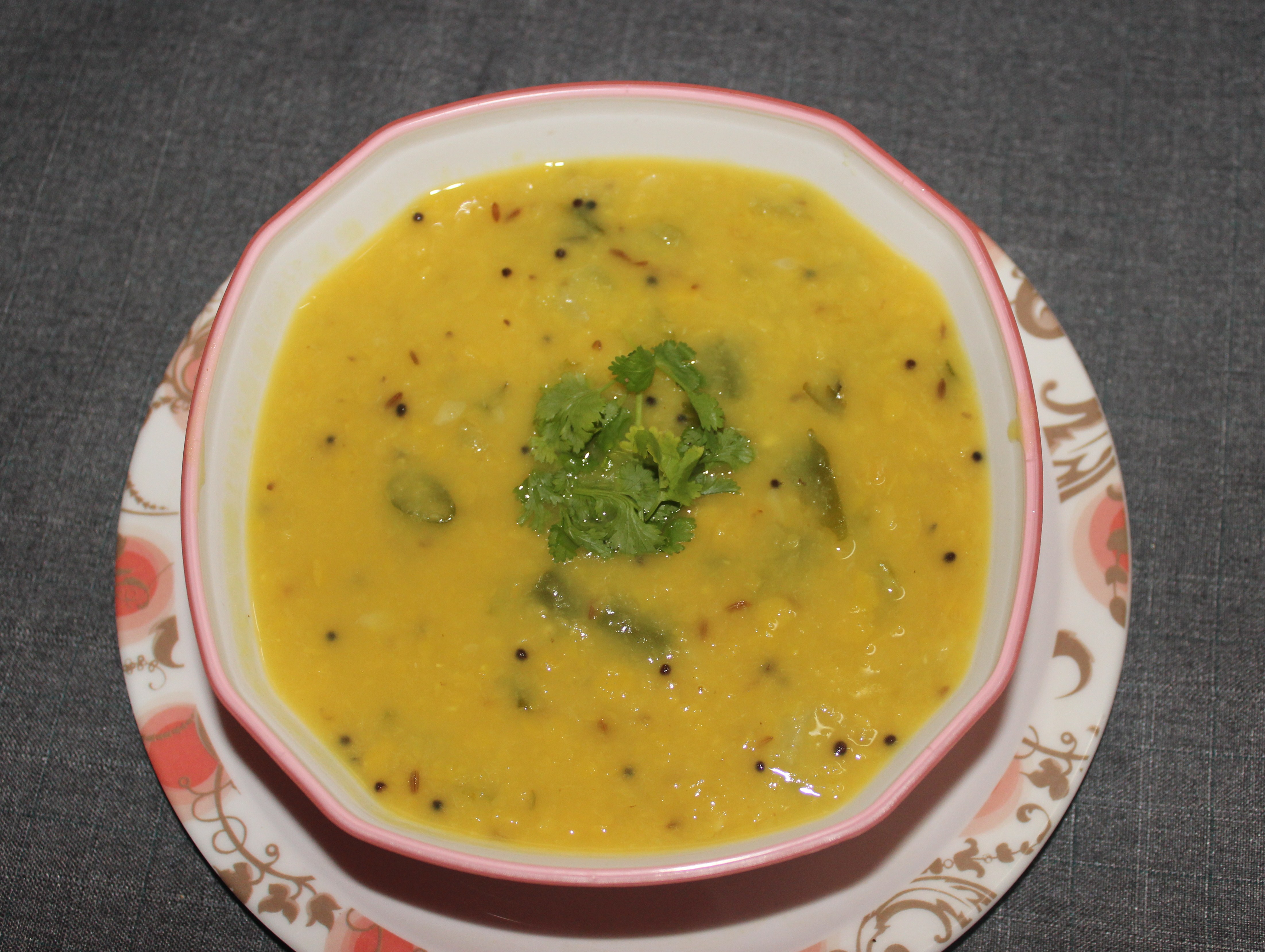 A tasty and delicious dal made with ridgegourd and tur dal.  It can also be made with moongdal.  Heerekai or ridgegourd dal tastes good with rice as well as rotis too.  Ridgegourd is commonly known as turai in India. It is low in fat and high in fiber and has blood purifying properties and also has a cooling effect on the body.  Heerekai tove recipe is very easy to make and can be done in a jiffy.
Ingredients
Ridgegourd/heerekai - 1 small sized
Tur dal - 1/2 cup
Turmeric powder - 1/4 teaspoon
Ghee - 1 tablespoon
Mustard seeds - 1/2 teaspoon
Cumin seeds - 1/2 teaspoon
Green chillies - 3 to 4 (finely chopped)
Ginger garlic paste - 1 teaspoon
1 string of curry leaves
Lemon juice - 1 teaspoon
Salt to taste
Chopped coriander leaves for garnishing
Method
Step 1
HOW TO MAKE HEEREKAI TOVE OR RIDGEGOURD DAL Wash tur dal and soak them in water for half an hour. Add turmeric powder to soaked dal and pressure cook in a pressure cooked upto 4 whistles. Once cooled down, mash the dal and keep aside
Step 2
Peel and chop the ridgegourd into small pieces and set aside. Ensure that the ridgegourd is sweet and not bitter.
Step 3
Heat ghee in a kadai. Add mustard seeds. Once the seeds crackle, add cumin seeds and fry for half a minute.
Step 4
Add green chillies, ginger garlic paste, curry leaves, heerekai pieces and stir well. Cover the kadai with a lid and cook for 3 to 4 minutes on a medium flame, till the heerekai is fully cooked.
Step 5
Add the mashed dal, salt and little water and bring to a medium consistency or to the consistency desired by you.
Step 6
Combine together well and cook on a medium flame for another five minutes. Remove from flame.
Step 7
Add lemon juice and garnish with chopped coriander leaves.
Step 8
Serve heerekai tove or ridgegourd dal hot with steamed rice or rotis.